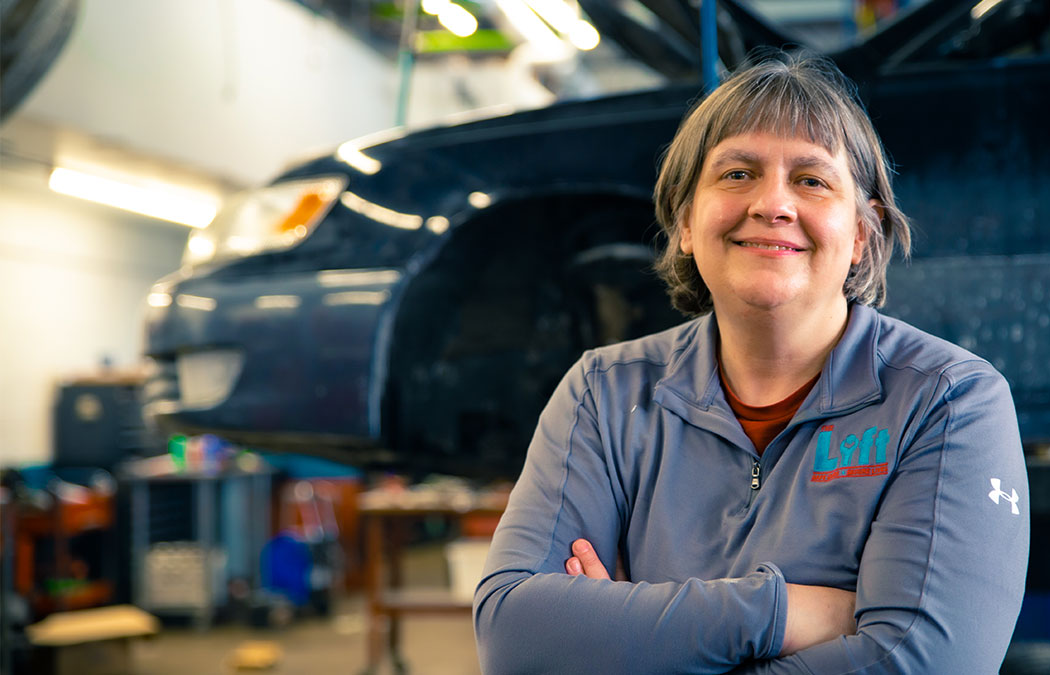 Cathy Heying M'01 had never even changed a tire before. As a pastoral minister, she was equipped with an entirely different set of tools.
She could have never predicted that one day she'd be changing struts, replacing a timing belt, and balancing a set of tires.
But the Holy Spirit, she believes, had other plans.
Heying attended Saint Mary's as an undergraduate for two years from 1988-1990 and then came back to get her master's in pastoral ministry in 2001. While working at Saint Stephen's Catholic Church in Minneapolis, she spoke with guests staying at a shelter for people experiencing homelessness.
She soon discovered that having a safe and reliable vehicle was a key factor in changing people's lives.
"It's like a Jenga game for them," she said. "They're barely hanging on and precariously put together and if one peg is pulled, their entire world collapses. Not having a reliable car leads to greater suffering and poverty. Often, there were jobs, but it meant a two and a half hour bus ride, and their jobs started at 6 a.m., so they'd be trying to get out the door at 3 a.m. to catch a bus to start their manufacturing job. It never lasted long because it's an impossible schedule to keep. A working car could mean the likelihood of moving more permanently out of their current situation."
Other times, she said, their cars served as their homes.
"It became so clear to me that a working vehicle could make all the difference," Heying said. And, although she uncovered some part-time, low-cost car care alternatives in Minnesota, most were still not affordable to low-income people.
Reluctantly, Heying went back to school to study automotive repair. "I was still paying off grad student loans and was quite content with my life," she said. "I didn't know much about cars, and I did not have a natural ability. I thought, 'I'll just try it.' One step at a time, and I thought almost immediately, 'What in the heck have I done?' Here I am 38 years old with a room full of 18- to 20-year-old men. The few women in the program dropped out before the first quarter. Honestly, if I had not been 38 and beyond caring, I would have probably quit, too."
Heying said the program was run like a boot camp. "And I had been in the Pastoral Ministry program at Saint Mary's where we're all about the love," she said with a laugh. "I thought, 'I've got a master's degree, how hard could tech school be?' It totally kicked my butt. My brain was designed for people and ministry and social work — not math and science and electronics."
In 2013, Heying founded The Lift Garage in Minneapolis, an affordable, nonprofit auto repair service for all Minnesotans that meet the 150% Federal Poverty Guideline. They charge only $15 per hour, plus the cost of parts at no mark-up. The website calls The Lift "A vehicle for repairing lives. Changing the world one car at a time."
Even the name of the garage, she said, was inspired by a greater power. "We use lifts in the garage, and we were going to try to lift people's lives," she said. "It was an instant fit."
In the beginning, she sublet one bay one day a week. But, with a little divine intervention, her work sparked the attention of the CBS Evening News, which shared her story nationally — and gave The Lift a lift.
"Money started pouring in and so did customers," she said. "We kept adding staff and adding space and learning as we went. Now we own the building we are in; we have five bays, a staff of 12, and we're open five days a week."
Since 2013, they've served 1,400 customers, made 3,000 repairs, and saved customers $1.1 million.
And she's been interviewed countless times, by everyone from the Washington Post to CNN. She's also done her own TedTalk.
"I don't find myself nearly that compelling, but it's good for the organization," she said.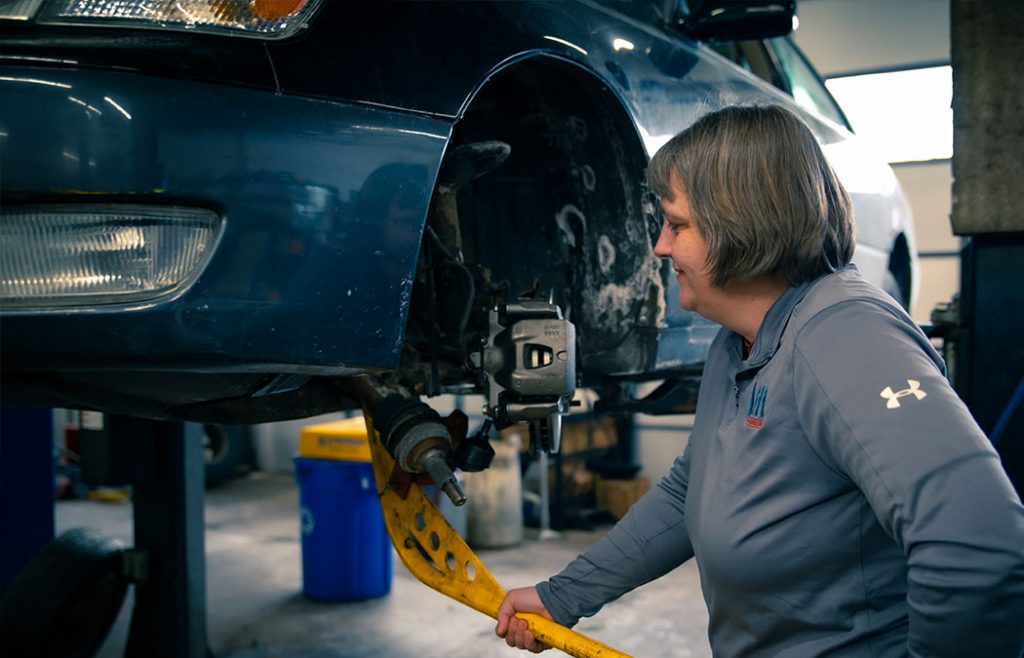 With all its growth, demand for The Lift's services has always exceeded capacity. Hundreds of people are waiting for appointments. And while they fix 125 cars a month on average, they are booked months in advance.
"We're intentionally inefficient," she said. "We could get them through faster, but we're not willing to compromise our core values. It matters to us that every car gets a full inspection. We help people prioritize and make the best decisions they can. We try to meet people where they're at, and people in poverty are often in crisis for various reasons. Sometimes the crisis causes poverty or vice versa. They bring a lot of those needs to us. We are social workers, grief counselors, and pastoral ministers who fix cars on the side."
It's a job that can be incredibly rewarding … particularly when they lose customers.
Heying recalls one client who brought in a donated car to be serviced. As a result, she was able to get a higher-paid position as a case worker who could make client visits. "She was otherwise qualified but didn't have a car," Heying said. "She got this job and made too much money to qualify for our services. I can still see the day she stopped by to tell us that. She said, 'Hopefully I'll never see you again.' Those are usually not words you want to hear, but in this case, those are exactly the words we want to hear."
Heying admits that many days she leaves work crying, often because of the situations people are in, and sometimes because of the way she and her colleagues have been treated. "Having insight into their pain can be more than impossible to bear," she said. "But it's good work and it's holy work. Jesus might not have envisioned the work of the Holy Spirit in fuel injectors or oil changes, but there He is, alive and well. The whole thing was led by something bigger than me from the very beginning."