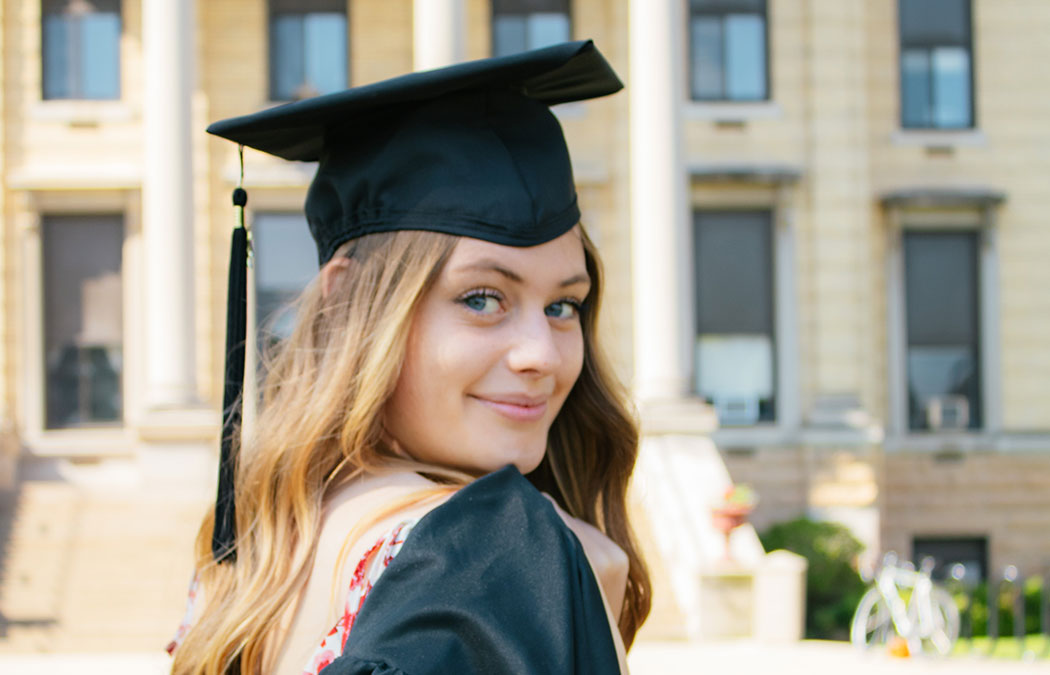 By Tom Brandes
A total stranger provided the crucial advice that helped Kendall Archer choose Saint Mary's University over the other 16 schools to which she applied. Unbeknownst to Archer, the person she contacted after a Google search of "notable alumni of Saint Mary's University of Minnesota" just happened to be a member of the school's Board of Trustees.
"I contacted everyone with 'J.D.' (Juris Doctor) after their name, because I knew I wanted to go to law school, and this gentleman (Patrick Salvi '75) was a successful Chicago lawyer," said Archer. "He told me, 'There's a great opportunity to do lots of things at Saint Mary's and be successful in law school.' He helped me see a potential path where I could grow to reach my goals, and I realized Saint Mary's was where I could go to be successful."
Archer, who grew up near Salt Lake City, Utah, is graduating with Bachelor of Arts degrees in Philosophy and Literature with a writing emphasis, and a minor in political science. She is Student Senate president, was named Outstanding Senior Woman, and also played soccer for four years. This fall, she's heading to George Washington University Law School in Washington, D.C., with a full tuition scholarship.
"Saint Mary's was an incredible fit and worked perfectly with my academic and intellectual interests. I never thought I'd go to a smaller school with 1,200 students in southeastern Minnesota. I looked at schools in almost every region, and this was my 'Midwest school,' added Archer. "I thought I'd be limited to Winona, but my freshman year I spent 10 days in Scotland and Northern Ireland with the soccer team and two weeks with the literature program in London. I completed a pre-law certificate program in New York City my sophomore year, and a study abroad in Rome last spring until the pandemic cut it short."
Despite having her study abroad experience in Rome abruptly shortened, Archer actually views it as a perk of the pandemic. When she returned home, she had two months of unscheduled time to study for the Law School Admission Test (LSAT). George Washington University was among the five law schools Archer applied to, and she was one of approximately 10 incoming students out of 500, to receive a Presidential Scholarship.
"I decided I wanted to be a lawyer when I was 13, and my ideal job is where I'm helping clients with their real-life problems," said Archer. "I always said I wanted to be a judge, and my internship with a judge this summer will give me a better idea of what it's like."
Archer appreciates the many opportunities she's had to experience other cultures and travel internationally in tandem with everything at Saint Mary's. She was able to find time for her studies and other activities with the help of her coaches, professors, and peers who helped when she couldn't be in two places at once.
Careful planning and scheduling help were crucial to Archer's remarkable college experience, and she's thankful her professors were involved and available. When she was a freshman, John Kerr, Ph.D., an associate professor and one of her advisers, helped her make a spreadsheet that included all her courses, study abroad, and soccer — over the next four years — to ensure everything she wanted to do was accessible and could happen.
"My advice to incoming freshmen is to be really involved. Saint Mary's doesn't limit you. I wasn't known as 'a soccer player,' I was a well-rounded student," said Archer. "Get involved and take advantage of opportunities early to see what you like and then you can pursue your interests."