GiGi Centeno B'22 decided that the best way she could bring about positive change in society is by pairing a career in politics with gathering international teaching experience. A job with Minnesota Gov. Tim Walz's office and a plan to teach in Korea this spring has solidified that she is on the right path.
When Centeno arrived at Saint Mary's, she began pursuing an education degree; it was a natural choice for her to follow in the footsteps of many of her family members who are also educators. But after contemplation during a semester at home during the pandemic, she began to consider other options.
"I knew at some point in my life I wanted to enter politics so I could help my community and country better itself," she said.
After conversations with staff and faculty at Saint Mary's, Centeno switched career paths and decided to double major in Spanish and History.
When her senior year rolled around, like most students nearing graduation, she began networking with Saint Mary's staff, faculty, and alumni from different professional backgrounds to help glean an idea of what positions might be out there.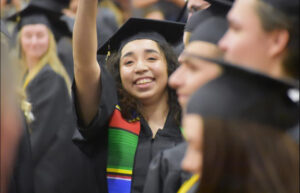 She found herself talking to one staff member about the ins and outs of working in politics. And it was through those conversations that Centeno came to work on Minnesota Gov. Tim Walz's reelection campaign finance team.
After spending months assisting with the governor's re election, Centeno says there was nothing more gratifying than the announcement that Walz had won on election night.
"Working on an election campaign was such a unique experience, so it was fun to attend (the celebration) and hear Gov. Walz and Lt. Gov. (Peggy) Flanagan speak in a way that was so emotional and real about what they can do for the future of Minnesota," she said.
Centeno says the soft skills she learned at Saint Mary's helped her as she stepped into this experience.
"Stepping into the finance team I had to work with people I had never met before and be exposed to an environment that was new to me; it was exciting to know that those skills I developed in college would help me," she said.
With the election cycle behind her, Centeno will be taking a break from politics to reenter the classroom. This spring, Centeno will teach English as a Second Language in Korea after undergoing a four-week intensive course with Oxford Seminars.
"I want to experience an education system that is different from the U.S. so when I come back and enter the field of politics I can take my experience and use that to create a better system for our students," she said.