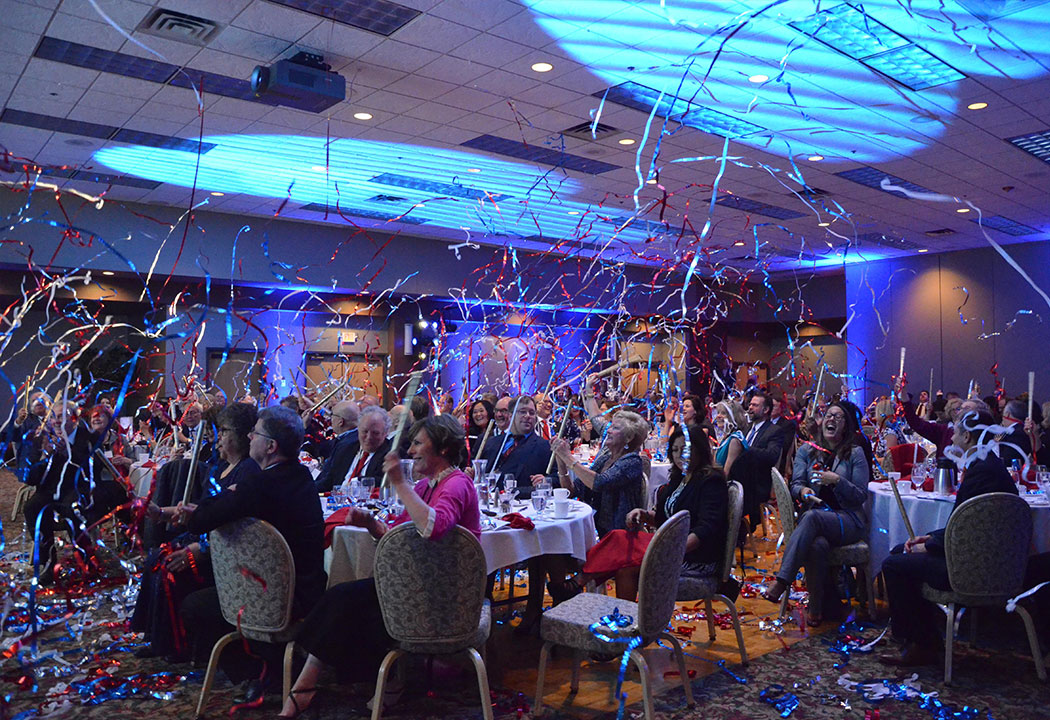 The audience was continuously on their feet with standing ovations.
The 2018 Celebration of Excellence, held May 19 on Saint Mary's Twin Cities Campus, began with a heartfelt tribute to Brother William Mann for his decade of inspiring leadership as president. A lengthy list of his accomplishments followed.
Ovation No. 1.
In his honor, the Brother William Mann, FSC First Generation Endowed Scholarship was announced by Mary Ann (Wera) Remick CST'64, chair of the Board of Trustees. With more than $500,000 already raised, this endowment helps ensure that Brother William's inaugural vision of making Saint Mary's accessible and affordable to all — regardless of their background or financial status — will continue to reach deserving young students.
Ovation No. 2.
Audrey Kintzi, vice president for Development and Alumni Relations, was asked to stand and be recognized for her tireless work and dedicated leadership on the university's "Discover Inspire Lead" capital campaign.
Ovation No. 3.
Terry Russell '76, chair of the "Discover Inspire Lead" capital campaign, announced that the campaign surpassed its $57 million goal and reached an astounding $72 million, a historic moment for Saint Mary's.
Instead of an ovation, an explosion of red and white streamers filled the air in joyous celebration.
"We're here tonight because we don't plan to slow down. There's no stopping the momentum at Saint Mary's University as we will not relent in our pursuit of excellence," said Brother Robert Smith, chief academic officer and vice president for the Schools of Graduate and Professional Programs.
He detailed some of the successes of the past decade including the construction of the Science and Learning Center, Brother Leopold Hall, and the track and soccer complex in Winona.
He added Saint Mary's acquisitions of Cascade Meadow Wetlands and Environmental Science Center in Rochester and the University Center and Harrington Mansion in Minneapolis.
And he mentioned the two newest facilities the university has broken ground on: Brother William Hall and a new baseball clubhouse in Winona.
"All of this equals $33.1 million in new construction, $13.8 million in property acquisitions, and $9.1 million for future projects," he said. "Together with the addition of renovations and technology, Saint Mary's has invested $66,367,000 in physical growth ($50,104,000 of which was funded through private philanthropy) in the past decade."
Academically, the list was just as lengthy. Brother Robert described how Saint Mary's is preparing to launch its physician's assistant program in collaboration with the Mayo Clinic. And the university is significantly growing its online presence, which has expanded from 132 students in 2013 to an expected 1,500 students for the 2018-2019 academic year.
"Through our partnership with Wiley Education Services, we're constantly evolving our online programming to meet demands of the market," he said. "Some of our most recent additions include our Master of Science in Business Intelligence and Data Analytics and our Master of Science in Cyber Security. We're also close to launching masters programs in public health and social work, both of which tap into new populations of learners and further enhance our reputation for being a destination science school.
"Just last week, Saint Mary's dedicated the John C. Parmer School of the Sciences, our first named school. And we've expanded our graduate programs to include a Doctor of Business Administration and Doctor of Psychology, which has been accredited by the American Psychological Association."
The evening also looked ahead to the next decade of growth as the university focuses additional efforts and attention to its current and future leaders in business.
With increasing activities, speakers, and partnerships through the Kabara Institute for Entrepreneurial Studies, Saint Mary's students learn from the best, working in partnership with mentors who are industry experts.
Graduates of the new Business Intelligence and Data Analytics program on the undergraduate campus are landing jobs in world-renowned businesses including IBM, Fastenal, Piper Jaffray, the Boston Bruins, and the Minnesota Wild.
Innovation in business education continues with a recently developed co-op program. Partnering with renowned Winona businesses like Fastenal, WinCraft, and RTP, this co-op program will further help students stand out from the competition while bringing talented, eager students to Winona.
"Just imagine what we can achieve in a space dedicated to business that rivals the progressive programming occurring inside," Brother Robert said. "The Adducci Science Center's Hoffman Hall on our Winona Campus is being reimagined to include a digital teaming space, sales training suite, trading floor and data analytics lab, computational lab, innovative classrooms and a makerspace — an inspiring environment in which students receive pragmatic, hands-on experiential learning. In these facilities, our students will take entrepreneurial ideas from conceptualization through design, invention, and research to execution.
"Saint Mary's name and reputation have always stood for something special," Brother Robert said. "We know it; now it's time for it to be known."