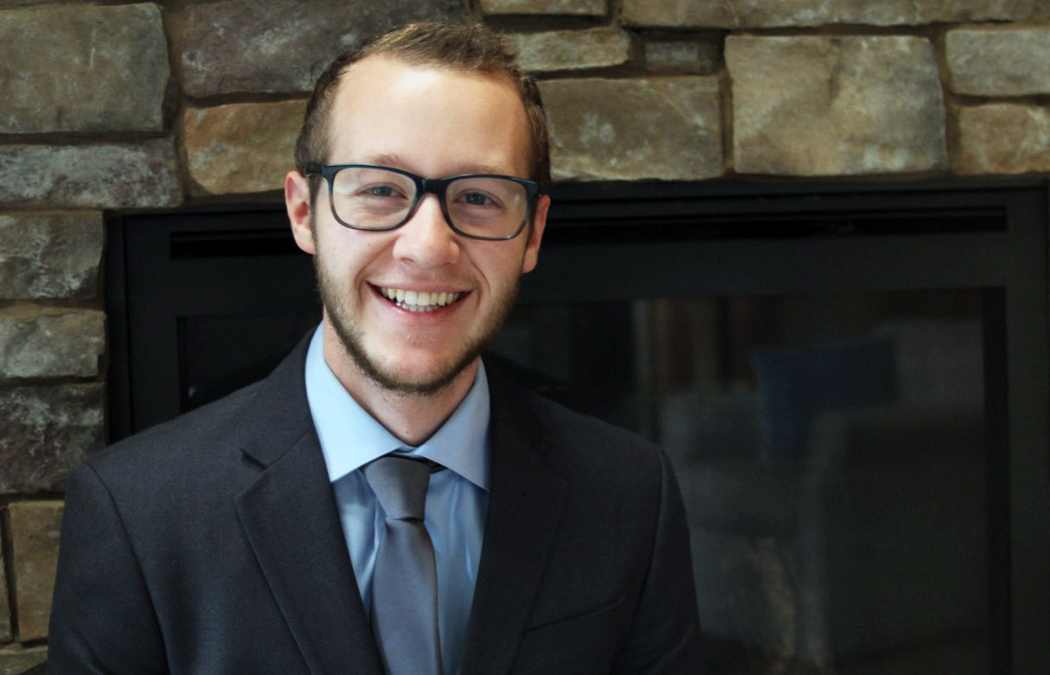 If there was an award for busiest undergraduate student this past semester, Jacob Tschida '20 would have been one of the frontrunners.
In addition to working on two theses to finish dual majors in theology and philosophy, Tschida took 17 credits while also competing on the men's track team — before university officials switched to remote learning because of the COVID-19 pandemic.
"It was a lot of fun," Tschida said of his hectic schedule.
These past few weeks, Tschida has been finishing his final academic work from his family's home in Pequot Lakes, Minn. In May, he'll finish both degrees a year early because of the college credits he earned in high school.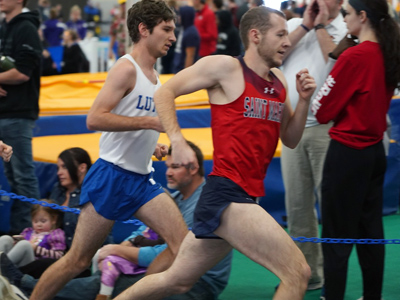 "Jacob is kind, confident, intelligent, and curious," said Joyce Bautch, Ph.D., associate professor of theology and one of his advisers.
"His empathy and support for others, as well as his strong values and openness to feedback, are some of the qualities that make him an outstanding student."
Tschida was scheduled to present his research on both theses at Saint Mary's Celebration of Scholarship event this spring. His theology research, titled "Cruciformed By Beauty," illustrates the connection between the idea of beauty and cruciformity — an object shaped like a cross — through the writings of Swiss theologian Hans Urs von Balthasar.
Tschida was inspired, in part, to delve into the works of Balthasar after a study abroad experience at the Pontifical University of John Paul II in Krakow, Poland, during the fall 2019 semester.
"We fall into a trap of compartmentalizing God into boxes to define him, and Balthasar is adamantly against that," Tschida said. "He preserves the mystery, beauty, and mystique of God."
In spite of Balthasar being considered controversial in some circles for what he wrote, Tschida was intrigued with how Pope John Paul II appointed this polarizing figure to Cardinal two days before Balthasar's death in 1988.
Part of the controversy around Balthasar comes from how he defines beauty in relation to the crucifixion — an image that to many may appear to be associated with negative feelings on the surface, given the cruel way in which Jesus was slain.
"I couldn't help but be enamored by the way he talks about beauty. I was drawn into some of his writing."

—Jacob Tschida '20
"The crucifixion is actually a very beautiful thing," said Tschida. "Balthasar calls it an act of eros love, so it's like a passionate desire for another. To be a Christian means being drawn into that eros love."
Balthasar wrote more than 800 works in his life, including 60 books. The masterpiece of his prolificity was a trilogy composed of seven volumes on beauty, five volumes on goodness, and three volumes on truth. For his thesis, Tschida analyzed the first volume on beauty.
"I couldn't help but be enamored by the way he talks about beauty. I was drawn into some of his writing," said Tschida. "And as I read more, it seemed like he was talking about cruciformity, but just never really said it explicitly."
A circuitous path
Tschida arrived in Winona in the fall 2017 semester as a new member of the Immaculate Heart of Mary Seminary. A year later, he felt a calling to be a traditional college student, allowing him to pursue other opportunities.
He transitioned to Saint Mary's and joined the men's track team, where he competed in middle distance events: 800-meter, 1500-meter, and the mile. In fall 2019, he studied in Poland for four months where he learned about Karol Wojtyla, more commonly known as Pope John Paul II.
"He's not translated into English widely or appropriately, so learning his teachings from some of the Polish professors was a really unique opportunity," said Tschida, who based his philosophy thesis largely on Wojtyla's anthropology.
Now that those moments have happened, he has felt a calling to return to the seminary and continue on the road to priesthood. If all goes as planned, he will join the Saint Paul Seminary next fall at the University of St. Thomas for a one-year pre-theology program before continuing his theological studies at North American College in Rome.
Featured image: Jacob Tschida '20 is finishing dual degrees in theology and philosophy within three years.