The American Association of University Women (AAUW) awarded a 2019-20 International Fellowship to Linet Makori, a student in the Saint Mary's University M.S. in Data Intelligence and Geoanalytics program. Recipients of AAUW grants and fellowships pursue academic work and lead innovative community projects to empower women and girls.
"I have had direct interaction with women and girls from all walks of life. Girls and women are a vulnerable and disadvantaged group in most communities," Makori said. "With access to the right training, mentorship, support, and resources, they can be empowered by their own abilities and developed to gain confidence and skills to fulfill their potential."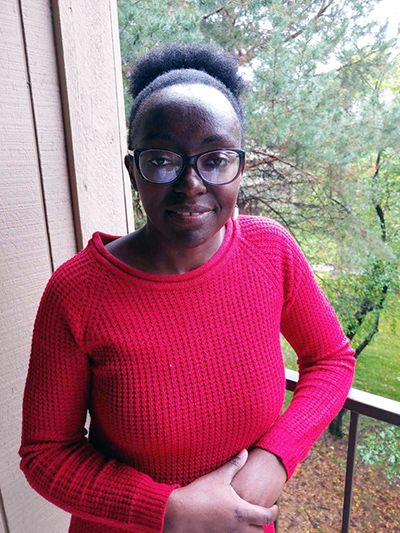 In addition to her studies, Makori is also a student intern at GeoSpatial Services. Her goal for this fellowship year is to complete her degree, expand her network of women in STEM, and continue supporting Tunapanda Institute, which she has done since 2015 through its Tech Dada program in mentoring girls living in Kibera, one of Africa's largest slums next to downtown Nairobi, Kenya.
"I am passionate about the socio-economic empowerment of girls and women because it is an avenue to solving some of our society's biggest challenges," she said.
Over the last nine years, Makori has worked as a systems analyst in the education sector in Kenya, where she's faced challenges like improper data designs, documentation policies and procedures, and evolving technology. She hopes pursing this master's degree will help her address these challenges through learning new and improved ways of handling and analyzing large data and building relationships with her peers and instructors through real-life experiences. She also sees this as an opportunity to narrow the technological skills gap for women in Kenya.
"The support of AAUW is giving me a head start on my journey toward accomplishing my academic goals and career aspirations. I am grateful for this opportunity as it lessens my financial burden while pursuing my degree. I am honored to be a 2019-20 AAUW fellow," said Makori.
AAUW is one of the world's oldest, leading supporters of graduate women's education. Since 1888, it has awarded more than $115 million in fellowships, grants, and awards to 13,000 recipients from more than 145 countries. For the 2019-20 academic year, AAUW awarded more than $4 million in fellowships and grants to roughly 260 scholars, research projects, and programs promoting education and equity for women and girls.
Educational funding is especially important given that women are disproportionately burdened by student debt. And their ability to pay off that debt is hampered by a lifelong pay gap that affects women in nearly every profession. The pay gap widens over time and has consequences on all aspects of a woman's financial life, from paying for an education to saving for a comfortable retirement. AAUW's awards help to alleviate the burden of student debt so women can focus on developing their skills and experience.
Learn more at aauw.org.