Upcoming events:
Leveraging LinkedIn Workshop today, Oct. 15, 7-7:30 p.m. via ZOOM
Join us for this 30-minute workshop. The workshop is free, but you MUST REGISTER IN ADVANCE for this meeting:
You may have heard of LinkedIn, but do you really know how to leverage it to maximize your network? Participants will learn the essentials of LinkedIn as a professional networking tool. You will:

learn how to promote your brand to the world,

explore ways to expand your network, and


discover ways to search for jobs, get recommendations posted, find alumni, and much more.
After registering, you will receive a confirmation email containing information about joining the meeting.
Fall Career and Internship Expo, Oct. 21, 10:30 a.m. to 1:30 p.m., co-sponsored by Saint Mary's and Winona State University via Handshake
In order to make the most of this fair experience:
Minnesota Private Nonprofit and Government Jobs Fair – Oct. 20, 11 a.m. to 2 p.m., virtual
If you are interested in a career in public service, this fair is for you! Visit with representatives of government agencies and non-profit organizations, all from the convenience of your room.
Check out more information about the fair, including the registered vendors. This event is free and open to all Saint Mary's students and alumni but online registration is required by Friday, Oct. 23. Once you register, you will receive a confirmation email which will include a log-in link specific to you and further instructions.
Disability Virtual Career Fair – Nov. 10, 8 a.m. to 5 p.m., online, free

If you're an individual with a disability looking for employment or internships, register now. Early registration will give employers access to your résumé as soon as they register for this event. You can chat online with employers across the county who are ready to hire you!
Spotlight on Intern:
Our intern this week is Justine Schultz, a senior psychology major with a minor in leadership, who is interning at the Winona Family YMCA!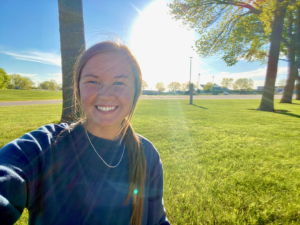 Major responsibilities: My major responsibilities include creating fun yet educational virtual programming for youth, creating an evaluation system for programs that targets youth development, researching and implementing youth training, research and developing a wide range of programs for youth to increase their socioemotional health, and lastly to gather materials on how youth develop and how the YMCA can impact youth.
How did I find out about this internship? Honestly, one day I thought to myself how much I loved attending the YMCA as a kid. This sparked my idea to contact Alexa Shapiro, the School Age director, who is now my site supervisor.
Favorite part of the internship? My favorite part of my internship is virtual programming. Due to COVID-19, some families may not be comfortable sending their child to camp or various in-person YMCA programs. I offer virtual programming on our Winona Family Facebook page every Monday, Wednesday, and Friday. This provides an option for youth to engage in fun and educational activities right from the comfort of their own home while improving upon their own well-being.
Most challenging part? The most challenging part of my internship is having to create content that is fun and engaging to a wide range of ages. It is also difficult to narrow down all of my research into the projects I am tackling.
Biggest lesson learned at internship? The biggest lesson I have learned is that if you can impact even just one person's life, you are making a difference. We cross paths with others every day, and you never know when you have the power to change someone's life. Always be kind, positive, and be a light for others.
Advice of others considering an internship: Do It. Consider your internship like it is your first professional job. Experience the good and the bad. In fact, soak in every experience your internship offers you because you will be amazed by the growth you will see within you.