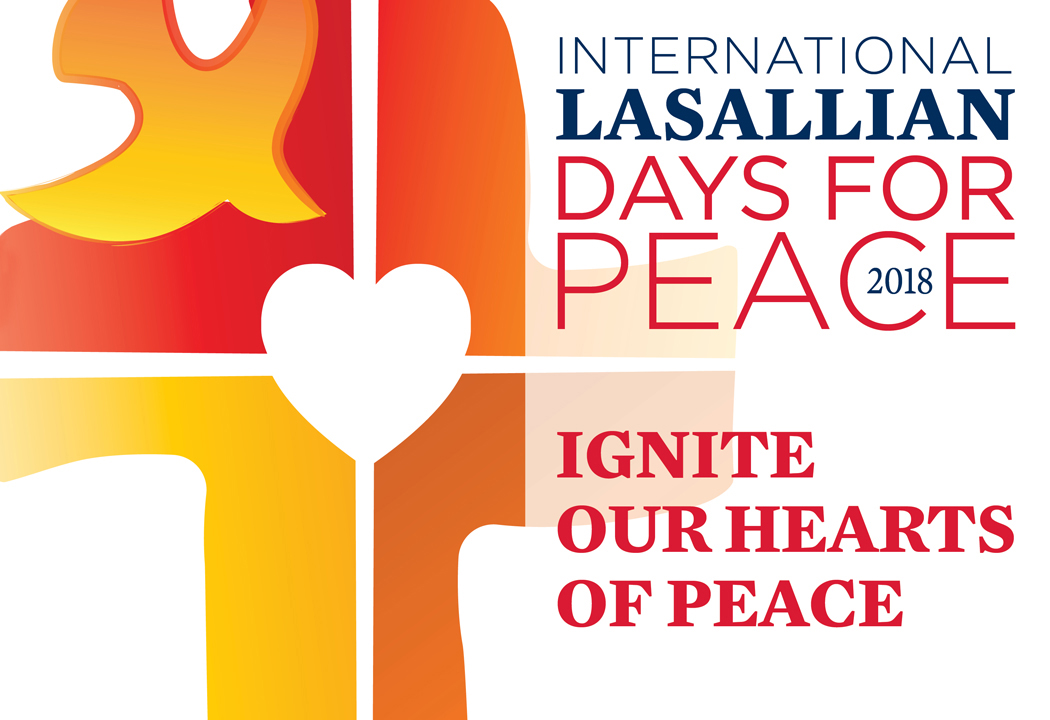 You're invited to join these upcoming events in celebration of International Lasallian Days for Peace.
SUNDAY, SEPT. 30
10:30 a.m. — Mass
Saint Thomas More Chapel
MONDAY, OCT. 1

8:15 to 10:15 a.m. — Coffee and Donuts
Come talk with Kathleen Swain, director of Lasallian Volunteers
Vlazny Lounge
12:10 p.m. — Mass
Saint Thomas More Chapel
7 p.m. — Sanctuary Church: "Creating Peace in our Community"
Presentation by Fr. Jim Callahan, pastor at St. Mary's Catholic Church (in collaboration with the English Department, Lasallian Honors, and Winona Interfaith Council)
SLC 200
Originally from Boston, Mass., Fr. Jim has been a pastor at St. Mary's Catholic Church in Worthington, Minn., since 2010, but has been in ministry for 35 years. Fr. Jim spent 17 years in Africa, Haiti, El Salvador, and in south central Los Angeles, working on refugee resettlement with Doctors without Borders and the United Nations. He has master's degrees in theology and African/black studies, works with alcoholics and addicts, and also teaches spirituality at a treatment center for priests.
TUESDAY, OCT. 2

8:15 a.m. – Pancakes and Morning Prayer for Peace
Vlazny Lounge
12:10 p.m. — Mass
Saint Thomas More Chapel
12:40 p.m. — Prayer
Peace Pole
WEDNESDAY, OCT. 3

Noon — "Work for Justice"
Presentation by Justin Van Dalen, attorney at Van Dalen Law Firm (in collaboration with the Kabara Institute for Entrepreneurial Studies)
Figliulo Recital Hall, Performance Center
Justin is a solo-practitioner attorney from Rochester, Minn. Before graduating magna cum laude from Mitchell Hamline School of Law, he spent 10 years as a supply chain analyst and sourcing executive in the electronics manufacturing and health care industries. Justin spent 16 months in Gulu, Uganda, serving as a Legal Fellow with International Justice Mission (IJM) where he defended widows and orphans who were victims of violent land theft. His experience with IJM brought into focus what it means to pursue peace by working for justice. Justin and his wife, Rebekah, live in Rochester with their three young children.
THURSDAY, OCT. 4

12:10 p.m. — Mass
Saint Thomas More Chapel
7:30 p.m. — "Pope Francis: A Man of His Word"
Documentary and Discussion
Salvi Lecture Hall
A rare co-production with the Vatican, the pope's ideas and his message are central to this documentary, which sets out to present his work of reform and his answers to today's global questions of death, social justice, immigration, ecology, wealth inequality, materialism, and the role of the family. "Pope Francis: A Man of His Word" documents a personal journey with Pope Francis and was written and directed by Oscar-nominated German filmmaker Wim Wenders.
FRIDAY, OCT. 5

7:45 to 10 a.m. — Coffee and Donuts
Vlazny Lounge