[et_pb_section][et_pb_row][et_pb_column type="4_4″][et_pb_text]
Employees on both the Winona and Twin Cities campuses were recognized recently for their contributions and dedication to the university. These staff members are living our mission in their day-to-day work and setting examples of strong character for all those who work alongside them and for our students.
Honored Dec. 8 on the Winona Campus were:
Barb Schmidtknecht, administrative assistant to the provost and dean of faculties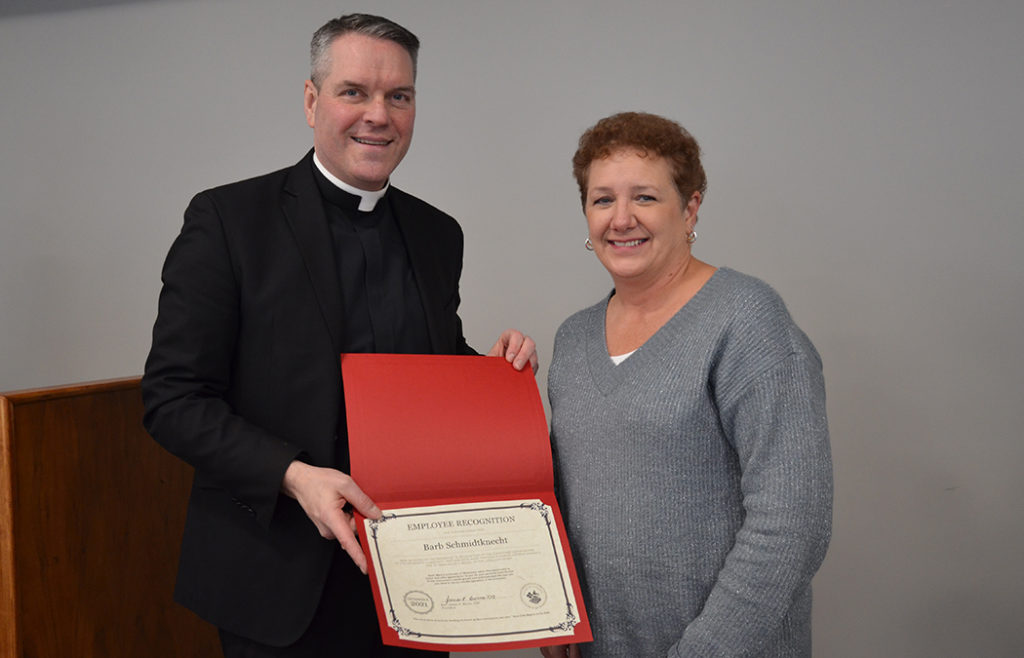 Adjectives used to describe Barb Schmidtknecht include quick, concise, organized, and helpful. After working more than 35 years for the university, she has vast experience and a wealth of institutional knowledge that contributes greatly to the effective and efficient operation of her area. Most recently, she's worked diligently to address and anticipate needs in academic affairs, specifically related to the pandemic. Moreover, she has continued to demonstrate her signature good cheer and a positive attitude during what has been a stressful time. She also has contributed willingly to the launch of Saint Mary's nursing program by supporting our efforts to hire administrative staff for that area.
Winona Campus maintenance team
This past summer, the maintenance team put in long hours and worked hard to set up the newly renovated Aquinas Hall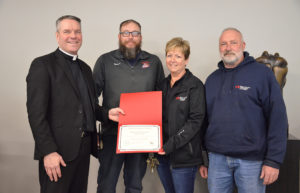 classrooms and workspaces on the Winona Campus. The project required preparing the 50,000-square-feet facility for use by faculty, staff and students — and included the single largest simultaneous move of faculty and staff offices in the history of the university (including seven departments and 53 faculty and staff members). While moving furniture, photographs, bulletin boards, and whiteboards — as well as testing the HVAC system and doing landscaping, they were ever pleasant, upbeat, and helpful, setting a superb example of working together and by association. Accepting this award was Lisa Jonsgaard, custodial supervisor; Judd Botcher, building maintenance supervisor; and Les McElmury, head of skilled trades.
Honored Dec. 14 on the Twin Cities Campus were:
Val Upsher, curriculum and assessment coordinator
Val Upsher has been serving and supporting Saint Mary's faculty and students for nearly 25 years. In her current role, she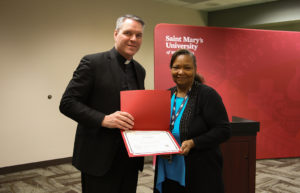 organizes and oversees a number of critical processes to assist faculty with submitting curriculum and assessment. She also oversees the vast and unwieldy process of editing the course catalog every year. Credited with being the first to volunteer for projects related to annual reporting, she takes on University Program Planning organization, facilitating LifeCycle redesign. Completely organized, never flustered, and never frustrated, Upsher brings a gentle calmness to whatever she does. In her quiet and unassuming way, she has navigated the scope and complexity of change at Saint Mary's over her 25 years and has helped faculty and staff by remaining patient, caring, and steadfast.
Erika Kim, assistant director of financial aid
Erika Kim is a vital part of the SGPP campus who has played a number of positions: program coordinator, a senior student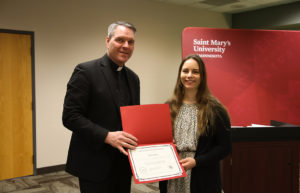 services specialist learning the basics of international student advising, and now assistant director of financial aid. Her performance in all these roles is characterized by going above and beyond to serve students, consistently providing thorough and accurate responses in a timely manner. Regardless of how stressful a situation becomes or the volume of work in front of her, she is always kind, calm, and compassionate with students, taking the time to get to know them and their stories. A team player, she checks in regularly with her colleagues to be of service, and always has a kind word for those around her.
Abram Hedtke, director of Instructional Technology
Students, faculty, and staff are all beneficiaries of Abram Hedtke's dedication and commitment to serving those directly involved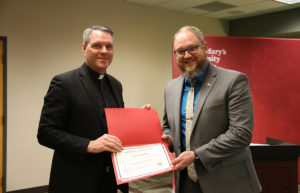 in teaching and learning. Hedtke has guided the university from multiple learning management systems to a single LMS, Canvas. Then, he developed training for two different faculty bodies to advance uniquely different teaching and learning approaches for both using Canvas. He also created an orientation course so students could guide themselves through the transition to Canvas. And, he lent his expertise to help pilot closed captioning for Access Services, provided tech support for the Fall Faculty Conference and the CELT website, as well as created an online professional development series focused on inclusion and human dignity. During a period of workforce restructuring, he also willingly and successfully took on additional direct reports on other campuses and a more visible leadership role.
[/et_pb_text][/et_pb_column][/et_pb_row][/et_pb_section]