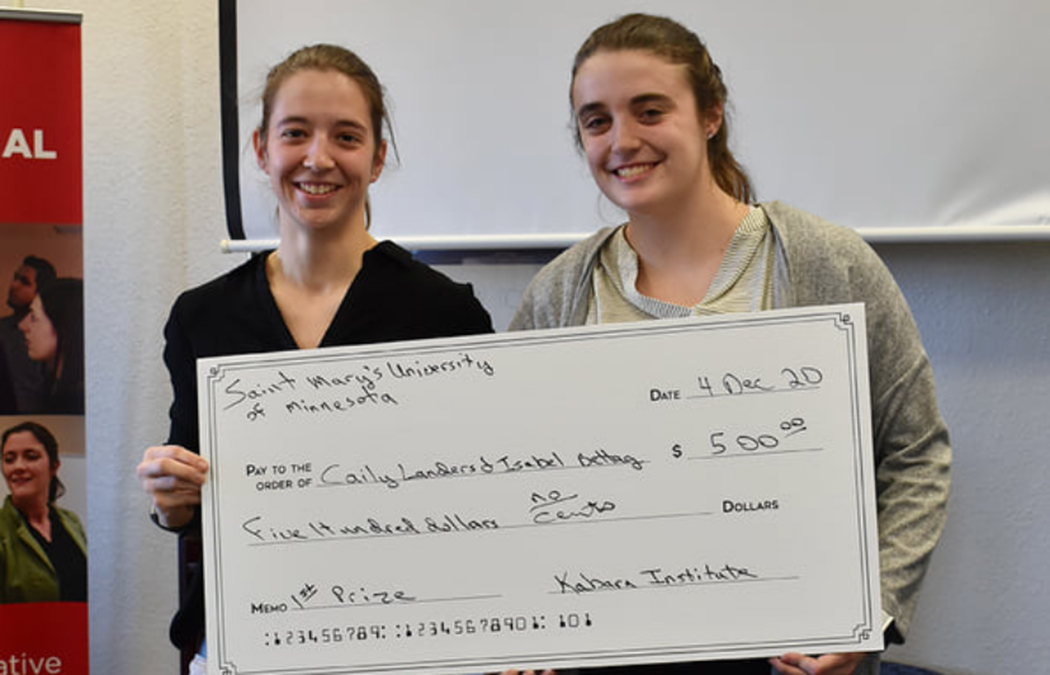 Caily Landers '21 knows the loneliness hospital patients can feel as they are undergoing worrisome procedures, disconnected from family, and often missing home.
Last summer, Landers' twin sister, Shannon, was diagnosed with a rare type of bone cancer. Her chemo treatments often required hospital stays for weeks at a time, and "All she wanted was to be at home," Landers said.
As Landers and Isabel Bettag '21 were brainstorming ideas for a business pitch, they formed a solution to comfort hospital patients that they call CalmConnect. They describe it as an app and projector which allows family and friends to connect with patients.
And they know their product is especially needed during this pandemic.
"This could be very beneficial to the hospital patients who are alone because of COVID-19. It would connect the patient with their family and friends," Landers said. "For safety, guests often aren't allowed into the hospital with them. CalmConnect would help with the loneliness of this situation. We see a need for this product, especially at this time."
The two won the people's choice award (and $500 in prize money) in the recent E1 Ignite Cup competition and will pitch tomorrow (Tuesday, June 2) in the final round of the Assistive Tech Challenge Virtual Pitch Competition in Rochester, Minn.
"Each pitch competition has taught us so much," Bettag said. "We have learned through watching other pitches how to edit our pitch, and we have learned the next steps to take from companies that are later in the startup stage. Each competition gives us more confidence in our product and makes us excited to continue it!"
The two hope to develop a marketable prototype, continue to raise capital, and eventually file for a patent. Their goal is to get it into hospital rooms as soon as possible.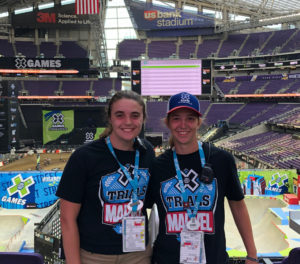 Landers and Bettag, who are Cardinal basketball players, best friends, roommates, and even interned together last year at the X Games, admit they had never previously thought of themselves as entrepreneurs until they began working with the Kabara Institute for Entrepreneurial Studies at Saint Mary's.
Landers is a management and sports management major, and Bettag is majoring in finance and sports management. They are grateful for Christine Beech, D.M., Matt Klosky, and other members of the Business Department for their mentorship in helping them develop their product, their business knowledge, and their entrepreneurial spirit.
"Both of us now find ourselves thinking of new products every day, but we have to remind ourselves that we need to focus on developing CalmConnect," Bettag said.
The DMC Assistive Tech Challenge
Tomorrow, from 2 to 3:30 p.m. they will compete at the Assistive Tech Challenge, a pitch competition presented by Destination Medical Center (DMC) to facilitate greater independence for people with disabilities and the daily challenges they face.
The competition will be held in a virtual format and is open to the public.
In its second year, this first-of-its-kind competition in Minnesota will feature teams in two divisions: Open Division (for community-based teams and students) and Professional Division (for companies formed with annual revenues not exceeding $200,000). Six teams from the Open Division and four from the Professional Division will pitch their ideas to an expert panel of judges.
Teams in this year's competition represent locations throughout the United States and Canada, including Minnesota, Florida, and Toronto, and universities including Bethel University (Saint Paul), Saint Mary's University (Winona), University of Iowa, University of Wisconsin-Madison, and Western University of Ontario.
First place in each category will receive $5,000. Second place in each category will receive $2,500. A people's choice award in each division will receive $500.
The event will also feature a live interview with winners of the inaugural Assistive Tech Challenge about their success since the 2018 competition.
The DMC Assistive Tech Challenge is free to attend, but registration is required. Register here to attend and cast your vote: https://dmc.mn/assistive-tech-challenge/