Blessed James (Brother James "Santiago" Miller B'66, M'74) was a dedicated De La Salle Christian Brother and Saint Mary's alumnus who died serving and protecting the youth he served 40 years ago. Blessed James was only 37 when he was shot and killed as he was mending a wall outside of a school where he worked in Huehuetenango, Guatemala in 1982.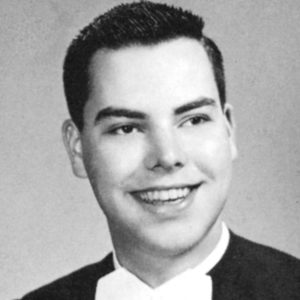 Pope Francis recognized the martyrdom of Brother James Miller, FSC, on Thursday, Nov. 8, 2018. The Vatican announced that Pope Francis approved a decree recognizing Brother James died as a martyr. Brother James is the first De La Salle Christian Brother from the United States to be beatified. His beatification was held in 2019 in Guatemala. As a martyr, Brother James must have one miracle posthumously attributed to him to reach the next (and final) level toward official sainthood, which is canonization.
The Vatican approved a special Mass for Blessed James on the anniversary of his death. Bishop Quinn will present it on that Sunday, Feb. 13. He has invited all the Brothers from Winona and Twin Cities to the 10:30 a.m. Mass on Feb. 13, at Cathedral of the Sacred Heart in Winona.
Saint Mary's is also planning a week of special events in connection with Blessed James Saturday, Feb. 12, through Friday, Feb. 18.
Twin Cities Event
Wednesday, Feb. 16
Panel Discussion moderated by Dr. Paul Kotz, 4 p.m. in Brother Louis Hall Main Room. The topic is "Who is my neighbor: Immigration & Refugee Discussion." Panelists include the Rev. Jerchah Heurh, pastor First Hmong Assemblies of God Church; Dr. Nhia Heurh Vu, manager of learning and development at the Minnesota Department of Revenue; Gene Gelgelu, doctoral candidate in Saint Mary's Doctor of Education in Leadership program; and Amy Smith, social worker at Hennepin Healthcare's Whittier Clinic.
Winona Event Schedule
Saturday, Feb. 12
Vigil Mass, 4:30 p.m., Chapel of Saint Thomas More
Monday, Feb. 14
An Evening with Br. Paul Joslin, FSC, 7 p.m., Toner Student Center Lounge; refreshments will be served.
Thursday, Feb. 17
Migrant America: The Hidden Community Amongst Us Panel Discussion, 7 p.m., Salvi Hall. Panelists will be Dr. Kyle Black and Fatima Said, executive director of Project FINE. Sister Mary Elizabeth Ann McCullough, RSM, will serve as the moderator.
Friday, Feb. 18
Movie & Discussion: "Romero," 7 p.m., Aquinas Hall 200
Please contact the Office of Mission & Ministry at officeofmission@smumn.edu with any questions regarding the events.
Brother Paul Joslin, FSC
Brother Paul Joslin, FSC, friend and colleague of Blessed James will return to Saint Mary's to help tell Blessed James' story.
How long did you know him and how would you describe Blessed James? I knew James Miller for the last 14 months of his life. In Huehuetenango, we were seven brothers in one community but two residences. James and I lived and staffed the Casa Indígena. From an early age, James learned the value of physical work since he grew up on a farm the oldest of five children. Hard work and long hours were part of his lifelong daily routine.
Can you briefly describe how Blessed James was killed and the circumstances surrounding his death? On a Wednesday, Feb. 10, 1982, we received word that the father of a fellow brother urgently wanted to speak to a community member. This particular father just retired from the border patrol police. His office had been on the local army base. The message that we heard at dinner time was that members of the G-2 (death squadron) were looking for the "sub-director" of De La Salle. After dinner, we had a very meaningful, fraternal, long community meeting attempting to best discern which one of the three with such a title was being targeted. Before concluding, each of the seven of us individually and collectively made the same commitment to remain in Huehuetenango as long as possible.
The helpful father told us to remain inside as much as possible or to go outside accompanied. On Saturday, Feb.13, 1982, James decided to patch a wall outside the Casa Indígena around 4 p.m. No sooner had he climbed a ladder, than three gun-wielding men approached and fired several shots. James was dead by the time he hit the pavement.
When I arrived at the nightmarish scene, I picked up the cap he was wearing and ran a finger around the inside perimeter. I ended up touching sweat. It was as if he were still alive. His tragic death at age 37 was the most traumatic event I had ever experienced. In retrospect, we were being watched very attentively. I am convinced that we ran afoul of the military regime because of our commitment to the economically poor. If committed to the poor, then you are mistreated like the poor.
Can you describe how Blessed James was committed to the youth he served? James Miller not only made a life-giving commitment to the youth of Huehuetenango but also the economically poor Indigenous ones. He really could have remained in the relatively safe, comfortable Minnesota. He described his days as being "28 hours long." The daily Huehuetenango routine began very early with morning prayer, breakfast followed by classes 7:30 a.m. until 1 p.m. then lunch. After lunch, Jim worked on a diocesan farm together with students from the Casa Indígena until 5 p.m. After evening prayer and dinner was supervision for a quiet study period from 7:30-9 p.m. Oftentimes James would then counsel students until almost midnight. It certainly was a full day.
What do you hope students take away from your upcoming presentations? What should it mean to students to have this connection to Blessed James, who was also a Saint Mary's alumnus? To quote martyred Sister Ita Ford in a letter to her niece shortly before her tragic death, "I hope that you (the students) find something worth living for and even worth dying for … I do not know what it is. I can only encourage you to look for it." This, too, is my greatest wish to take place for the students that I soon will be addressing.