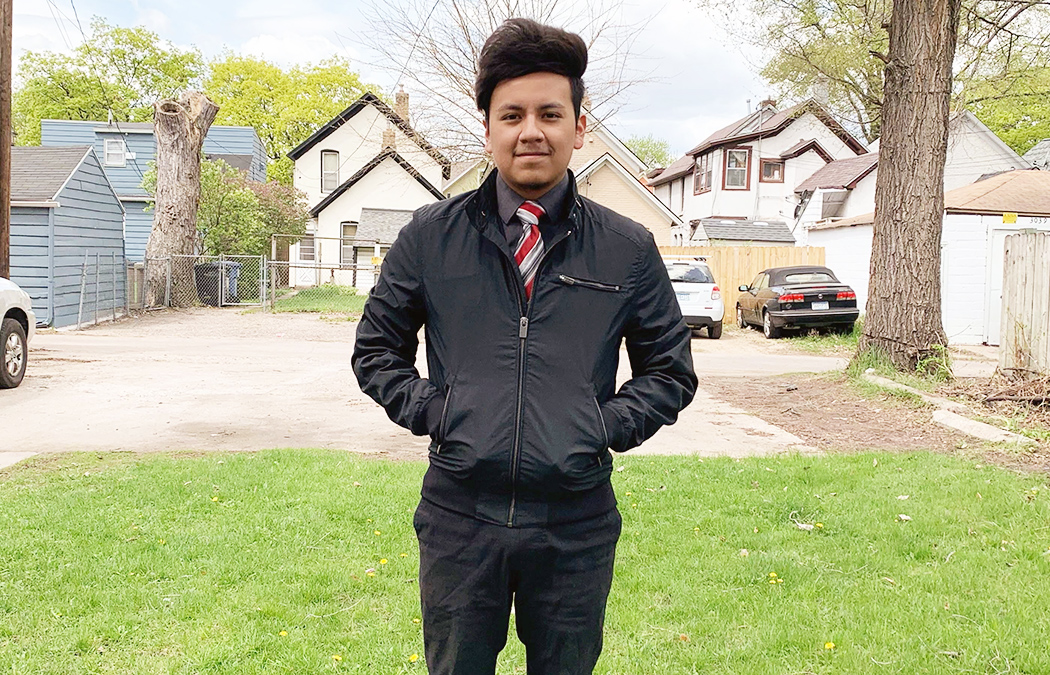 Jimmy Cumbe-Paucar '21 is a student of few words, but others in the Saint Mary's University of Minnesota community will be glad to tell you about the positive impact he has made on both the Twin Cities and Winona Campuses.
"He is always willing to help with projects and assignments," said Peggy Walters, administrative assistant to the president, who supervised him in his student work role in the President's Office for the past three years. "Jimmy is extremely dependable and competent. He possesses a calm demeanor. I do not ever hesitate to ask for his assistance, no matter the task."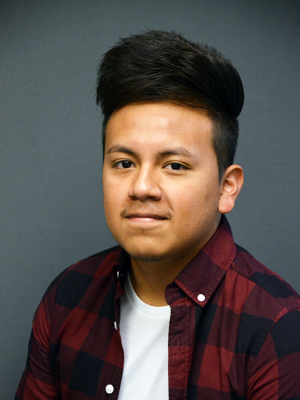 "Jimmy is a quiet leader," said Alisa Macksey, dean of Student Success and the First Generation Initiative. "He leads by example through his actions and behaviors. When he does speak, it is well thought out."
"The first thing — from a distance — one notices with Jimmy is his unique and perfectly coiffed and classy hair style," said Brother Robert Smith, FSC '76, Ph.D., senior vice president for university initiatives and special adviser to the president. "The second thing one comes to know about Jimmy is his professionalism, maturity, thoughtfulness, and good-natured personality.
"He is, in his own way, a Lasallian through and through and is the kind of young man who will surely 'pay it forward.'"
Brother Robert first met Cumbe-Paucar during the student's sophomore year at Cristo Rey Jesuit High School in Minneapolis. His family came to the City of Lakes by way of Ecuador. Cumbe-Paucar started working on the Twin Cities Campus as part of Cristo Rey's Corporate Work Study Program (CWSP), being assigned to various instructional technology-related tasks by Bob Andersen, director of instructional technology.
Cumbe-Paucar said he was interested to learn more about Andersen and his role and came to see him as a mentor.
"He worked with us one day a week," Andersen said. "Immediately, he showed an amazing work ethic, aptitude, and maturity. So we hired him in the summer [to work outside the CWSP] and kept giving him more and more work."
In the two summers he spent as an intern, Cumbe-Paucar set up a multitude of cameras and tripods to record classes, used cameras to record events at the Saint Mary's University Center, and administered a variety of tasks related to the upkeep of the university's learning management system at the time, Blackboard.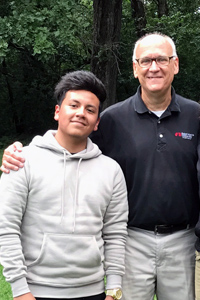 Through his work on the Twin Cities Campus, Cumbe-Paucar eventually found out about the First Generation Initiative (FGI), which led to him enrolling at Saint Mary's as an FGI Scholar after completing Countdown to College.
Cumbe-Paucar, who also plays midfielder on the club soccer team, said he felt happy at Saint Mary's "since day one," a feeling he attributes to taking part in the Countdown to College program.
"I know a lot of students feel homesick, but Countdown to College really helped prevent that," he said. "We were able to adjust to the Saint Mary's environment beforehand."
He began his undergraduate journey as a computer science major, but is now pursuing a graphic design major, hoping to find work in the Twin Cities metro area upon graduation. For now, he is looking forward to his senior year in Winona.
"I'm just thankful for all the people who have donated to us," said Cumbe-Paucar. "It really means a lot because it shows that people do count on us and they trust that we can, in the end, help make a change — here and in the world."