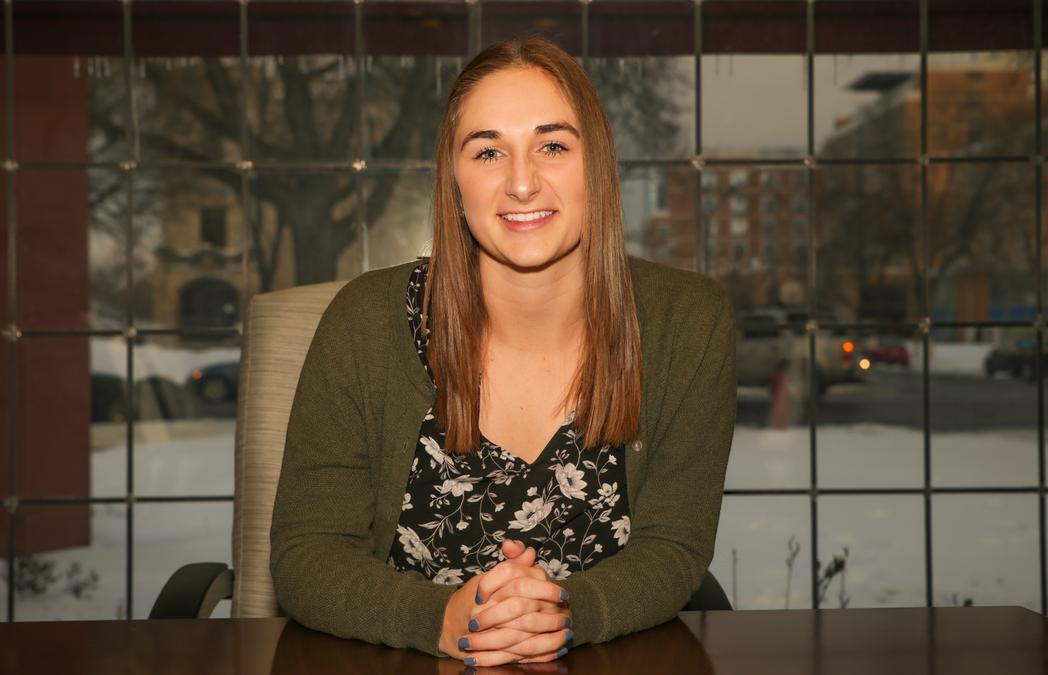 Laura Sonday '19 did not plan on falling in love with Saint Mary's University of Minnesota. After having two older sisters (Mara '10, C'17, M'18 and Anna '13) and her mother, Mooreen M'04, attend the university, she liked the idea of blazing her own trail at a different school after graduating as a tennis standout from South St. Paul High School in 2015. But fate had other ideas.
"I tried to tell myself I wasn't going to come to Saint Mary's because my sisters both did, but then I went on campus and met with Coach [Jeff] Halberg and the girls who were on the team at the time," recalls Sonday, who is a native of West St. Paul. "I just felt like they cared what my opinion was. They cared about me and what I wanted to talk about."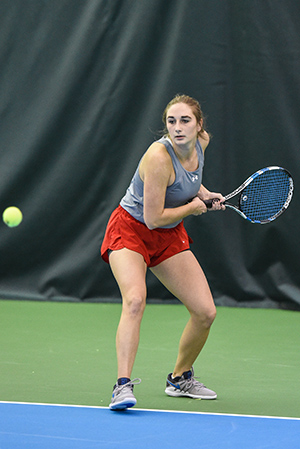 Sonday, who double majored in marketing and Spanish, was impressed with how Halberg personally set up a meeting with Christian Michener, Ph.D., the director of the Lasallian Honors Program, and walked with her to the meeting when she was on her campus visit.
Sonday finished her career at Saint Mary's playing No. 1 singles and doubles for all four years with a combined record of 112-65 and five All-Minnesota Intercollegiate Athletic Conference (MIAC) First-Team honors. Her academic accomplishments were just as impressive as a four-time ITA Scholar-Athlete and three-time All-MIAC Academic selection. Last season, she was selected for the MIAC Chris Evert Award, given annually to a "senior tennis student-athlete who exhibits outstanding sportsmanship and exemplary athletic, academic, and humanitarian accomplishments," according to the MIAC.
"She left such a lasting impact because she's just such a generous and selfless person who gave so much of herself to the team and to the school," Halberg says.
Now, after four years in Winona, Sonday finds herself back in the Twin Cities and part of a new team that still allows her passion for tennis to burn bright. Since July, Sonday has been working as a media and marketing coordinator for Bleachr, a mobile sports app startup company based in downtown Minneapolis.
Bleachr began in 2015 with the Saint Paul Saints minor league baseball team as its first client, developing a fan experience app to allow fans to enter contests, order tickets for future games, and access other amenities. The company has since expanded into three branches: BaseballONE (minor league baseball teams), CollegeONE (major college athletics), and Sonday's favorite, TennisONE (professional tennis tournaments).
'A kid in a candy store'
As part of the marketing team, Sonday started her new job by going to four professional tennis tournaments across the country, beginning with the Hall of Fame Open in Newport, R.I., the only grass-surface tournament of its kind in the U.S.
"I was like a kid in a candy store," Sonday said. "It was amazing. There's just so much tennis history there. It's such a small, intimate tournament where players are just walking around."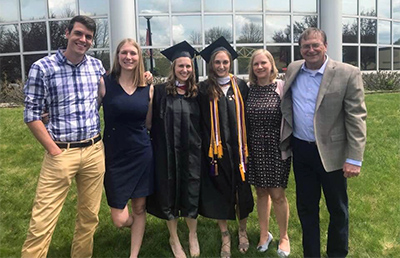 Bleachr had built an app specifically for each tournament. While on assignment, Sonday and her fellow team members help patrons download that event's app and answer any questions they may have.
"And then I get to watch pro tennis when it's not busy, which is amazing," added Sonday, who grew up cheering for tennis icons Roger Federer and Serena Williams. "And I get to write about all of my experiences."
Currently, Bleachr creates apps for tournaments in four different countries: U.S., Canada, France, and Switzerland. Sonday hopes the operations might expand to Spanish-speaking countries in the future, allowing her to keep her Spanish skills fresh.
It should be noted that as part of her thesis, she translated some of the university's admission materials into Spanish. Said Sonday: "We have such a strong First Generation Initiative program with people who are bilingual. Everyone deserves to have materials in a language they and their families are comfortable in."
When Sonday first thought of a possible career, she envisioned herself running tournaments such as the ones where she has worked. Her perspective, though, has changed.
"Now that I've been there and seen how much work there is, maybe not. But just being able to go and still be a part of that is definitely as close to a dream job as I think you can get," Sonday said.
"She left such a lasting impact because she's just such a generous and selfless person who gave so much of herself to the team and to the school."

—Jeff Halberg, women's tennis coach
Sonday is especially excited about the launch of Bleachr's TennisONE app, the first proprietary venture for the company. It features a wide array of platforms for fans of the game, including news, live scores, draws, and interactive gaming.
She finds daily inspiration from Bleachr's co-founder and CEO Kristin Geer, who reached out to Sonday through LinkedIn.
"She motivates me to make a path for myself as a professional woman," Sonday said of Geer.
Last September, Sonday attended a "Women in Tech" event sponsored by Minne Inno when she heard something that has stuck with her: Oftentimes, in a room, men find it very easy to go up to people to network. Women don't always find it so easy because they don't like to interrupt. If you can go into those networking situations with a friend, though, it can be less intimidating.
"I've never heard somebody give that advice before," Sonday said. "They always want you to be strong and independent, but you can do that with support."
A new season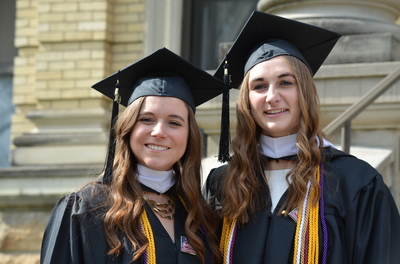 Although Sonday's time as a player with the Cardinals has ended, Saint Mary's fans will be able to see her at the Winona Tennis Center in a different capacity, as she will be serving as a volunteer assistant coach for Halberg. The season begins Jan. 24, with a match against Martin Luther College at the center.
"I always tell my players that the measure of success is not how much you make but whether you enjoy what you do and find real value in it," Halberg said. "Laura does, and I'm so pleased for her because that's really the holy grail."
Sonday says that she will continue to balance the weekend drives to Winona in the spring with her job in Minneapolis for as long as Halberg will have her on staff. It's a commitment she is willing to make given her passion for both pursuits.
"I'm not looking for a place that's a stepping stone," Sonday says of her job at Bleachr. "I'm looking for a place that I can grow with and that I can help grow. And this seems like a place for that. The good news about a startup is that you often get to help shape your own role.

"I see myself here in the Twin Cities for a long time, still at Bleachr with hopefully some Grand Slam [major tournaments] under our belt."
Featured image: Laura Sonday '19 has been working in the marketing department for Bleachr, a company that develops fan experience apps for professional sports teams, college athletic programs, and tournaments.