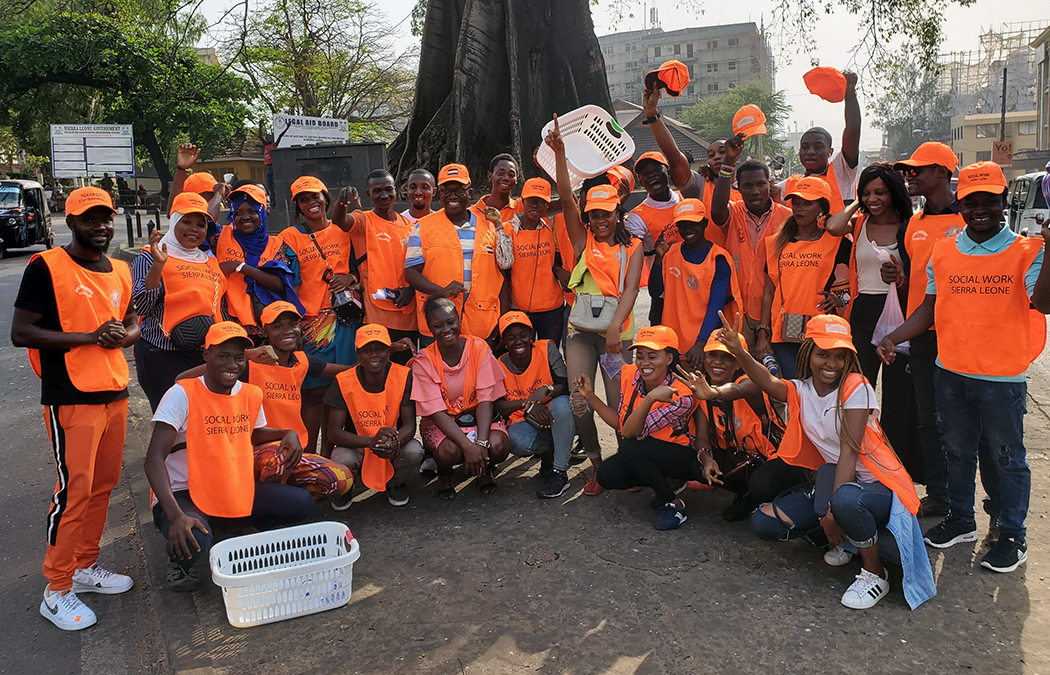 Looking at the group photo, the members' smiles are almost as bright as the orange vests they wear.
Those gathered in the Central Business District of Freetown, Sierra Leone, are all part of a service organization that has been handing out meals every Sunday to the area's homeless for two years.
"I provided all of those from the purchases I made," said Sylvester Amara Lamin, Ph.D., looking at the photo.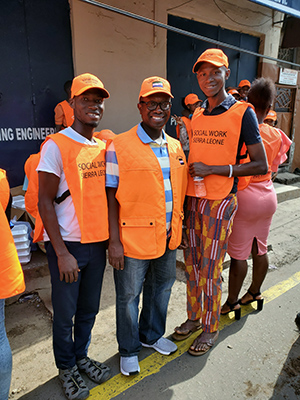 Lamin serves as a core associate professor for the newly started Master of Social Work (MSW) online program at Saint Mary's University of Minnesota, which will host its first MSW Field Fair on Wednesday, March 25, from 3 to 5 p.m. at the University Center on the Twin Cities Campus. The program, which welcomed its first students in fall 2019, had the largest initial enrollment of any online program in the history of Saint Mary's University.
"With the expertise of our professors, we focus on more of the clinical component, which is unique, especially when it comes to an online program," said Dr. Lamin, who joined the Saint Mary's community in January 2019.
Dr. Lamin makes an annual pilgrimage to his home country every year during winter break. On his most recent trip, he was invited to give a lecture at his undergraduate alma mater, Fourah Bay College (FBC), and take care part in the service group's ministry on Jan. 5.
Many volunteers come every Sunday. Thanks to Dr. Lamin buying them at the hunting season's conclusion, the regulars have their own personal vests embroidered with the group's name, Social Workers Sierra Leone. Dr. Lamin also sends monetary donations to support the group's mission. In addition, the group was able to hand out small toiletries such as toothpaste and toothbrushes, after Dr. Lamin's wife gathered up the supplies to disperse.
The organization was founded in 2018 by Hassan Koroma after he witnessed a food vendor refusing to sell food to a homeless woman. Koroma gave the woman the food he was eating.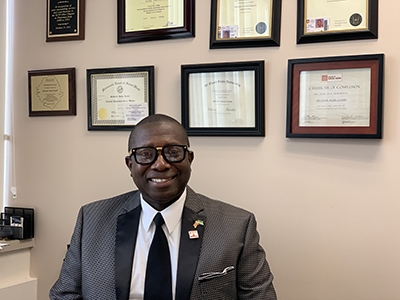 "That was what motivated him to start feeding the homeless. He knew that her situation was not unique to her alone in the Central Business District of Freetown," Dr. Lamin said.
Through donations, the group is able to hire a cook who makes meals — usually consisting of rice with various sauces — and then hand them out to people on the streets.
The organization also provides meals for those dealing with mental health issues who have nowhere to go given that the city's own psychiatric center — one of the oldest in Africa, having been established in 1820 — is over capacity.
"Many of them are on the streets because not all of them can go to the hospital," Dr. Lamin said.
This is the reality of Sierra Leone, a West African country that has approximately 7.5 million citizens, with over a million of whom live in the Freetown area. As such, there is a significant resource issue, given that there is a large imbalance of social services in Freetown compared to the rest of the country — in spite of the fact that a majority of people work for the country's government in various capacities, Dr. Lamin said.
"There is some form of decentralization going on, but not at the speed you really want," he said.
Establishing a foundation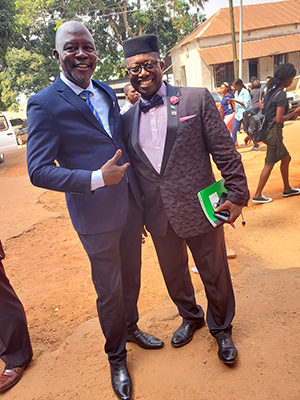 Patrick Walker, head of the Department of Sociology and Social Work at FBC, invited Dr. Lamin to give the Jan. 7 lecture. The talk provided an overview of the history and current trends of social work practices and education in the U.S., as well as lessons that could be learned and models emulated by Sierra Leone.
As Dr. Lamin explained in his lecture, the concept of modern-day social work largely came from the criticism of an American educator named Abraham Flexner, who in 1915 stated in an essay titled, "Is Social Work a Profession?" that social workers needed professional qualities and classifications.
Flexner's comments, in part, led to the Council on Social Work Education (CSWE) being founded in 1952, for accrediting social work education programs in the U.S. Three years later, the National Association of Social Workers began as a professional resource. In 1979, the American Association of State Social Workers (later called the Association of Social Work Boards) started providing accreditation exams. All of these institutions have created structure within the profession, Dr. Lamin said.
It is the hope of those at FBC, which is a part of the University of Sierra Leone system, to create a master's level social work program similar to the ones that have been established in the U.S.
Based on the crowded, large room full of teachers and faculty where he spoke, the interest is certainly there — but the structure and the resources needed are not.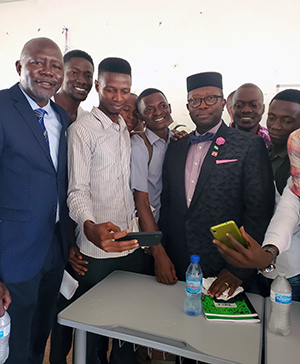 As opposed to the specialized, clinical focus of the MSW program at Saint Mary's, the greatest need in Sierra Leone, Dr. Lamin said, is to have a master's program with a generalist focus, allowing graduates to work anywhere they are needed.
Perhaps the greatest issue is what Dr. Lamin referred to as title protection, meaning that someone in a certain field, such as social work, has the proper credentials to back up the claim of their title, harkening back to Flexner's sentiments from 105 years ago.
In 2016, a group that included Koroma took the initial steps to establish a Sierra Leone chapter of the International Federation of Social Workers, but that effort is still very much in its infancy.
"You can't just call yourself a social worker. You have to have the requisite educational training backed by your licensure," Dr. Lamin said. "The professional title needs protection."
Featured image: Members of Social Workers Sierra Leone take a group photo clad in their bright orange gifts, which were donated from Sylvester Amara Lamin, associate professor of the MSW program.