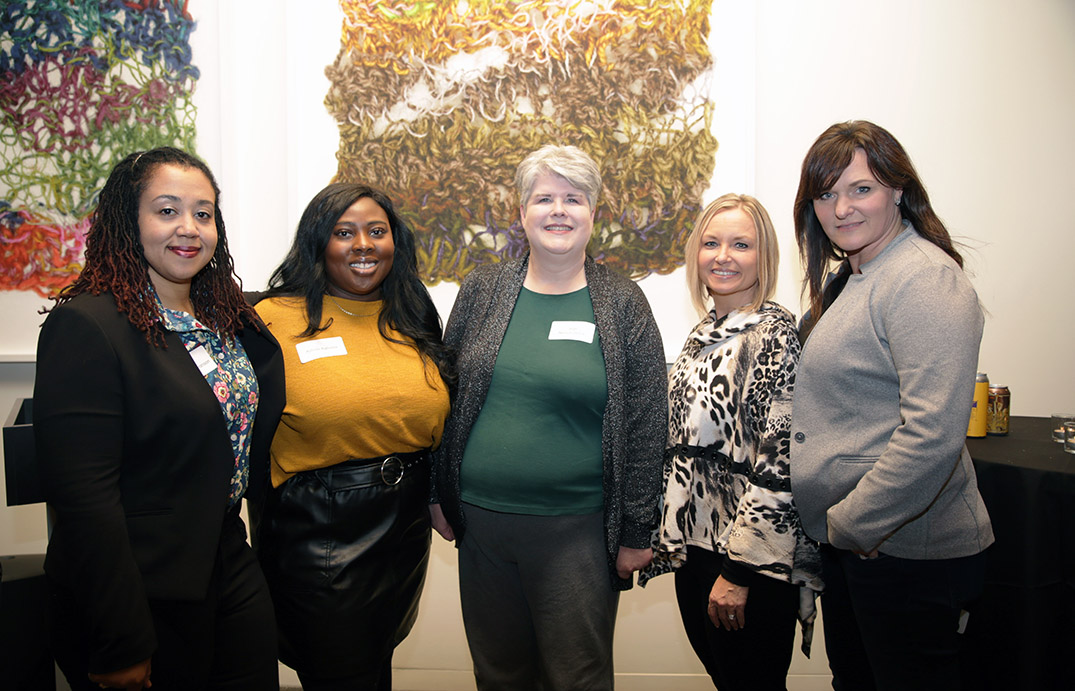 Looking around the reception area at the American Swedish Institute (ASI), Kim Hatley had a lot to take in, following her flight east.
On the night of Oct. 11, the resident of Spokane, Wash., had just flown into the Twin Cities for the first time, dropped her bags off at her hotel room, and stood face-to-face with four fellow classmates from four other states who, like her, had recently finished their online Master of Science in Project Management degree through Saint Mary's University of Minnesota — one of the original programs offered when the university began offering fully online programs in 2012.
Hatley and her classmates formed a circle in the middle of the gathering space (see above) during an inaugural reception for online graduate students. The commencement ceremony the next day at the Twin Cities Campus would recognize their accomplishments in one of the 20 fully online programs the university offers.
Hatley had gone on a two-year journey with these women, all of whom had been able to connect through a variety of digital interfaces. Sharing a mutual interest to finally meet in person, they made initial dinner plans before they found out about the reception at the ASI.
"You have to bring a lot of your personal experience to your papers and your projects," Hatley said. "We have all been able to follow each other and help each other through our careers in the last two years, trying to get to the point we're at."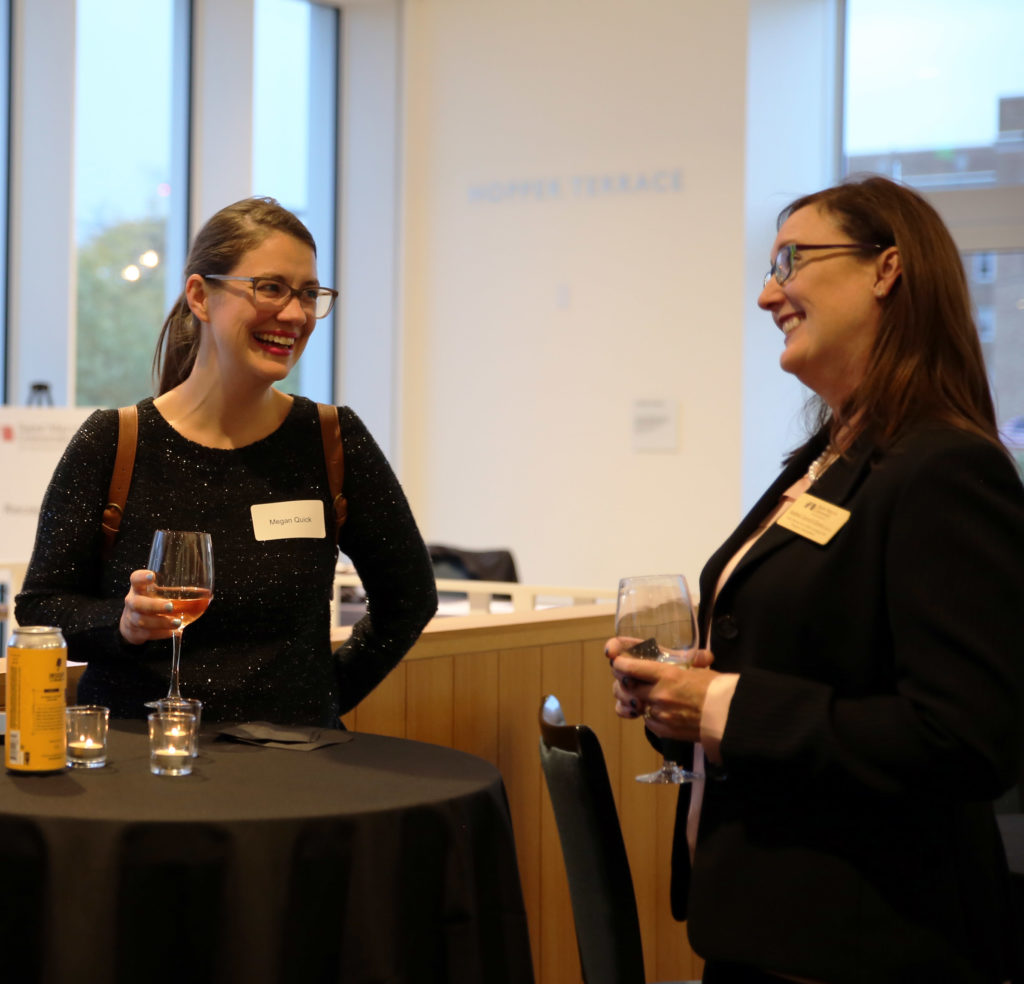 Hatley stood next to Jasmin Braithwaite-Hanson, a classmate who lives on the other side of the country in Mt. Vernon, N.Y., just north of the Bronx.
Braithwaite-Hanson met her husband online through a dating site, so making remote friends with people across the country was a natural progression.
"The world is only as big as we make it out to be," she said. "The internet is just like real life to me. There's good. There's bad. There's ugly — just like when you go anywhere else."
The other women who made up the quintet were Ajibola Agboola from Rosemount, Minn.; Jean Nelson-Overn from Baldwin, Wis., and Tonya Andrews from Ames, Iowa.
"I think it's great being able to meet the students I worked with because they gave me a level of being competitive without knowing them," said Agboola, who added that the motivation and feedback she received from the other four students "gives you a sense of family without actually meeting your family."
In Hatley's case, she was in the process of trying to advance her career by applying to a new position while taking classes at Saint Mary's. Hatley said several of her professors helped her during the interview preparation process, which ended in her accepting a job working as a project engineer for a firm that specializes in commercial construction in Alaska.
When she started looking into graduate schools, Hatley felt as if the recruiting team at Saint Mary's were "more personable" than other programs.
"I was not only interviewing them, but they were interviewing me to see if I would be a good fit," she said. "And I liked that. I liked that they were asking questions about what I had done just to make sure that I was ready for the program."
Starting a new tradition
The reception was inspired by Saint Mary's desire to further strengthen its online student and alumni communities, while also honoring students' commitments to making the journey to meet their "virtual" classmates.
Before the reception was announced, more than 80 students had already made plans to be in Minneapolis for the commencement, said Andrea Carroll-Glover, who in August was promoted to vice provost for Online Strategy and Programs as part of the university's commitment to the growth of its innovative online learning platforms. "Many of these students had never stepped foot in Minnesota," she said. "We wanted to think about how we could make this special for them, celebrate their achievements, and connect them with their classmates and the university as they moved from students to alumni.
To help make the moment memorable, attendees were offered professional headshots to use in the next steps of their careers.
"We'll learn from this and think about how we can continue to make this a special experience for our future online graduates," said Carroll-Glover, who worked closely with a team that included Holly Tapper, director of Online Operations at Saint Mary's; and Lisa Sanderson, associate director of Alumni Relations.
"It's a great way for us to celebrate the accomplishments of our students as they graduate," said Brian Schmisek, provost and dean of Faculties at Saint Mary's. "We're really happy to do it, and we look forward to doing it at every commencement."
'The stars aligned'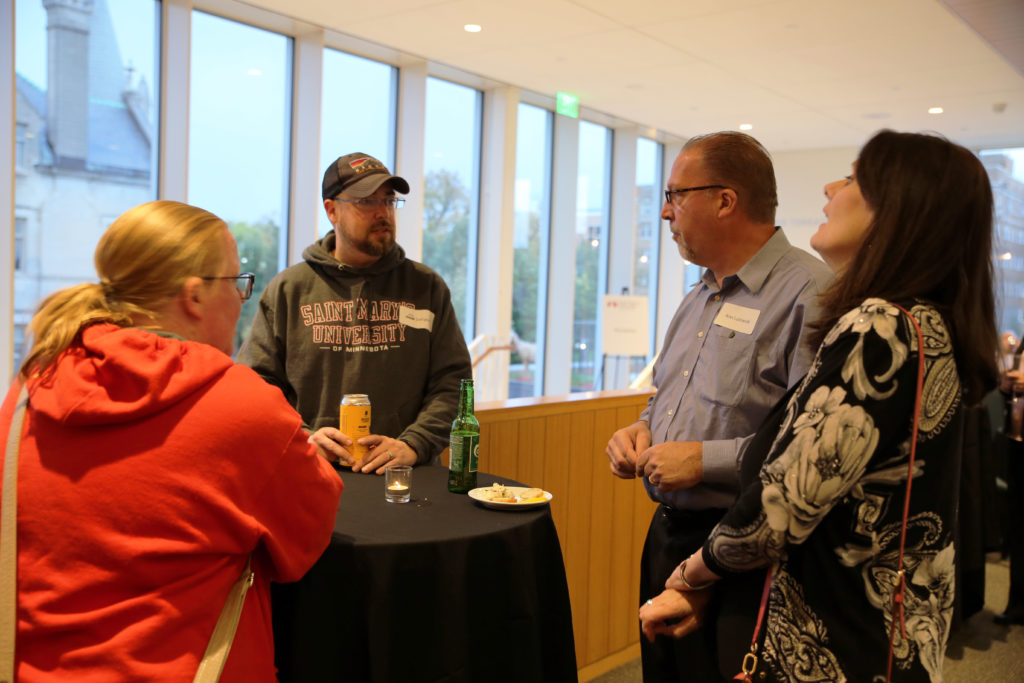 Nora McGowan was one of those who made her first trip to Minnesota for the weekend's events. Similar to Braithwaite-Hanson, McGowan calls the New York City metro area home. As an administrative assistant at a financial services company in Manhattan, she regularly deals with a 90-minute commute to and from her residence in northeastern New Jersey.
"Everyone is so nice. And everyone talks to you and that usually doesn't happen in New York," she said with a chuckle.
McGowan earned her Master of Arts in Human Resource Management by studying early in the morning, during lunch breaks, and on weekends and occasional evenings — and emailing professors who always responded quickly, she said.
"I wanted something that was all HR, not just an MBA with a few HR classes … the curriculum was great. The ranking was great. I liked that you didn't have to attend a class at a certain time because of my commute," said McGowan, who hopes to become an HR associate or generalist in the near future now that her degree is complete.
J.C. Dahlgren showed up to the event on his motorcycle — in spite of the fact that he came from his home in Alexandria, Va. Unlike others, Dahlgren has been to Minnesota plenty of times. He grew up in the southern metro area of the Twin Cities, before leaving town as member the Navy after graduating high school in 1996.
"I was expecting it. All this is my childhood remembered, so fortunately, I have prepared for it," Dahlgren said about the parking lots glistening with the first traces of snow.
Dahlgren earned his Master of Science in Business Intelligence and Data Analytics after going the one-year route. After serving for nine years in the Navy, Dahlgren currently oversees IT portfolio management for the U.S. Department of Justice. He decided to earn his master's degree from Saint Mary's with the goal of becoming a chief science data officer for the U.S. Government.
When he was looking for an online graduate program, he remembered his roots in Minnesota — and the fact that he could not afford to initially begin his undergraduate studies after high school, leading to his decision to join the Navy. If he could, Saint Mary's was his school of choice.
"It just so happened when I looked for Saint Mary's, boom, there it was … the stars aligned," Dahlgren said. "So this is 22, 23 years in the making, but I finally get to walk the halls."
Carroll-Glover hopes to keep in contact with the new graduates as they embark on the next chapters in their careers.
"The inaugural event was a great success," she said. "It helped to solidify a large reason why we all do what we do here at Saint Mary's — to hear the stories of our students and celebrate their milestones, like graduation. I am excited to stay in touch as they start their next chapters in their careers and see their continued successes."
Photo caption: Five recent graduates of the Project Management (M.S.) online program met for the first time on Oct. 11 including, from left: Jasmin Braithwaite-Hanson, Ajibola Agboola, Jean Nelson-Overn, Tonya Andrews, and Kim Hatley.