Karen Spencer M'19 has always been interested in international affairs, having done several study abroad trips during her undergraduate studies. A trip to a Liberian refugee camp in Ghana in 2004 after finishing a degree from St. Olaf College in 2003, though, helped galvanize her professional passions and her future studies.
While spending time with camp members, she took notice of how locally trained teachers had started to set up makeshift schools for newly orphaned children at the camps. She was inspired by the resilience they showed, leading to her interest in studying peace-building and peacekeeping strategies.
"They were very active in creating social institutions in this refugee camp and were empowered to do that themselves without waiting for somebody else to take the lead," said Spencer, who earned her M.A. in Counseling and Psychological Services in 2019 before continuing onto the Doctor of Psychology in Counseling Psychology program.
"I've been very focused on trauma treatment, but this gives me an opportunity to look at it from a prevention lens."

—Karen Spencer
At the 16th annual Doctoral Research Symposium, Spencer presented a poster that entailed the inner workings of her doctoral dissertation, in which she is developing video-based training modules built specifically for unarmed civilian protection workers to manage and mitigate traumatic situations. These workers are using nonviolent peacekeeping strategies to provide protection to local civilians in various parts of the world that have historically been torn apart by violence. Their other duties include facilitating safe conflict resolutions; escorting and securing safe spaces for civilians; and negotiating cases of abductions.
Spencer is working directly with Nonviolent Peaceforce (NP), a global non-profit organization that has set up operations in South Sudan, Iraq, Myanmar, and the Philippines. According to the organization's website, NP has trained 3,786 unarmed civilian protection workers to date. 
When looking for a platform to conduct her research, Spencer learned of NP through her dissertation chair, Kenneth Solberg, Ph.D., a core professor of the Psy.D. program who had been involved with NP in various capacities since its founding nearly 20 years ago.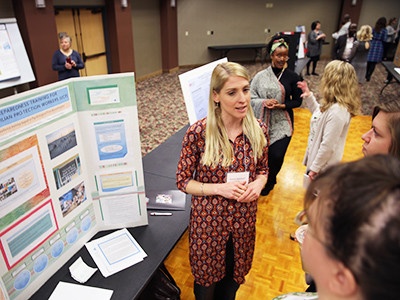 "They had expressed the need for trauma preparedness training, given the work that they do. And I've been very intentional about my clinical training, to understand trauma responses and treatments," Spencer said. "I've been very focused on trauma treatment, but this gives me an opportunity to look at it from a prevention lens."
Spencer is producing five modules in which a composite character experiences a variety of traumatic and intense situations, each of which unveils how to administer psychological first aid.
Spencer said her initial research unveiled a need in the nonviolent peace-building space to create more trauma-based training "both about the actual individual who's engaged in the work, but also understanding the impact trauma can have on communities that have experienced violence for generations."
The training will be video-based, a need that has become more imperative with the new physical distancing guidelines that have been implemented because of the COVID-19 pandemic. 
Finding a fit
Spencer started in the Saint Mary's M.A. program in 2014 after being drawn to the social justice focus of the university as whole.
"It aligns very well with who I am and who I want to continue to be," she said. 
Although she lives in the middle of Wisconsin near Marshfield, she had been able to make the two-and-a-half-hour drive to the Twin Cities Campus work for her and her family, which includes three young boys, knowing that she would only have classes on Wednesdays and Thursdays.
"It was a dream every semester. The classes might look different, but the schedule was relatively the same."

—Karen Spencer
"It was a dream every semester. The classes might look different, but the schedule was relatively the same," Spencer said. 
She plans on finishing her doctorate in fall 2021, but before she does she will be interning for a year at a Wisconsin Department of Corrections juvenile institution in Irma, Wis., beginning in fall 2020.
During her year-long internship, she hopes to gain more insight on ways to build a bridge between psychology and peace building that can be universally adopted. 
"There are populations that have mostly known consistent fear. One of my professional aspirations is addressing the issue of violence prevention, which is why I'm focused on nonviolent strategies," Spencer said. "While my internship will be in a different world, as far as working within corrections, I think a lot of those fundamental violence-related issues will overlap."
Featured image: Karen Spencer M'19 is teaming up with an international non-profit peace-building organization to create training modules for unarmed civilian protection workers as part of her doctoral dissertation.