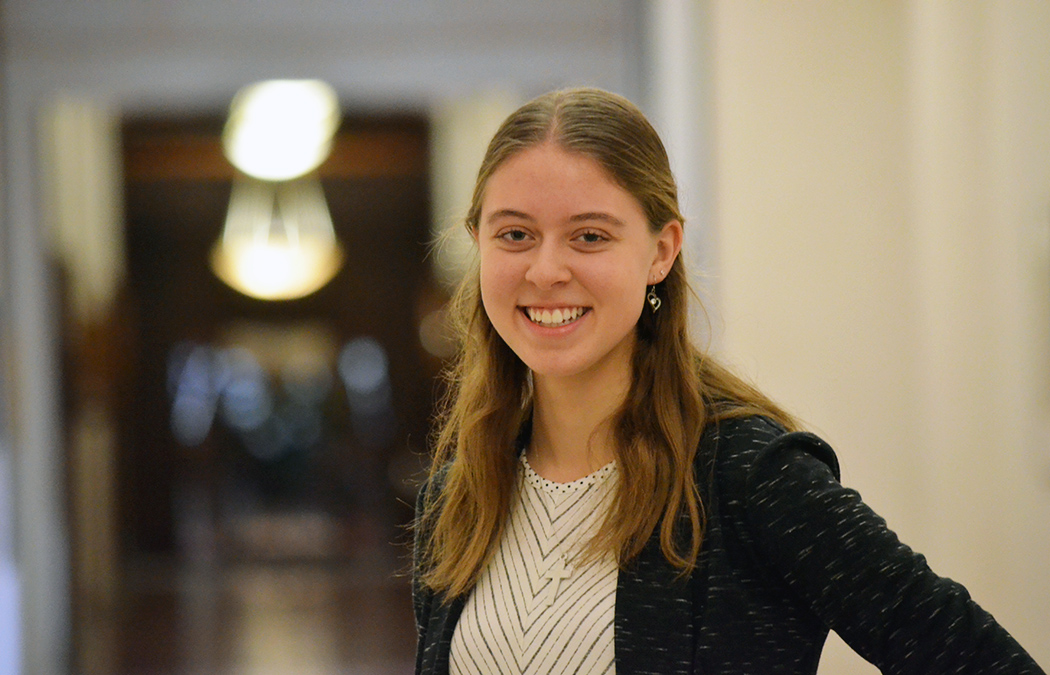 The following essay, written by junior education major Kristin Burke was awarded first place in the Lasallian Essay Contest, as part of Saint Mary's #300 celebration — honoring Saint John Baptist de La Salle, the founder of the Brothers of the Christian Schools and the patron saint of educators, who died 300 years ago.
Empowered in Lasallian Tradition
Home. This is the first word that I thought of when I toured Saint Mary's University of Minnesota four years ago. When I first chose to visit this campus in my junior year of high school, the Lasallian Catholic heritage present at this university was not something on my mind. I came here because I had heard Saint Mary's had a "great" education program, but the minute I stepped foot on campus, it felt like home. At the time, I would not be able to explain why, but I knew I had to come here.
Coming to college, my focus was on the academics, specifically the grades. Throughout high school, I worked at least 30 hours a week to save for college while also taking both college classes and high school classes. While this was a tremendous opportunity to prepare me for college, this also left me with little time for developing relationships with the people around me. As a result, I came to college with the mentality that I should put in the work, get the grade, and walk away having "succeeded" at college. However, it did not take me long here at Saint Mary's to realize how wrong I had been.
During my first semester here, I took my first education class with Dr. Sorvaag. At the end of every class, he would always say, "Remember, you are loved." I did not understand what he meant by this at the time, but something about this made me feel recognized. That is when I began to notice this in more of my classes. In the classes here at Saint Mary's it was not just about getting a grade and boosting your GPA, these classes focused on human dignity, serving others, and making connections with the people around you. Then, as I began to learn more about the mission of Saint Mary's rooted in Lasallian Catholic tradition, this sense of community and connection began to make sense to me.
The next semester, I had a class with Brother Patrick Conway. He would always start class with the Lasallian prayer, "Live Jesus in our hearts forever." Every day as I heard this prayer, I began to reflect on what this meant for me as a future educator, and I began to see how much this Lasallian Catholic heritage could impact my own future classroom. In a world where life has become a blur of rushing from one commitment to another and time has become a long lost commodity, it is so very important to take a moment to recognize the people around you, give them a sense of dignity and love, and remind yourself of why you are there in the first place. For me, I needed this wake-up call to remind me that I was here to serve my future students, be an advocate for those who had none, and help students reach their full potential. However, serving others, being an advocate, and lifting others up would never be possible if I just "got the grades." In order to fulfill this mission, I needed to also establish sincere and meaningful connections with the people around me, just as Dr. Sorvaag and Brother Patrick Conway had done with me.
Realizing what the Lasallian mission is really about has certainly inspired me in my own future as an educator. Coming here to Saint Mary's, I was struggling to understand how I could make a difference in the lives of my students and best meet their needs. However, after realizing the importance of building relationships and preserving the dignity of those around me, I have the answer to this question that I have been asking myself for so long. Being the perfect educator, graduating with a 4.0 GPA, and coming out on top are not the aspects of my education that are going to have an impact on my future students. How I form connections with those in my classroom will make the world of difference. However, this wasn't all I learned through the Lasallian mission.
Taking this university's Lasallian Catholic mission to heart, I was inspired to become more involved in leadership on campus as well, so as to continue to build on the relationships and connections here on campus. I came to this university because it felt like home to me, and while it took me a while to discover that the reason for this was the Lasallian heritage, I wanted to create this feeling of home for others. Academics are still important to me since my education is certainly a gift from God, but this is now balanced with involvement in the community on campus and serving those around me. Sometimes these connections are merely smiling and acknowledging those around me just as the professors here always do for me. Maybe it is stopping to talk to campus visitors and help give them that same feeling of home. Sometimes it means leading events, clubs, and people in the same mission of serving others. But each time that I form a connection with those around me, I always think about the people here at this university such as Dr. Sorvaag and Brother Patrick Conway who did this for me. It would be an understatement to say that they changed my life, but what I can certainly say is that this campus and its Lasallian Catholic heritage have no doubt "awakened, nurtured, and empowered me to an ethical life of service and leadership."