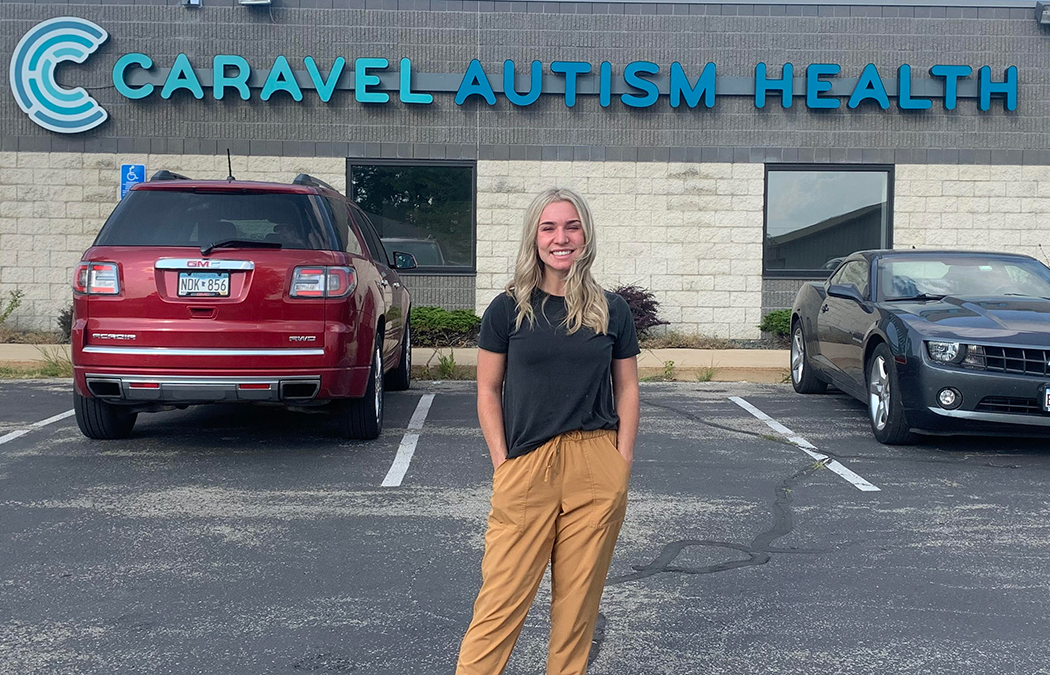 A high school psychology class first sparked Kailee Johnson's interest in working in mental and behavioral health.
"I've always liked listening to people and helping them with whatever they may be going through," Johnson said. "So that's where I've always seen myself."
This summer, the Saint Mary's senior psychology major had the opportunity to see herself doing exactly that. By serving as a behavioral therapist with Caravel Autism Health in Rochester, she was able to build relationships with children diagnosed with autism spectrum disorders.
"This summer I implemented applied behavioral analysis (ABA) therapy, which helps kids with autism spectrum disorders develop social, communicative, behavioral skills that neurotypical kids would have," she said.
In her role at Caravel, Johnson would spend two to three hours a day with clients between the ages of 3 and 14, working to build a rapport with them before implementing the therapy.
"You have to make clients comfortable with you because it makes it a lot easier to implement therapies because they trust you," she said.
Taking on a summer internship as a part of her psychology major, Johnson initially looked into opportunities to take part in mental health counseling. However, many of those internships required graduate-level education. Next, she looked to go into in-home care for adults with autism spectrum disorders. But an interest in working with kids led her to learn about ABA therapy and Caravel's clinic in Rochester.
"Caravel just seemed like a good place to be because it was so obvious they really care for their clients," she said.
Johnson found it easy to care for the youth she was working with each day.
"I loved just getting to know the clients," she said. "And it's sad leaving the internship because with privacy agreements and everything, I'm probably never going to see them again."
Like many students who take part in summer internships, Johnson also enjoyed the opportunity to learn new tools and concepts outside of the classroom.
"In the classroom, you learn a lot of the basic knowledge that is needed, but you don't really know what you're getting yourself into until you do it yourself," she said.
While she's built upon what she has learned in the classroom at Caravel, she says her professors in the Saint Mary's Psychology Department and the courses has taken set her up for success in her internship. The best example of this, Johnson said, is the willingness of her professors to get to know students on a personal level and provide guidance when needed. During her internship, Johnson says she had regular conversations about her experience at Caravel with psychology professor Elizabeth Seebach, Ph.D.
"I would be able to check in with her weekly and let her know if I had any critical incidents, which shows she cares and wants to know how I'm doing as I learn," she said. "Which means a lot because professors at other universities may not be as involved."
While the summer internship has piqued her interest in studying behavior and creating treatment plans for those with behavioral issues, Johnson is still interested in mental health counseling. And while she may not go on to do the exact same work she was exposed to at Caravel, she says the internship was beneficial in that it forced her out of her comfort zone.
"When I first started my internship, I felt extremely overwhelmed because I wasn't familiar with the work," she said. "But once I built that familiarity, I started loving it. And I think remembering that going into the future is important. I realize getting out of my comfort zone will be difficult, but at the end of the day, I'll end up loving what I do."