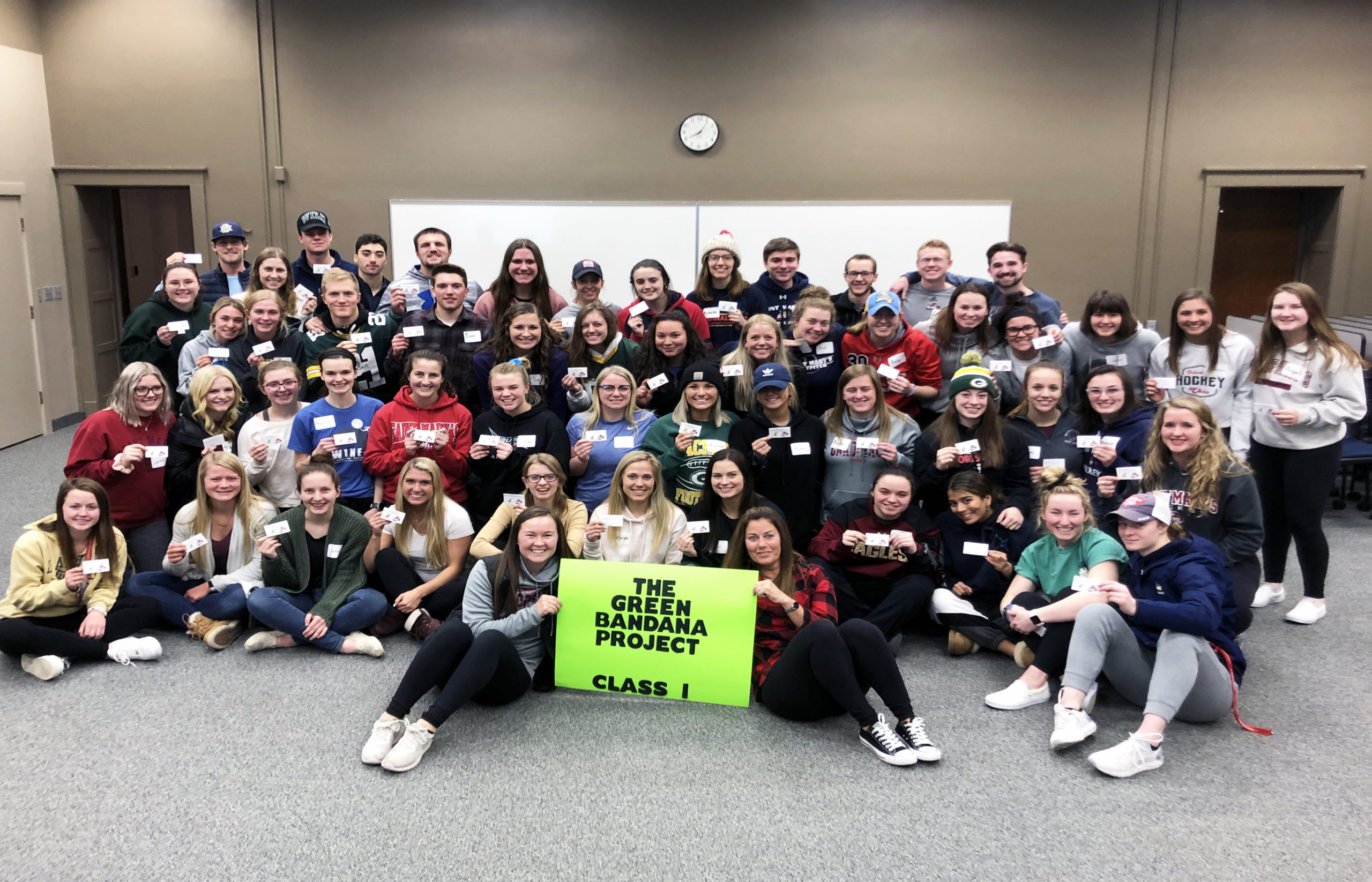 Student-driven cause is part of larger campus initiative that launched in 2019
This semester, the Winona Campus at Saint Mary's University of Minnesota may look a little greener than usual.
That's because 55 student-athletes will have specialized lime green bandanas on their backpacks as part of what has become a national movement called the Green Bandana Project.
Anyone with the bandana indicates to passersby that they are a safe individual to approach with mental health-related issues and can provide cards containing additional resources, such as those listed on this PDF, located inside their accompanying mental health resource tags.
"It's a sign that someone is always there for you," said Justine Schultz, a junior from Winona who has helped spearhead the movement at Saint Mary's, of the bandanas and tags. "You might not think someone will be open to talk to you, but someone will always be there to listen."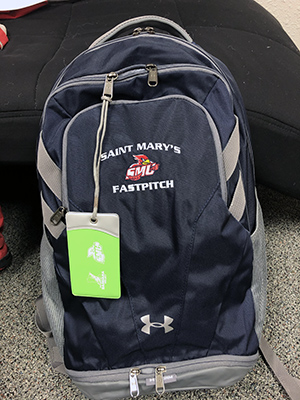 What began in 2016 at the University of Wisconsin-Madison with a first-year student handing bandanas to fellow students has blossomed into a large initiative to raise awareness of mental health on college campuses. Participating campuses include the University of Minnesota; Minnesota State University, Mankato; St. Olaf University; and Winona State University.
When Karen Hemker M'04, director of Access Services in the Student Success Center, heard that a group of student-athletes from Winona State had started a chapter on their campus, she decided the initiative would be a perfect way to help reinforce an ongoing commitment to mental health awareness made in the university's strategic plan that began with the formation of the Mental Health Task Force in spring 2019.
As fate would have it, Schultz is a student worker in Hemker's office. Given that Schultz is not only a psychology major but also a catcher on the softball team, Hemker asked if she would be interested in drumming up support from fellow student-athletes on campus, as Hemker was aware of Schultz's passion for supporting students with mental health issues on campus. Schultz quickly got on board, as did Samantha Borawski '15, M'17, an assistant coach on the softball team who also serves as an advisor to the Student-Athlete Advisory Committee (SAAC).
The green mental health resource tags feature both the Green Bandana Project logo as well as the university's logo.
"We said, 'If we are starting this chapter at Saint Mary's, we want students to be proud to be a part of the project.' We thought that personalizing the resource items would be a nice little touch for those who do choose to complete the training," Borawski said of the specialized tags and bandanas.
In her research, Hemker noticed that different chapters required different amounts of involvement. On some campuses, students only had to take an oath to get the green bandana or tag.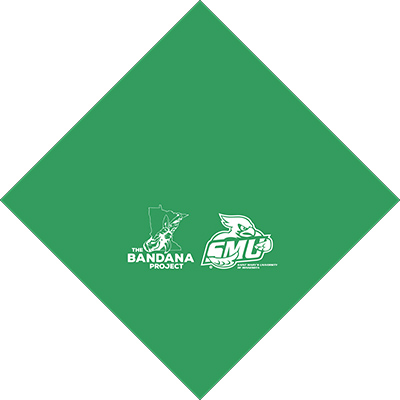 "We wanted to participate, but we also wanted to support our students by giving them additional training in mental health, rather than just have them sign a pledge," Hemker said. "It was important to us to have a more structured program so students were using the correct language and had some training."
To receive a tag, students have to complete a two-hour training session. The first was conducted on Jan. 12 with 55 student-athletes led by Connie Mettille, a professor at Winona State, who is heavily involved in making students, faculty, and staff at Winona State aware of mental health issues. — Karen Hemker
Mettille also led the training sessions of an eight-hour Mental Health First Aid class based on material from the National Council for Behavioral Health that was initially offered to faculty and staff at Saint Mary's and later to resident assistants and other student leaders. Hemker, Borawski, and Schultz had all undergone this training in the spring.
"We wanted to participate, but we also wanted to support our students by giving them additional training in mental health, rather than just have them sign a pledge."

–Karen Hemker
The trio was pleased with the level of engagement the student-athletes displayed for the inaugural training session; several teams have expressed interest in going through the eight-hour training together. They hope to offer more training sessions later this spring, as the overall goal is to train anyone who is interested in serving as a resource to support mental health issues within the university community, Hemker said.
Borawski and Hemker expressed their gratitude to the administration for supporting this initiative. Faculty and staff members who have been through the Mental Health First Aid training will also be provided green bandanas to make students aware of the support among the faculty and staff as well.
Featured image: The inaugural training for the Saint Mary's chapter of the Green Bandana Project on the Winona Campus took place on Jan. 12. Fifty-five student-athletes took part. Those in charge hope to have another training session for all students later in the spring.