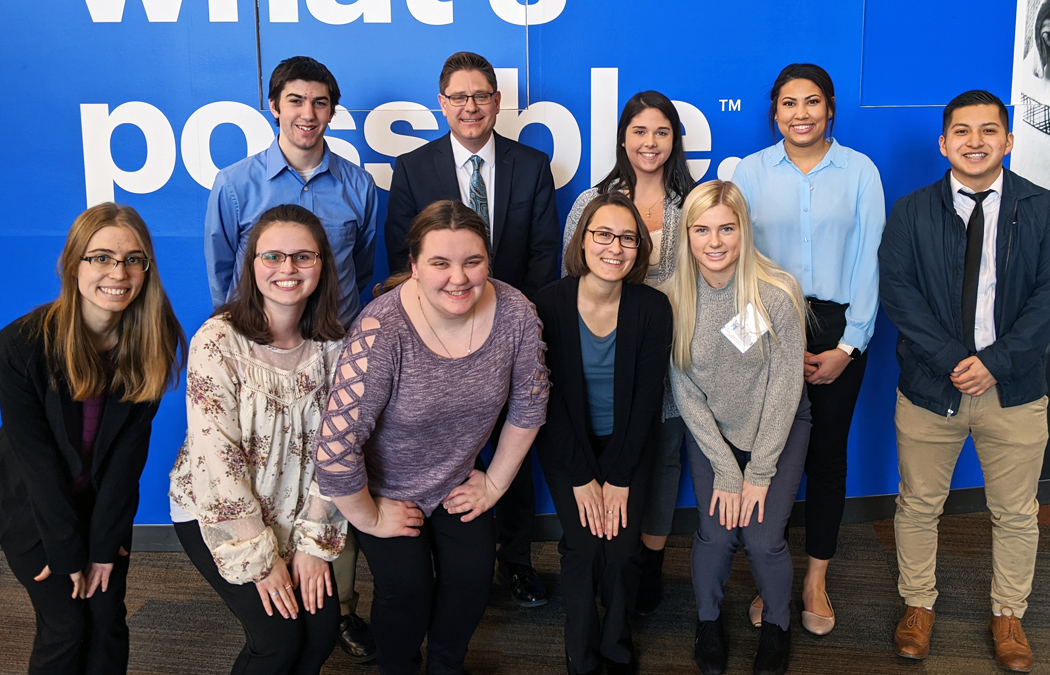 When it comes to the communication department at Saint Mary's University of Minnesota, the goal is to always balance knowledge gained inside the classroom with experience outside of it.
"We're trying to get students meeting with professionals and getting some real-life skills and experiences that they can take to any job," said Dean Beckman, department chair and associate professor, Communication.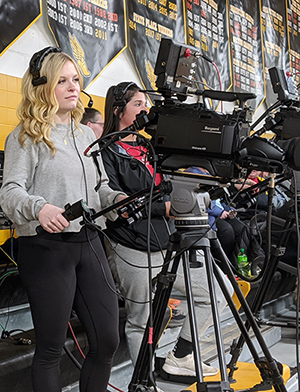 On. Feb. 8, a delegation of 10 students from the Public Relations/Business Club attended PR North, an annual event that is hosted by the Minnesota chapters of the Public Relations Society of America and the International Association of Business Communicators. This year, the event was held at Best Buy's corporate headquarters in Minneapolis.
The keynote presentation, "How to Build Your Personal Brand," offered students advice on how to professionally present themselves in job applications and on social media channels. Students also met with professionals at a career fair, had their resumes critiqued, participated in mock interviews, and received professional photos.
Sophomore Maggie Heuer, a public relations major from Chaska, Minn., said that the greatest benefit the event provided was the ability to network with potential employers.
"I was very surprised to see how many of the professionals there are really eager to connect with you," Heuer said. "And they were sincere about it, too. So it wasn't just 'Connect with me on LinkedIn.' It was 'Connect with me on LinkedIn, but also stay in contact with me' or 'I'd love to hear from you' or 'I'll keep you updated on positions or internships available.'"
"I've learned a lot about the behind-the-scenes aspects of what I want to do. That's a very team-oriented job. It's all about working together to make the best broadcast or show you can."

—Grace Gilles, sophomore
In addition, there are currently six students — one of the highest numbers in years — who are working with HBC TV-25 in some capacity, either as interns for college credit or working part time for the station's coverage of area college and high school sports either as camera operators, instant replay operators, or assistant directors. Some have filled in as play-by-play broadcasters on occasion as well.
Grace Gilles is a sophomore from Apple Valley, Minn., on the volleyball team, majoring in journalism, digital media, and sports management. She hit the ground running as a camera operator right after the volleyball season ended.
"I've learned a lot about the behind-the-scenes aspects of what I want to do," Gilles said. "That's a very team-oriented job. It's all about working together to make the best broadcast or show you can."
Featured image: A group of students from the Public Relations/Business Club attended PR North on Feb. 8 in Minneapolis. The delegation included, from left: (front row) Morgan Prokosch, Hayley Graham, Jillian Alekna, Maggie Heuer, and Mary Loy; (back row) Guy Cardinal, Dean Beckman (faculty adviser), Allison Grengs, and Brooklyn Singleton. Not pictured: Kelly Ferguson