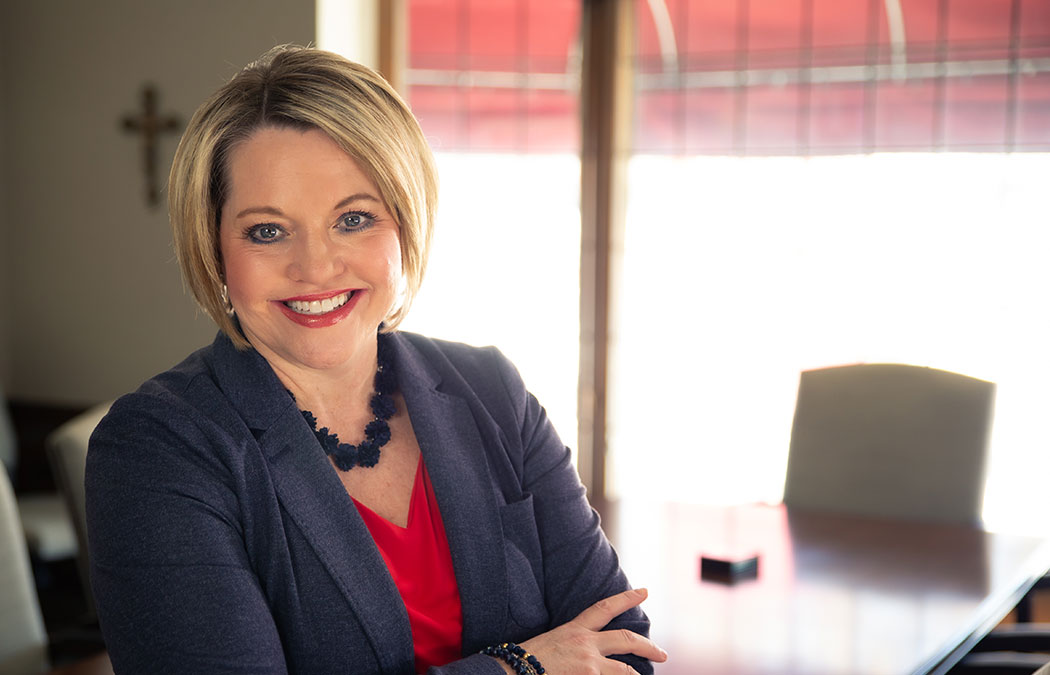 During her time working in the corporate world, Michelle Wieser, dean of the School of Business and Technology at Saint Mary's University, said she regularly saw men advancing in their careers further and faster than women in similar roles.
Several years later, while serving in a career development role at Washington University in Saint Louis, Wieser said she saw similar scenarios play out in her work with MBA students.
"I saw the different ways that men and women approached their career search and the results that they attained, both immediately after obtaining the MBA and then down the road, further into their careers," she said.
It's those two experiences that eventually led Wieser to research inequities in business education and the greater business world. And she's had great success doing so.
This fall, Wieser, along with the Forte Foundation, released research findings that reveal inequities in the academic experience and career outcomes of female and minority MBA students and graduates of top-tier business schools. This research served as a follow-up to previous research Wieser conducted with the Forte Foundation in 2016 that explored whether MBAs assisted women and minorities in increasing equality in their workplaces, as well as their earnings.
"As a researcher, I'm always wondering whether things are getting better," Wieser said. "Are pay gaps closing? Are women starting to achieve more? What, if any, differences might exist between now and the last time we studied it? Even though it's only been about four or five years since that original study, we still found some pretty surprising, and in some cases, really positive results."
In this current round of research, Wieser looked at the MBA application process and student experience from a diversity, equity, and inclusion perspective, as well as career outcomes based on gender and race. For the research, Wieser polled more than 3,000 MBA students, prospective students, and alumni from nearly 60 MBA programs.
Findings from Wieser's research include:
Most respondents had favorable views when asked about diversity, equity, and inclusion in the admissions process for MBA programs. However, men were more likely to have a positive response than women.
While respondents had favorable views of the admissions process in regard to diversity, equity, and inclusion, more than one in five survey respondents said diversity, equity, and inclusion efforts in their MBA program did not meet their expectations.
In 2020, men with MBAs earned $177,112 on average, where women with an MBA earned $147,412, a pay gap of $27,900.
The gender pay gap between men and women with MBAs has narrowed since 2016. However, the gap widens for women as they progress in their careers from 9% for those with zero to two years of work experience to 35% for those with nine or more years of work experience.
Women are more likely to strive for early leadership positions within organizations. However, women trail when it comes to striving for executive-level leadership.
Those findings are now receiving quite a bit of attention in both the national and international press. Wieser's research has been included in the Wall Street Journal, Financial Times, and Bloomberg, along with multiple TV and radio segments. The findings getting press coverage is significant for Wieser, but it doesn't end there.
"I always consider press coverage adding to the conversation," Wieser said. "Though findings may not be what you want them to be, or may reveal that there's still some room for improvement, I think overall, when something is grounded in data, it provides a foundation from which people can then go and make improvements. And to me, that's the most important thing."
And those conversations are already happening, according to Wieser. After the headlines hit LinkedIn and other social media channels, Wieser said she began hearing from current and former colleagues. Many of them came to her with questions about what they can do to encourage women and find ways to support and advocate for them.
Wieser still knows there is a way to obtain better outcomes for female and minority MBA students, and she says that begins in the MBA programs themselves.
"One of the things that I say often is, we know that there is a need for more inclusive leadership in general in business, and I believe it is the responsibility of MBA programs and other business programs to model that and to create inclusive leaders so that when they go out into the world, they're making real and lasting change," she said.
With an MBA program housed in the school Wieser oversees, she says there are many opportunities that Saint Mary's can take to be a part of the solution to the issues of inequity found in her research. This includes reviewing the school's application process, looking deeply at the curriculum and making sure it is truly representative of the business world, and offering career development that encourages students to reach their full potential.
"I think at the core of what we do is delivering a quality educational experience. So we've got to keep our eye on that while also really intentionally building in experiences and education that bring some of these diversity, equity, and inclusion topics to the forefront. I think a lot of times, it's easy to just assume that when you bring a diverse group of people together, the magic is going to happen," Wieser said. "As leaders and as faculty, as educators, we need to focus and bring that to the front so our students are not just learning the nuts and bolts of business, but also character, virtue, honesty, ethics, and how to take all of that out into the world and be successful."