During many times in history, Catholic Sisters have taken on the roles of healers, missionaries, and educators, building the foundations of America. Regarded as compassionate yet fearless, the Sisters have carried out service work against great challenges and impending threats. Small groups of Catholic sisters are continuing this legacy — even during an international pandemic — venturing into some of America's poorest regions to build vibrant faith communities as part of the successful U.S.-Latin American Sisters Exchange Program.
The inaugural class graduated in 2019, with the newest class blossoming from a partnership with Saint Mary's and the Catholic Extension Society. Funded in large part by the Conrad N. Hilton Foundation, more than 40 Latin American religious sisters from 15 religious congregations benefit from this latest partnership, which launched this past fall and will complete by spring 2025.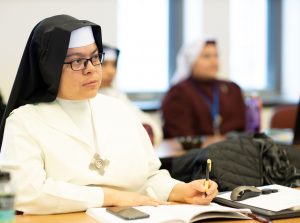 After formational training, the Sisters were assigned to mission dioceses in the U.S., prepared to minister among Latino immigrant populations while earning their degrees online and in a hybrid format from Saint Mary's. Sisters participating in the program receive intensive pastoral leadership training and gain valuable ministry skills to strengthen the faith of the people they serve in communities ranging from Birmingham, Ala., to Stockton, Calif. Through their work, the Sisters serve families, provide religious education, and lead programs for women's spirituality and young adult ministry. At the end of the program, they return to their Latin American congregations, which will benefit from their education and experience. The impact the women religious have within these communities is described as transformational, reflecting the role local parishes can play in communities.
"As a Latino, I can share how crucial it is for the Sisters to work toward an academic degree that can empower their own lives and the livelihood of the Hispanic population," said Saint Mary's program director, Robertolino Vargas Guerrero. "The Sisters routinely share that they are implementing these lessons immediately in their work. We are assisting them in fulfilling their calling."
"We envision that this world-class education will benefit both the sisters and their respective religious congregations, because the sisters will not only be more equipped to serve as leaders in ministry, but also to potentially serve as leaders within their own religious congregations someday," said Father Jack Wall, president of Catholic Extension.