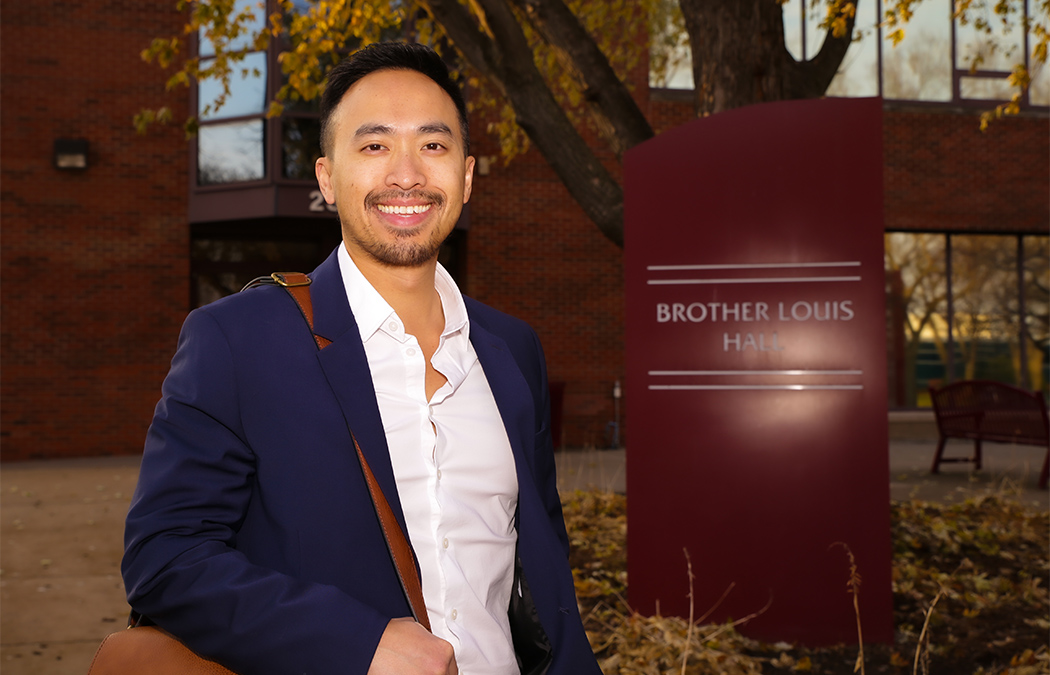 'This is something I have struggled with my whole life'
Before the keynote speaking engagements, the social media following, and the website, there was a video filmed on the cell phone of Calvin Yang M'17.

In August 2017, he had just finished one of his first classes on the Twin Cities Campus and was en route to his Doctorate in Psychology of Counseling Psychology. 
The class centered on integrating culture into therapy to make it more sensitive to those intricacies, given that most of the commonly accepted therapeutic interventions were developed by white psychologists.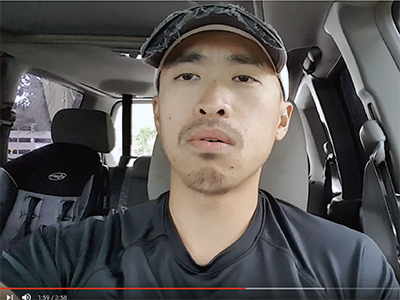 Yang, who is Hmong, immediately envisioned talking to an older Hmong individual from his community. He also thought about some of the Hmong proverbs shared with him by his family members — and how many of them were cloaked with confusion in his mind. He imagined others in the local Hmong community must have the same lack of clarity, especially within the context of trying to assimilate to modern-day life in the U.S.
"I was thinking, 'This is something I have struggled with my whole life. And if I'm a practitioner and I don't understand this, how am I going to be able to work with my own population?,'" said Yang, who is projected to finish his doctorate in 2021. "I thought, 'Why don't I share this with the people who I know in my community, so that if they're struggling with similar issues, they can also use this to help them understand their culture and language better?'"

Yang sat down his car, hit record on his cell phone, and began talking about the first of what would become many proverbs. He posted the video to Facebook for family and friends, only to see an explosion of notifications. Immediately, his followers requested that he change the videos from private to public, so that they could share with others. They left a long line of reactions and comments. 
Shortly after his Facebook account took off, Yang established a YouTube channel under the name of "dictum dose," as another avenue to spread his videos (in December, he launched a website of the same name, which includes all of his video content and merchandise). On the wings of his videos' popularity, Yang received an invitation to speak at an event called Culture Core at the University of Wisconsin-Eau Claire in March 2019.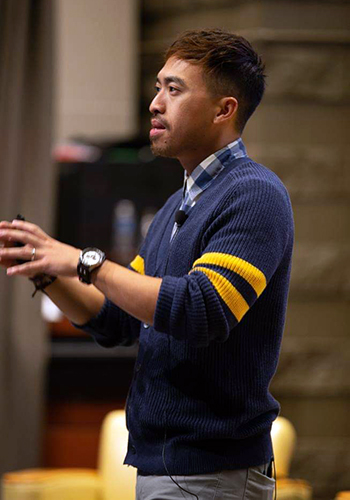 Later in October, he served as the keynote speaker at the 5th Hmong Studies Consortium International Conference at St. Catherine's University. His speech for both occasions focused on the challenges that come with navigating two different cultures, particularly as Hmong children born in the U.S. He points out that according to a 2017 study, Minnesota has the second largest Hmong community next to California. Wisconsin is third.
Although Yang had not done a lot of speeches in front of large audiences, nerves did not get to him.
"I felt comfortable because the content that I'm sharing comes from a place that I've wrestled with my entire life," he said. "The things I share with people also help them find answers to the questions they've been having about juggling these two identities."
When not talking at conferences, Yang can be found at local schools in the Twin Cities area talking to Hmong students about mental health issues as a committee member of a grassroots movement known as "Project Sunshine." It formed as a means to spread awareness about mental health after a Hmong student committed suicide this past summer in Brooklyn Park, Minn. Yang said, in general, mental health has never been culturally or socially accepted by the Hmong community.
'People are not tight' 
Yang moved to Saint Paul in 1996 as a response to growing gang violence in his native Fresno, Calif. His family — including his father, mother, and six siblings — would move into a duplex shared with several of his uncles and their families, creating upwards of 20 people under one roof for about two years. Such an arrangement conjured up one famous Hmong proverb that when translated to English says: "The house is tight, but people are not tight."
"The underlying message with that is that the house may be filled with 20, 30, 40 people, and we may be shoulder to shoulder. But we, as people, have a very open heart," Yang says. "We're welcoming and it never feels tight to us."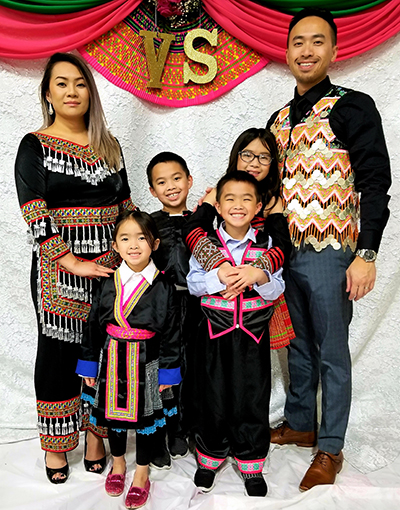 After graduating from the University of Minnesota with a degree in psychology, Yang wanted to pursue the field in greater depth, but those plans were halted after he and his wife married and began having children. They have two boys and two girls. "She was actually my very first best friend," Yang said of his wife, whom he met in sixth grade at Hazel Park Academy in Saint Paul.
To provide for his family, Yang took a job as an insurance adjudicator, a position he held for five years. In that job, part of his responsibilities was working on mental health-related claims, allowing him to see firsthand the issues that he had studied as an undergraduate.
His wife, Zong, having earned a M.A. in Human Resource Management at Saint Mary's in 2011, encouraged him to check out the M.A. in Counseling and Psychological Services program.
"I looked at Saint Mary's and it was affordable and it was very flexible," Yang said of starting the master's program in 2014. "It was catered toward young, working adults. And so I thought, 'Hey, why not? If I can do this and still be a parent, I'll do it.'"
A seminal moment 
The decision to pursue his Psy.D. was solidified in large part by one conversation that he had in 2016 with his oldest child, who was in kindergarten at the time: A fellow student told her that she could not play with them on that day "because brown people can't play with us." His daughter wanted to know what that meant. 
"I wasn't sure how to explain it to her," Yang said. "So of course, I just told her, 'Kids will be kids, and they just don't want to play with you and that's OK. No big deal.' But inside something was boiling up like, 'What does this mean to me? What am I going to do about this?'"
Yang realized that he did not possess the language to articulate what he wanted to say to his daughter in a way that both she could completely understand and that would satisfy him.
"I think the program at Saint Mary's really gave me that language. I think the biggest piece I learned was to be OK with feeling upset that I was discriminated against. I'm able to have a voice."

— Calvin Yang
"I think the program at Saint Mary's really gave me that language," Yang said, by helping him step outside of his comfort zone and develop greater self-awareness and understanding. He points in particular to conversations he has had at the monthly university-affiliated Student of Color Consultation meetings held at the Twin Cities Campus. 
"I think the biggest piece I learned was to be OK with feeling upset that I was discriminated against. Before, I'd think, 'OK, it's not a big deal. Move on,' but now, it's 'No, that's not OK. And what happened there is also not OK.' I'm able to have a voice," Yang said when reflecting upon his own experiences that he had swept under the rug, so to speak, while growing up.
"I think the faculty of Saint Mary's has helped me to understand more about the impact that I have on my kids and how my culture in itself impacts my life overall."