How do 20 students write a song together? Finding inspiration in the impact of modern protest songs is a good place to start.
Dr. Janet Heukeshoven's first-year anchor class, Music that Changed the World, spends much of the semester learning about music that had significant impact on the world, from Stravinsky's Rite of Spring to the Hong Kong protesters' song that has become the national anthem of their revolution in recent months.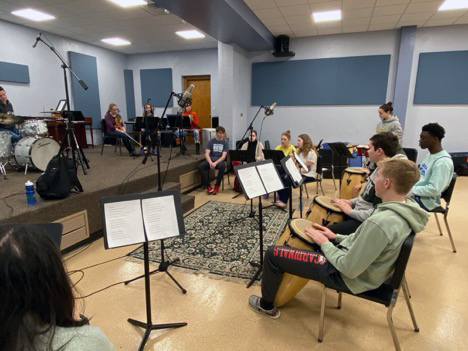 Using a constructivist approach, class members started by making lists of what they believed were the major issues in society. After a process of elimination and voting, the class selected issues of discrimination and equality as the unifying theme of the song. Song lyrics were composed by all in the form of poetry written on Post-it notes.
The notes were placed around the room, and phrases were created, re-arranged, and edited. Students shared a Google document in which the song lyrics from the Post-it notes were revised into the refrain and verses for the song. Then the structure and form of the music to match the lyrics evolved, boosted by a chord progression, and melodic ideas were created, sung, and combined.
The class then moved into Studio S (the recording studio in Yon's Hall) for two song formation rehearsals and added an additional verse and coda to bring the song to a close. All students played a role in the composition and performance: piano, two violins, flute, sousaphone, two guitars, drum set, bongo and congas, and voices all came together.
Their final trip to Studio S was on Oct. 25 to record the song — For the Life of Us — with the assistance of professor Eric Heukeshoven, Music Industry program director. The song is best described as an alternative rock song, expressing hopeful and heartfelt hope that, starting with each of us, society will move in the right direction for the life of us.
Listen to the song here: https://soundcloud.com/user-33208543/for-the-life-of-us/s-OZf3C
Anchor class instructor Janet Heukeshoven is proud of this group of first-year students, many of whom have not previously studied music. They were willing to take a chance, to be creative, to work together in unique ways, to take risks, embrace the process and truly become a supportive community through music. Her hope is that they will continue to be open to taking risks and trying new things throughout life, and will listen to all types of music more deeply because of this experience.