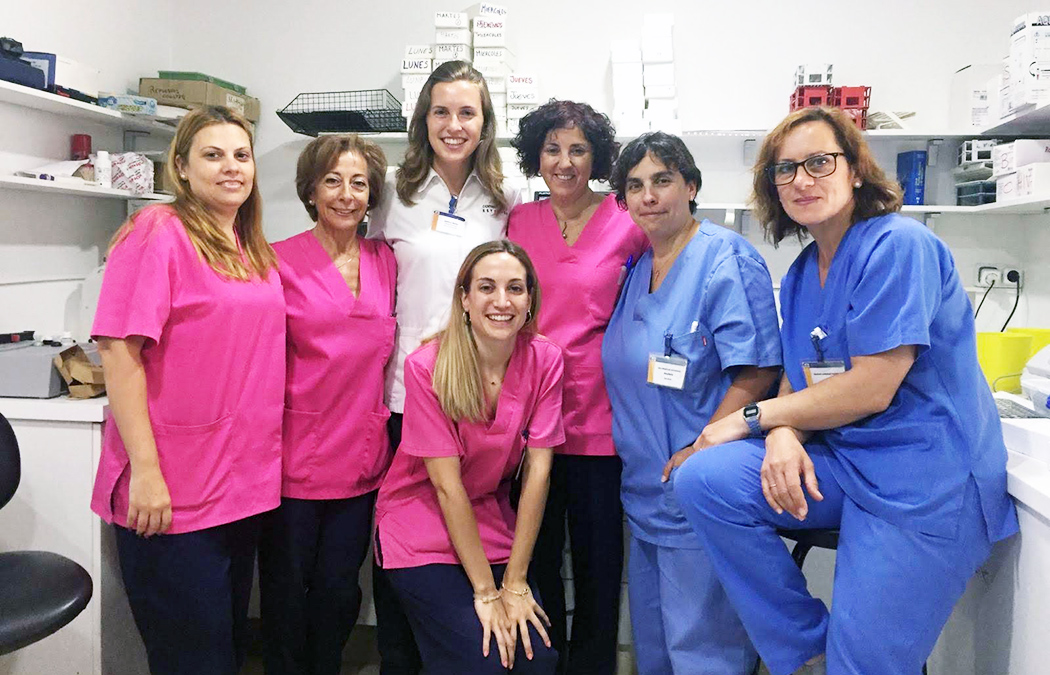 Experience a perfect fit for biology, Spanish double major
Senior Danielle Franke was able to uniquely blend her biology and Spanish majors through an eight-week internship in Spain last summer. At the Centro Medico Estación, Franke received an invaluable clinical experience before she prepares to apply to medical school. It also allowed her to have a fully immersive experience as the only staff person who was a native English speaker.
Throughout her time at Saint Mary's University of Minnesota, the Mounds View, Minn., native looked for the right study abroad opportunity to best suit her double majors in biology and Spanish. Heading into her senior year, she found it.
"It was a really good way to blend two interests together," Franke said. "I was able to learn about the medical system in Spanish, which I don't know how I'd be able to do any other way."
A new level of translations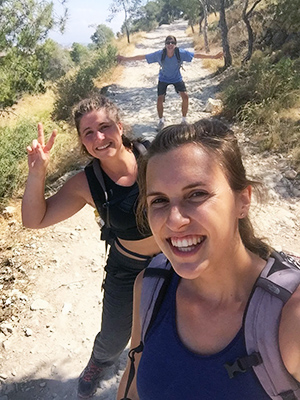 Franke fully embraced the atmosphere at the private clinic, located in the coastal town of Alicante, Spain. At times, she would translate for both doctors and patients. One of the biggest challenges was learning the words in Spanish for various types of medical terminology and equipment, which had never been covered in any Spanish classes she had taken in the U.S.
"Half of the Spanish language cannot be taught in the classroom, and you have to just learn by talking to people and making mistakes, which I did all the time," Franke said. To help improve her conversational abilities, Franke enrolled in a class called "Spanish in the Working Environment" at the University of Alicante.
Two days each week, Franke worked in the clinic's laboratory, where she collaborated with doctors and technicians to analyze blood and urine samples. On the other three days, she would observe and administer patient tests, such as lactose, sucrose, and fructose tolerance tests.
Approximately 30 specialists would come into the clinic during the course of the week. In addition to her regular responsibilities, Franke was also able to sit in on some of those specialist appointments. This included time with the staff gynecologist — an opportunity she appreciated, given that she hopes to focus in obstetrics in medical school. She also had the opportunity to scrub in at the nearby public hospital and observe cancerous portions of a larynx being removed from a patient.
Several steps
Franke initially learned of the internship opportunity from her Spanish adviser John Reed, Ph.D., associate professor of English and World Languages. Dr. Reed knew that several Saint Mary's students had had successful study abroad experiences in Spain and Latin America over the years through Spanish Studies Abroad.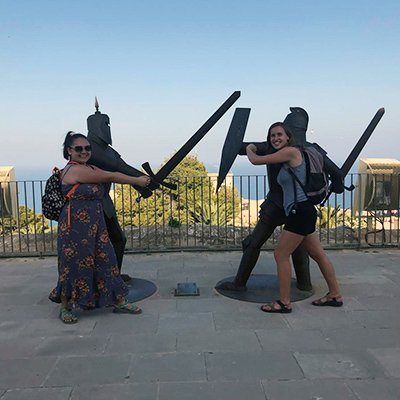 Given the rare opportunity to work in a medical clinic as a study abroad student, the application process to the program involved completing several materials, including a cover letter, résumé, and interview in Spanish. In addition to gaining approval by the organization running the program, she also had to get the green light directly from the clinic.
To allow for some tourism time, Franke arrived in Madrid six days before her internship began. She also tacked on more time after its conclusion to visit other Spanish cities. Out of all the places she traveled to, the cobblestone-street charm of Granada was her favorite. Still, she very much enjoyed her time in Alicante. Her most memorable activities included taking in the views from the top of the Santa Barbara Castle, which towers above the city on Mount Benacantil, and dining on the potato omelet concoctions that her host would make (known in Spain as "tortilla de patatas").
"It's a very Mediterranean beach town in lots of ways, but it has few of the traditional aspects of Spain. It's different than the rest of Spain I traveled to," Franke said. "Alicante has a specific vibe because it's close to the beach and more laid back."
Franke, who is also a member of Saint Mary's cross country and track and field teams, is currently preparing to take the Medical College Admission Test (MCAT) in January as she prepares to apply to medical schools in June.
As her career progresses, she hopes to continue to use her Spanish skills when working with bilingual patients in the U.S. to make the medical system more accessible.
Featured image: Senior Danielle Franke with co-workers in the laboratory at Centro Medico Estación in Alicante, Spain. Franke became the clinic's third intern in its history.