For close to five months, she had practiced. The recommendation from the TEDx event organizers was to go over one's presentation at least 100 times before the actual event.
Natalie Bowker M'06 went over it somewhere in the ballpark of 300 times before stepping on the stage at TEDxMcMinnville — an independently organized event affiliated with the well-known TED Talk series — Jan. 25 on the campus of Linfield College in McMinnville, Ore.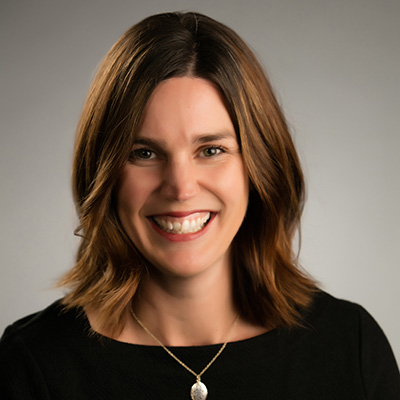 "You try to keep it fresh, but you also have it completely memorized," Bowker said. "You never know, though, how the audience is going to respond to your presentation because you practice maybe in front of 15 people max."
Luckily, though, the audience responded well to her talk, "Embracing Ambiguity," in which she tried to persuade those present to "embrace the unknown through a variety of grief and loss experiences," in her own words.
The center of her talk focused on the idea of "ambiguous loss," a term coined by Pauline Boss, whom she discovered while working on her thesis paper in the M.A. in Marriage and Family Therapy program on the Twin Cities Campus of Saint Mary's University of Minnesota. She has served as an adjunct professor at Saint Mary's since 2012 by co-teaching a course called Introduction to Grief and Loss Issues in Family Therapy.
Although it is traditional to mourn a death by way of a funeral, people experience less finite losses throughout the course of their lives that they often never fully mourn. They sometimes repress the emotions that come with less defined losses, which can include dementia, cancer, stroke, traumatic brain injury, divorce, and mental illnesses. Often, if these losses are not properly dealt with through therapeutic outlets, these losses can physically manifest themselves into a variety of ailments, Bowker said.
In her talk, Bowker provided a few tips for those dealing with their own ambiguous losses. They included:
Name your losses as they happen (voice them and stop minimizing them).

Have a productive "pity party" with a trusted love one.

Find a trained therapist or support group if you do not want to talk to a loved one.
Toward the end of her presentation, she shared with the audience one of her own ambiguous losses of being diagnosed with Crohn's disease, an inflammatory bowel disease, when she was 20 years old.
"It felt like a grenade went off in my life," Bowker said.
She then explained her own personal journey to healing, by dealing with this particular loss as best she could.
"I wouldn't have been able to do that talk five or 10 years ago," Bowker said. "But my disease is in remission, and, knock on wood, all is well. It doesn't interfere with my life the way it used to consume me early 20s. Learning to manage my ambiguous loss has taught me how to have empathy for those living with similar losses."
"