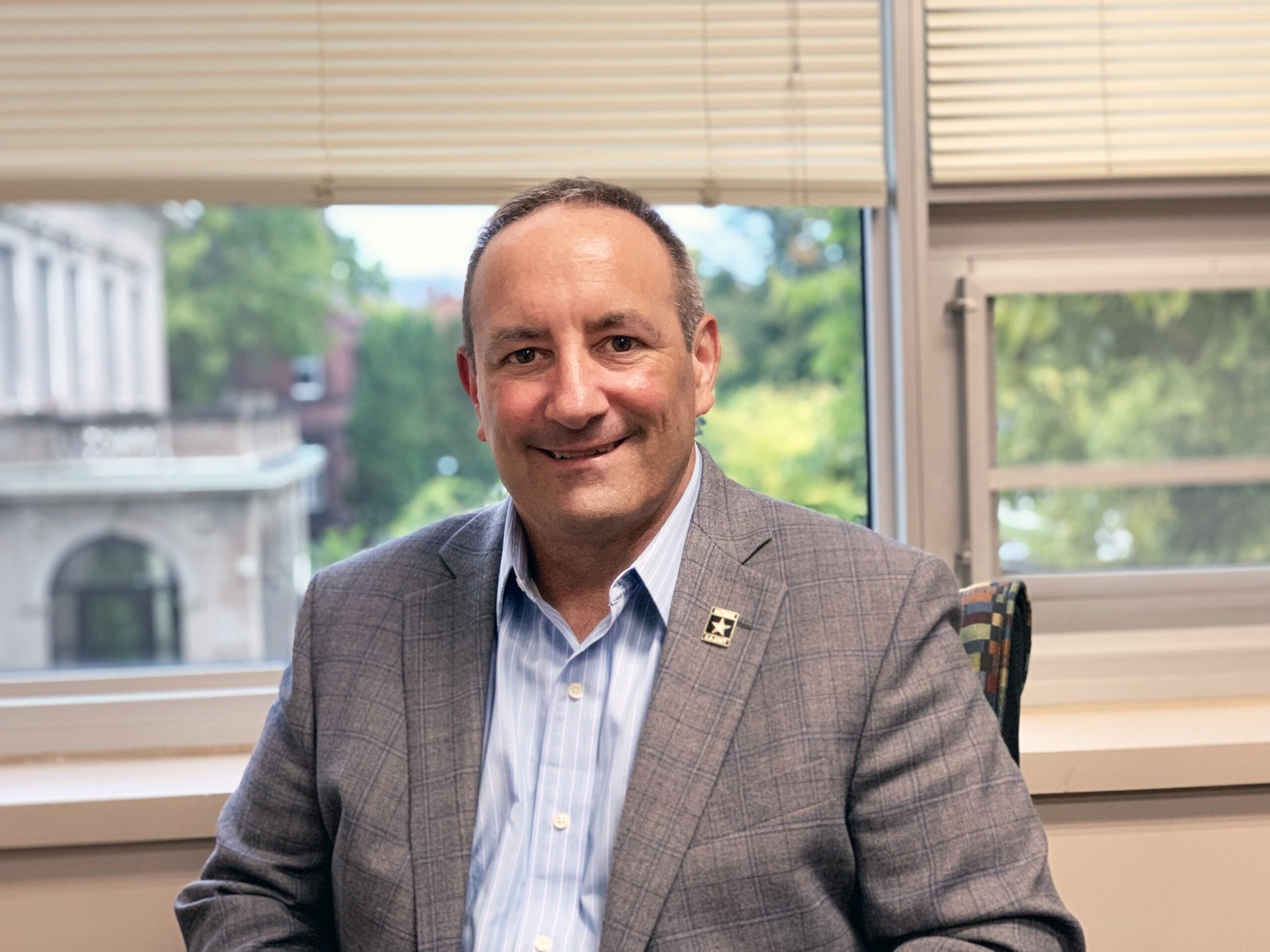 It's a small piece of limestone, about the size of a fist, encased behind glass.
To Col. Mitchell Brew, though, it means so much more.
Fractured in its nature, it would become a constant reminder of the time his career path in the U.S. Army would irrevocably change — and the cornerstone of the dissertation he is writing while working on his Doctorate of Business Administration (DBA) at Saint Mary's University of Minnesota.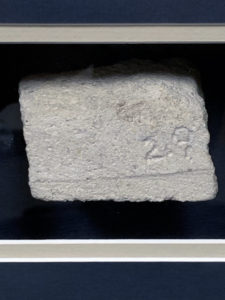 That's because that limestone is a fragment from a piece of the Pentagon in Arlington, Va., that fell away from the building after the attacks on Sept. 11, 2001.
With his sights set on graduating next October, Brew is currently conducting research on the attributes and success factors of military veteran entrepreneurs — with a particular emphasis on those veterans who served after 9/11, a group almost entirely composed of volunteers who answered the call in the aftermath of the attacks.
"I believe veterans have a lot of entrepreneurial traits," Brew said. "You have to have agility and be able to make some decisions on the fly. You're forced to be a leader based on your role, so those kinds of traits can work really well into owning your own business."
At the same time, Brew believes he will be able to provide insight on some of the obstacles that many veterans face when transitioning to the private sector, such as navigating cultural differences and dealing with the mismatch of military skills to civilian skills.
"His innovative work is expected to improve transition initiatives from military to civilian careers, and increase veteran entrepreneur success," said Jennifer Schultz, Ph.D., who is serving as Brew's doctoral advisor. "He has been able to combine his experience from the military, knowledge as a healthcare administrator, and creativity as a student to develop a research project with depth and breadth."
Although the research is ongoing, his work is designed to support his theory, based on his initial findings, that owning a franchise of a pre-established chain of businesses represents an ideal opportunity for veterans to become successful franchisees.
"Franchising provides you that support," Brew said. "Plus, it's a system that has the structure that you're used to from the military."
'Something much greater than himself'

When his dissertation is complete, Brew wants to launch a larger conversation about what is currently being done for military members as they transition to civilian life, as an addendum to the material already distributed as part of the Transition Assistance Program across all U.S. military branches.
"Mitchell cares about veterans and how they have an encore career after a whole career of service," said Matt Nowakowski, Ed.D., the director of the DBA program who taught Brew's capstone course earlier this semester. "He's looking to use his experience as a colonel to give back and help other veterans. And that is something very much in alignment with our Lasalian mission. He's doing this because he sees something much greater than himself."
Before enrolling in the DBA program at Saint Mary's, Brew had earned four master's degrees through programs geared toward military personnel. As someone who claims to be "always curious," he is thinking about one day pursuing a tenured track professorship at a business school when he finishes his doctorate.
"I've been to a lot of different universities… A lot of places are there for their purpose and their interest," he said. "Here at Saint Mary's, they're here for that Lasallian view of taking care of people and making people advance."
He did not know it when he enrolled in the DBA program, but that Lasallian philosophy of service fell right in line with the model of servant leadership he had used during his time in the military: Your success is based on that of your subordinates, so the leader is responsible for setting them up for success for the good of the organization.
"You get here and you find out that professors are here to set you up for success," Brew said. "Their whole attitude is very reinforcing, very comforting. The professors all carry that same attitude. They want you to be successful."
Around the same time he decided to start his DBA at Saint Mary's in 2017, he accepted his current position as a strategic account executive at 3M Health Care, where he oversees the healthcare product support for more than 1,000 accounts connected to the U.S. Department of Defense and other governmental agencies.
"The people there, I know them and I understand what their pain points are and what the customer needs because I've been there," Brew said, "I'm basically helping other service members and I feel like I'm contributing."
Given that Brew frequently travels to various military bases and medical centers as part of his job, he appreciated how accommodating his professors were to the working professional while still providing a level of rigor needed for doctorate-level courses.
"I think the professors really understand our situation," Brew said.
The day everything changed
While working as the chief for medical operations and plans for the Office of the Army Deputy Chief of Staff for Logistics, Brew was attending a meeting outside the Pentagon when American Airlines Flight 77 crashed into the western side of the building at 9:37 a.m. EST on Sept. 11, 2001, killing 184 people (both military personnel and civilians) in the process.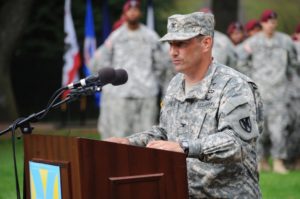 "They basically told everybody in D.C. to go home. As soon as I got home, I got a phone call that said 'The Army Operations Center is going hot. Get back in here,'" Brew recalled. "So I turned around and went back. So at about 10:30, I was walking into a burning building."
To this day, if he smells the distinct odor of dry, brittle wood, his mind will take him back to that morning.
He would stay in the building until 2 a.m. that day to help coordinate critical actions as the U.S. Army prepared its counterattack before going back for about four hours of sleep and doing it all over again. This lasted for six months. At the time, Brew was working on his MBA from George Washington University, with the idea of retiring and trying his hand in the business world after nearly 20 years of military service.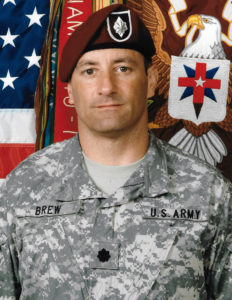 After the attacks, though, Brew felt compelled to extend his career, accepting an opportunity to guide the 32nd Medical Logistics Battalion into Iraq in 2004 upon finishing his MBA in his early 40s. He would go on to help change the way the supply chain worked in Iraq, so soldiers would have more reliable access to medical supplies.
"That's what you live for in the Army: to lead soldiers to combat," Brew said. "It motivated me for a higher purpose. I was very committed to doing right by my soldiers, right by our nation, right by our country. And it was a rallying cry. It helped motivate our soldiers."
Brew earned the rank of colonel in 2007. He was then selected to command the U.S. Department of Defense's largest medical depot: the U.S. Army Medical Materiel Center Europe (USAMMACE) in Pirmasens, Germany. He would later serve as the director of Logistics and Supply Chain Management for the Office of the Surgeon General in the U.S. Army.
His own journey
Eventually, though, Brew did retire from military service, stepping down in 2015 from his position as director of Logistics and Supply Chain Management, creating a tenure of service that he can recite without hesitation: 30 years, nine months, and one day.
He also finally dove into the corporate world, accepting the role of director of operations for Cardinal Health at its Champlain, Minn., location the same year he retired from the Army — a move that led him to the Twin Cities Campus of Saint Mary's two years later, right around the same time he started his role at 3M.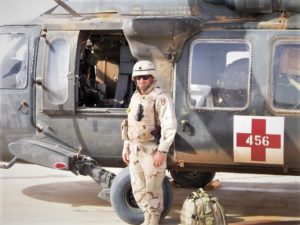 For six months, Brew had maintained his military-grade physique by going to the gym every day and tackling projects around his house in Northern Virginia, before he decided to put his resume out into the world.
"I came up with the epiphany that, in retirement, I needed purpose. I needed something to do. I needed to contribute. I needed to feel like I'm doing something, so the retirement thing didn't work out well," Brew said about his own initial transition to civilian life.
After saying yes to the offer from Cardinal Health, the move to Minnesota would be the 16th for Brew and his wife, Mellissa, who is a retired lieutenant colonel after serving 24 years, six of them as a medical evacuation pilot. The two met in South Korea in the early '90s before getting married in 1997.
Given that their oldest child of three was about to start high school, they decided they would grow roots in Minnesota. Furthermore, he made a pact with his family to not think about leaving the Twin Cities metro area — a place whose long winters can mirror those of his native Western New York town of Batavia — until their youngest child, who is in sixth grade, graduated from high school.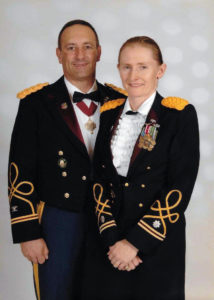 When Brew finished his undergraduate business degree at the State University of New York at Buffalo in 1985, he decided to jump into a military career largely due to the fact that considering the rough economic climate at the time (in his words), he could start as a management trainee at Wal-Mart for $14,000 a year or a second lieutenant in the U.S. Army for $19,000. The choice was simple, he said.
"I got into it. I just had a great time, and I really enjoyed what I do," Brew said.
If someone is fueled by a passion such as Brew's interest in helping fellow veterans, he recommends taking that same mentality into starting a DBA program at Saint Mary's.
"I would say go for it. There are some things that may try to hold you back," he said. "You may be a little scared about taking the leap, but once you get in, it's a lot of fun."