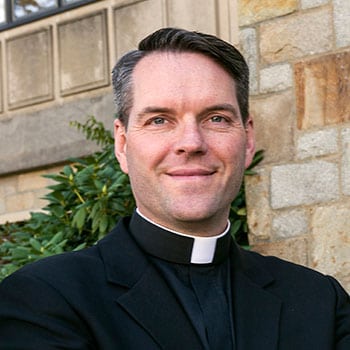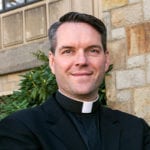 Saint Mary's University is inviting the public to welcome incoming President Rev. James P. Burns during three community events being held in Winona, Rochester, and Minneapolis.
The welcome is not only a chance to meet the new president, but an opportunity to also to hear about his background and about his vision to further the momentum of academic growth occurring at Saint Mary's.
All friends of the university are invited to enjoy hors d'oeuvres and brief remarks from Father Burns.
WINONA — Wednesday, July 11, 3-5 p.m., Science and Learning Center lobby, Saint Mary's Winona Campus
ROCHESTER — Friday, July 27, 3-5 p.m., Cascade Meadow Wetlands and Environmental Science Center, 2900 19th St. NW
MINNEAPOLIS — Tuesday, Aug. 7, 3-5 p.m., Saint Mary's University Center Trustee Lounge, 2540 Park Ave., Minneapolis Campus
Remarks from Father Burns are scheduled for 4 p.m. at each event.
Father Burns will assume presidency on July 9. He most recently served as the dean of the Woods College of Advancing Studies and Summer Session at Boston College, where he has demonstrated success in the areas of enrollment growth, philanthropy, online education, and international partnerships. His vision led to a 40 percent increase in revenue since 2017, with a near tripling of the net contribution the Woods College has made to Boston College since 2012. Under his leadership, Boston College's once smallest school grew to become the fourth largest.
Prior to arriving at Boston College in 2010, Father Burns was co-chairman and associate professor of the Graduate School of Psychology at the University of St. Thomas in St. Paul, Minn. He also has served as an assistant professor in counseling psychology and religion at Boston University, and he completed pre-doctoral and postdoctoral fellowships at Yale School of Medicine and Harvard Medical School.
Father Burns holds a doctor of philosophy degree in counseling psychology from Northeastern University in Boston, a master's degree in counseling psychology from the University of St. Thomas, and a master's degree from St. Paul Seminary's School of Divinity. He received his undergraduate degree in accounting from the University of St. Thomas School of Business.
Formerly an associate professor in the Counseling Psychology Department in the Lynch School of Education at Boston College, Father Burns is an active researcher, a highly accomplished author, and a licensed psychologist in Minnesota and Massachusetts. He sits on a number of professional boards and committees and is a doctoral program accreditor for the American Psychological Association.
Father Burns will succeed Brother William Mann, FSC, who stepped down at the end of May after a decade of service.