In 2000, United Nations member states adopted eight Millennium Development Goals (MDGs), which featured a number of ambitious global initiatives, such as eradicating extreme poverty and hunger, and achieving universal primary education in all countries around the world.
As these goals were extremely aspirational, most were far from met by the target date. However, by 2015 significant progress was made in a few areas, such as increased official development assistance (foreign aid), reduced trade barriers for developing country exports, and new debt-reduction strategies for some of the heaviest indebted countries. By the target date of the MDGs, the most notable outcome was the number of people living in extreme poverty around the world had been reduced by 50% since 1990.
To keep the sustainable development agenda moving forward, at the end of 2015, the United Nations member states adopted 17 new Sustainable Development Goals (SDGs) to be met by 2030.
"The new SDGs carry over some of the same aspirational initiatives from the MDGs, such as eliminating poverty and achieving zero hunger, but have also added some new goals, which may arguably be more attainable in the near term, such as affordable and clean energy; climate action; and reduced inequality," says Matt Bluem, Ph.D., assistant dean of graduate programs and MBA program director at Saint Mary's University of Minnesota's School of Business and Technology.
Since the adoption of the SDGs in 2015, some progress has been on two of the SDGs: eliminating preventable deaths among newborns and children under the age of 5, and getting children into primary schools. These are both important initiatives and progress should be celebrated, Bluem says.
Unfortunately, progress on the other 15 goals has not kept pace. With just 10 years until the target date for meeting all 17 SDGs, it is becoming increasingly clear that most of these goals will not be met.
"Initiatives such as eliminating extreme poverty, ending hunger, and protecting the climate are quite far from being achieved — and in some cases, are going in the wrong direction," Bluem says.
According to the UN, the biggest challenge in meeting the SDGs is funding. An additional $2-3 trillion is needed to help meet funding requirements. A recent report by the Brookings Institution states that sub-Saharan Africa alone would need hundreds of billions of dollars in additional financial support every year in order to meet the SDGs by the target date of 2030, Bluem says.
U.N. Secretary-General António Guterres has argued that public investment by governments is not enough, insisting that private industry is going to need to get involved. To meet the aggressive SDGs, the private and public sectors will need to work together to bring about the investment and policy change.
In order to encourage governments and the private sector to put the resources and effort necessary into meeting the SDGs, it is imperative to let world leaders know that goals such as the SDGs are important to the international citizenry, Bluem says.
"In a time that sees the United States withdraw from a vital initiative such as the Paris Climate Agreement, we all need to get involved to get efforts back on track," Bluem says. "In the end, even if we are not able to fully meet the SDGs, perhaps their greatest value will be in bringing greater attention and focus to the imperative of sustainable development."
Are you a journalist covering this topic and interested in an interview? That's where we can help.
Matt Bluem, Ph.D., program director of M.A. in International Development, has taught business and marketing courses at Saint Mary's University of Minnesota since 2008. Prior to Saint Mary's, he worked in both the banking and the nonprofit sectors, most recently with a non-governmental organization (NGO) with operations in more than a dozen countries.
Bluem is an expert in political and economic development and is available to speak with media. To arrange an interview with him, simply click on his photo below to access his contact information.
Connect with:
Matt Bluem, Ph.D.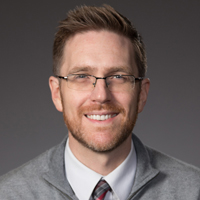 Assistant Dean of Graduate Programs, MBA Director, School of Business and Technology
Expertise: International Development, Political and Economic Development
View profile