Upcoming events
Leveraging LinkedIn Workshop
Thursday, Oct. 15, from 7 to 7:30 p.m. via Zoom
You may have heard of LinkedIn, but do you really know how to leverage it to maximize your network? Participants will learn the essentials of LinkedIn as a professional networking tool. Key information will include:
Learning how to promote your brand to the world
Exploring ways to expand your network
Discovering ways to search for jobs, get recommendations posted, find alumni, and much more
The workshop is free, but you must register in advance. After registering, you will receive a confirmation email containing information about joining the meeting.
Fall Career and Internship Expo
Wednesday, Oct. 21, from 10:30 a.m. to 1:30 p.m. via Handshake
Co-sponsored by Saint Mary's University and Winona State University
In order to make the most of this fair experience:
MN Private Nonprofit & Government Jobs Fair
Friday, Oct. 30, from 11 a.m. to 2 p.m. delivered virtually
If you are interested in a career in public service, this fair is for you! Visit with representatives of government agencies and nonprofit organizations, all from the convenience of your room. View more information about the fair, including registered vendors.
The fair is free and open to all Saint Mary's students and alumni, but registration is required. Register by Friday, Oct. 23. Once you register, you will receive a confirmation email which will include a log-in link specific to you and further instructions.
Disability Virtual Career Fair
Tuesday, Nov. 10
If you're an individual with a disability looking for employment or internships, register for this career fair. Early registration will give employers access to your résumé as soon as they register for this event. You can chat online with employers across the county who are ready to hire you! More details to follow after you register.
Spotlight on interns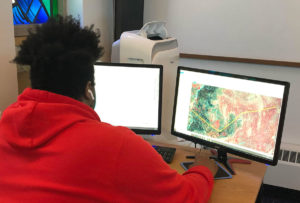 This week's intern is Shamauri Brown-Young, a class of '20 digital media and journalism major at Saint Mary's. He did his internship with GeoSpatial Services at the Saint Mary's Winona Campus.
Major responsibilities: Creating, editing, and attributing different riverine systems and bodies of water.
How did you find out about this internship? I saw it in an email and decided to pursue it.
Favorite part of the internship? Also most challenging? Learning the different attributes is my favorite part because of how many different systems there can be, but it's also the most challenging because you have to be as correct as possible.
Biggest lesson learned at internship? Never assume, always look deeper because what it seems like may not always be true.
Advice for others considering an internship? Be ready for the long hours. You're sitting down for most of the day looking at a computer, that may be challenging and a little tedious, but you have options and you can take breaks and you also might be working with your friends, so it's only as exciting as you make it. Work hard but have fun in the process as well.