Upcoming events:
MN Private Nonprofit and Government Jobs Fair – Friday, Oct. 30, delivered virtually, 11 a.m. to 2 p.m.
If you are interested in a career in Public Service, this fair is for you! Visit with representatives of government agencies and non-profit organizations, all from the convenience of your room.
For more information about the fair including the registered vendors, go to: http://www.togpartners.com/govnonprofitfair.
The event is free and open to all Saint Mary's students and alumni, but REGISTRATION IS REQUIRED. Once you register, you will receive a confirmation email, which will include a log-in link specific to you and further instructions.
Internships-An Overview workshop – Tuesday, Nov. 3, delivered virtually, 3:45 to 4:15 p.m.
The meeting is free, but you must register in advance to attend.
Are you thinking about registering for an internship for credit next semester? Come join this brief but informative meeting to learn the ins and outs of registering for an internship, INCLUDING THE NEW REGISTRATION PROCESS AND FORMAT.
An internship might be the most important thing you do to prepare for your career while in college. In most cases, students who graduate with an internship get hired more quickly and get paid more than their classmates who do not participate in an internship.
Participants in this workshop will discuss how to find and secure internships and learn the procedures in securing the internships for academic credit.
Disability Virtual Career Fair – Tuesday, Nov. 10, online, 8 a.m. to 5 p.m.
If you're an individual with a disability looking for employment or internships, register now for this free fair. Early registration will give employers access to your résumé as soon as they register for this event. You can chat online with employers across the county who are ready to hire you.
Spotlight on Intern:
Our intern this week is Bryttany Wener, a senior Criminal Justice: Law Enforcement major, who shares about her experiences at the Pierce County Jail.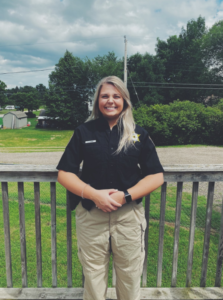 Major Responsibilities: Supervising daily activities of inmates, maintaining safety and security, investigating incidents including disturbances, assaults, and escapes, enforcing the rules and regulations of the jail, booking in new inmates, sending out and replying to emails, writing reports and incidents, working as a team with my coworkers by communicating with each other, learning how to communicate with inmates and using problem solving skills to solve issues around the jail.
How did I find out about this internship? Most of my family is in law enforcement, and I have known the sheriff of Pierce County for a few years. Sheriff Nancy is a very good friend of my family and was very generous in giving me this opportunity to get my foot in the door and see if I could potentially see myself working in a jail.
Favorite part of the internship? One of my favorite parts about working at the jail is being able to interact with the inmates. I think it is really important because communication in this field is a huge part of the job! Many of my coworkers have mentioned that we are here to make it easier for them, not more difficult ,and that includes just listening to them and talking with them.
Most challenging part? I think one of the most challenging parts about working at the jail is being confident. Sometimes it can be hard to be sure of what you are doing without questioning yourself first. I was told "if you don't know what you're doing, act like you do." I found it important to ask a lot of questions throughout my training process to gain the confidence that is needed in this job.
Biggest lesson learned at internship? The biggest lesson I learned was to work with your coworkers as a team. In law enforcement it is very important to work together and have each other's backs. Asking them questions is really important as is discussing what you think should be done in certain situations, instead of jumping right into things.
Advice for others considering an internship: I think, going into this internship, I was very nervous and wasn't really sure what to expect ,but I've gained so much experience and it's helped me realize what I really want to do with my future. My advice is to just go for it because you never know what you will learn along the way, and it may help you determine whether you want to continue working in this profession or change your career.