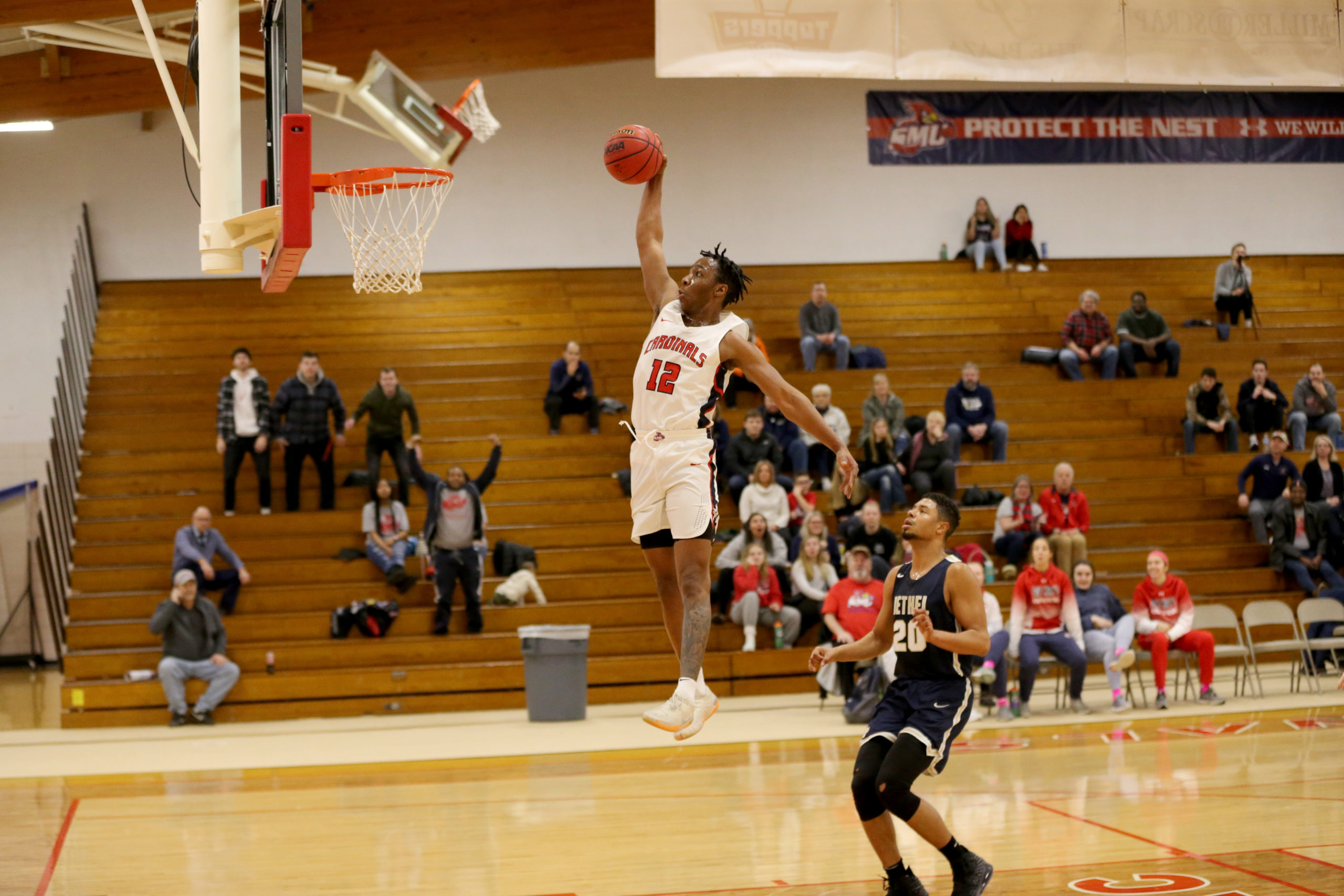 When Kyle Brown, Saint Mary's men's basketball assistant coach, thinks of Kareem Anthony-Bello '21, he remembers a standout DePaul College Prep high school student about to do a defensive slide drill at practice.
"From the second he started, he was working at a completely different speed and level than the rest of his team," said Brown, who initially recruited Anthony-Bello. "I'll always remember that was the moment I knew we wanted him at Saint Mary's."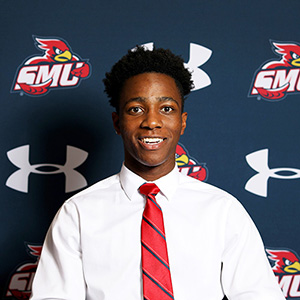 As the wheels were put into motion for Anthony-Bello to play basketball at the collegiate level in Winona, the high school senior learned about the First Generation Initiative (FGI) at Saint Mary's by speaking with Mary Dempsey '75, who serves as the president of DePaul College Prep. Dempsey put him in contact with the FGI team, who would go on to play just as big of a role in his Saint Mary's experience as his fellow teammates and coaches on the basketball team.
Anthony-Bello can quickly formulate a list of the people who have supported his academic journey and provided him the resources he has needed to succeed as he pursues a psychology major.
Those people include Alisa Macksey, dean of Student Success and FGI; Octavia Brown '15, Countdown to College coordinator/adviser (and FGI alumna); and Peggy Walters, administrative assistant to the president, where he serves as a student worker.
"I could keep going. A lot of people have helped me," said Anthony-Bello, who has served as a Countdown to College counselor for the past two summers. "It's definitely a privilege to be an FGI Scholar. At times it does cross my mind, how I'm the first one who will graduate college out of my family. It's definitely a gift that I'm grateful for every day."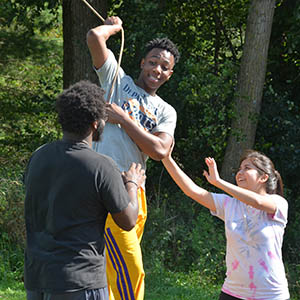 Macksey said he brings a bright smile and positive energy into every room.
"He provides encouragement and support to his fellow FGI Scholars," she said. "As the oldest child, he wants to be a role model to his younger siblings."
The FGI team has helped him maintain a balance between the responsibilities that come with being a student-athlete.
Upon graduating from Saint Mary's, Anthony-Bello hopes to work in senior/assisted living care in some capacity, following the footsteps of his mother who works at a senior care center in Chicago.
"I do enjoy being around the elderly," he said. "They always share wisdom with me."
A dramatic turnaround
The Saint Mary's men's basketball team is coming off one of its best seasons in recent memory, having qualified for the Minnesota Intercollegiate Athletic Conference (MIAC) tournament for the first time in 35 years, beating Bethel in the quarterfinals before losing to St. Thomas in the semifinals.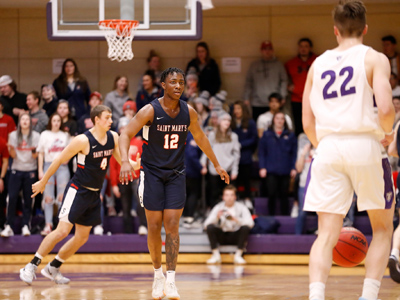 Anthony-Bello, a 6-foot-4-inch guard, ended up third on the team in scoring, averaging 9.4 points a game and finishing second in three-pointers with 39.
After going through a 1-24 season during his first year, Anthony-Bello embraced a different role on the team when head coach Joe Fano took over before his sophomore year, which resulted in a more successful season for the Cardinals with a record of 14-13.
"Kareem was a huge factor in our success this year," Fano said. "His defense and ability to rebound put us in a position to succeed. His offensive efficiency was also so much better this year. He is extremely coachable and will do whatever is asked of him."
Anthony-Bello remembered a conversation he had with Brown during the "rough patch" at the beginning of his college career.
"He just told me to be patient and that my hard work would show up," Anthony-Bello said.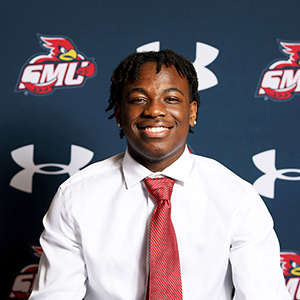 It did, along with younger brother Raheem Anthony '23, who came in as a first-year point guard from DePaul College Prep and became an All-MIAC First-Year team selection after finishing second on the team with 11.2 points a game, including three games of 20-plus points.
"Having an opportunity to play with him again, I feel like the chemistry was already there," Anthony said.
Brown said both players have extremely different personalities, comparing the extroverted older brother to the more introverted younger one. The biggest commonality they share, though, is how they approach the game.
"Both are extremely passionate and competitive," Brown said. "They both genuinely enjoy having each other around and bring out the best in each other."
Featured image: Kareem Anthony-Bello '21 extends his arm in preparation for a slam dunk against Bethel. "I get to the bucket occasionally, but defense and three-pointers are basically my game," he said.