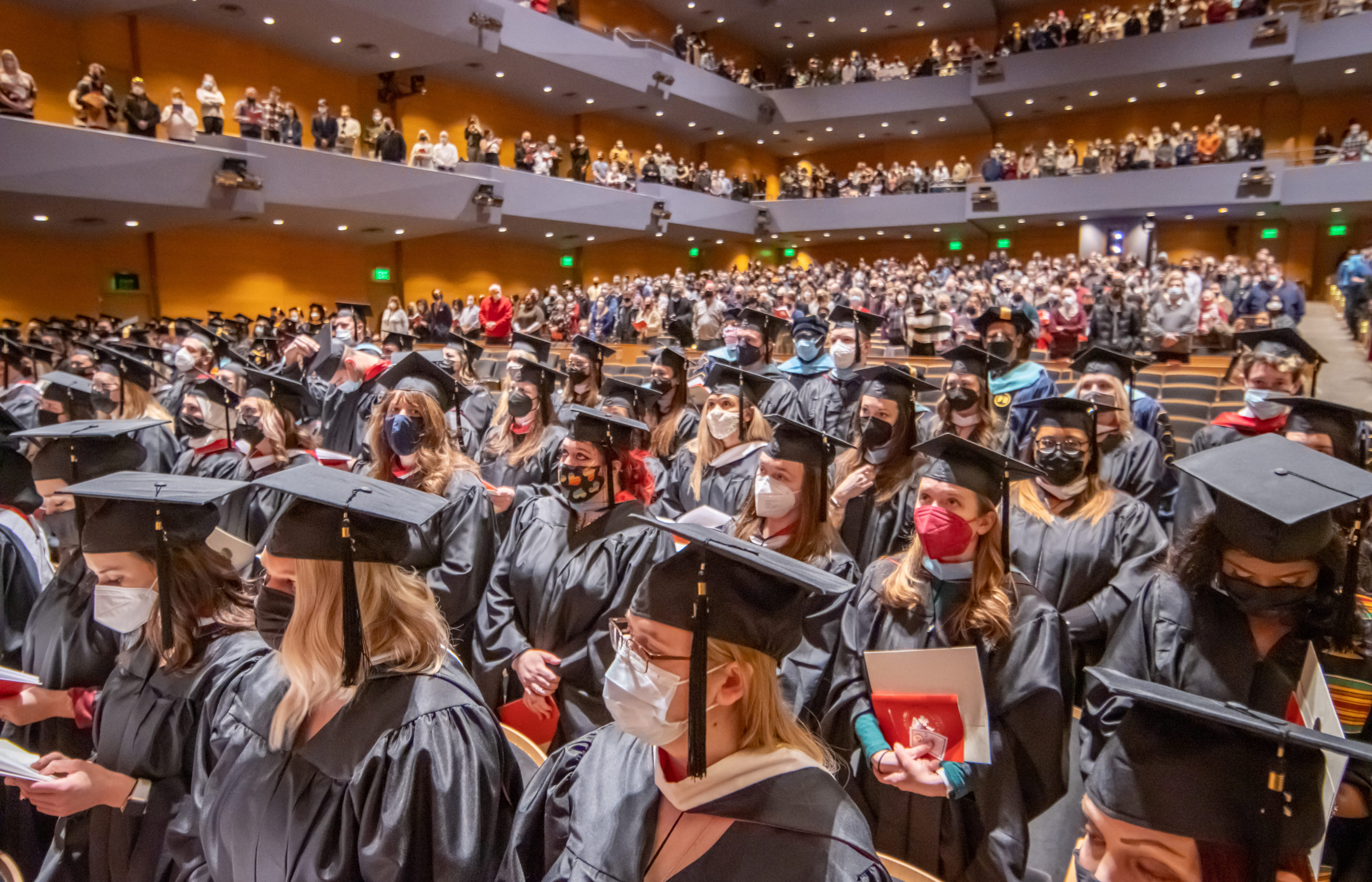 On Saturday, Jan 22, the Saint Mary's University community gathered to celebrate the graduates of the Schools of Graduate and Professional Programs.
Inside Orchestra Hall in downtown Minneapolis, a new venue for the university's SGPP commencement ceremonies, bachelor's completion, master's, and doctoral degrees were conferred upon nearly 330 graduates.
During the ceremony, graduates heard words of encouragement from their classmates as they began the next steps in their personal and professional lives.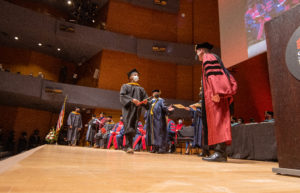 "As we embark into the world, newly minted graduates, the world presents challenges and opportunities," said Peter Kazeminejad, who received his Ed.D. in Leadership degree. "Oftentimes, the same event can be perceived as a challenge or an opportunity. It all depends on your perspective, and I encourage each of you to seek out the opportunity side of each event you encounter. It is easy to find people who begin things with 'you can't.' Seek out those who begin sentences with 'You can,' or 'I believe in you'. Trust me these people help you to identify the possibilities that exist in every situation. They seek to better the lives of themselves and those around them. Their encouragement can help light the path on the darkest days. As we go into the world and turn to our lives and careers, my advice is to seek out those positive influences, those encouragers who make life valuable and rich. And while you're at it, make sure to be the one to light someone else's path on their darkest day."
Graduates also took time to uplift the faculty they interacted with and spoke of the general sense of belonging they found while at Saint Mary's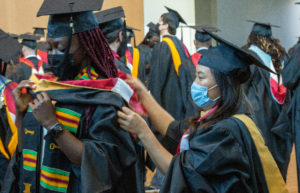 "The biggest reason I decided to go to this school was because of the sense of community. I really didn't understand the phrase 'Minnesota Nice,' until I witnessed it myself," said Haley Williams, a Colorado native who received her B.S. in Marketing. "Whether online or in person, it never felt like I wasn't a member of the Saint Mary's community."
Being the first group from SGPP to gather for commencement since the COVID-19 outbreak, The Very Rev. James P. Burns, IVD, Ph.D., commended the graduates — the first to be able to gather for an in-person commencement since the pandemic began — for their hard work during such a trying time.
"You know better than most what it's like to achieve an education in a time of great challenge. A time that is already changing how we work and how we live, and how and with whom we spend our time and interact," Burns said. "The pandemic, for many, has brought sadness and loss. It has also shown a light on our need for connectivity, adaptability, and creativity. This requires courage and balance. In this time, you all have been examples of the kind of fortitude, resilience, will, and determination necessary to advance us all toward a better tomorrow."
Since the number of guests was limited due to COVID-19 precautions, Saint Mary's offered a video streaming options for those who could not make it to the ceremony in person. As of Friday, the stream had just over 4,100 views.
Watch video footage of the ceremony in the video box below: