All rentals are due back by Dec 4. If you have gone home and have not returned your rentals, below are the instructions on how you can print a shipping label via the bookstore website. If you choose NOT to use our shipping label, PLEASE make sure your rental information is enclosed in the box.
1. Go to www.st-marys.bncollege.com and rest your cursor on "Textbooks." Select the "Textbook Rentals" option from the drop down menu.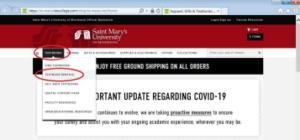 2. Next, scroll down and click on the link labeled "Rental Return."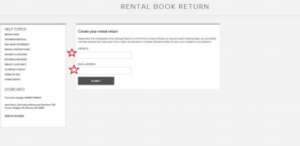 3. Lastly, enter your Order ID and the email address you used when you placed your order. If possible, you can combine multiple orders together and ship in one box with one shipping label. Please make sure to use packing material to keep the books in good condition. Also, include your name, email, and phone number inside the box. Contact the bookstore by phone (507-457-1569) or email (w-bookstore@smumn.edu) if you have any questions or you are not able to create the label.