Welcome to the 19th Annual Doctoral Research Symposium
For almost two decades, the symposium has been the signature event of the doctoral programs in business and education at the university. We are grateful for the opportunity to gather again in person and continue to share the event with our online community.
Saturday, March 4 | 8:30 a.m.-3:30 p.m.
Saint Mary's University Center
Continental Breakfast

Keynote Speaker

Breakout Sessions and Workshops

Poster Session

Panel Discussion

Awards
Schedule of Events
Zoom Links:
Click below for the full brochure (PDF)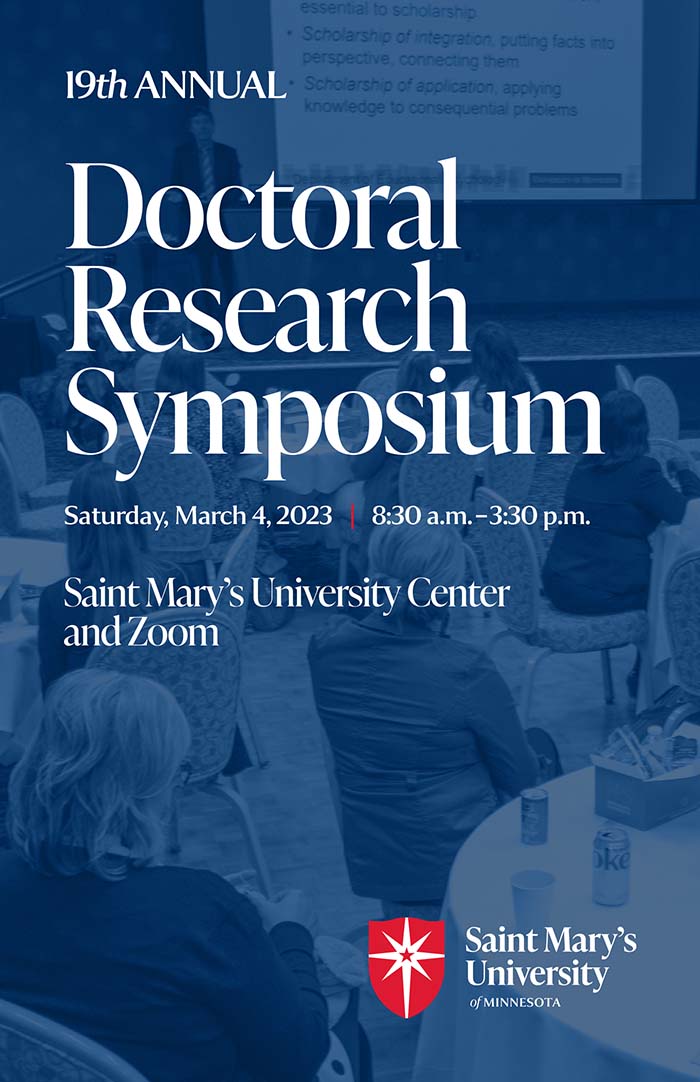 8:30 – 9 a.m. Check-in Registration – Lobby Continental Breakfast – Ballroom East
9 – 9:30 a.m. Program Directors Welcome–Ballroom East ISTEP Noyce Scholar Award
9:30 – 10 a.m. WORKSHOPS:

Working with the IRB: Conf. Room 203
Writing Center: Dissertation Strategies: Conf. Room 201
Comprehensive Exam Ed.D.: Banquet East
Comprehensive Exam DBA: Banquet West

10 – 10:45 a.m. In-Person Poster Sessions–Ballroom West, Online Poster Session–Conference Room 201
11 – 11:45 p.m. BREAKOUT SESSION 1

I

mplementing a Universal Design Online Course for College Students with Disabilities: Banquet East

B

arriers, Boundaries, and Constellations: A Grounded Theory Study of Attributional Ambiguity and Women in Higher Education Leadership: Banquet West

The Journey Toward a Dissertation Topic: Conf. Room 202

Efficacy of Servant Leadership on Team Effectiveness: Conf. Room 201

 

Social Skill Development in Preschool Children: A Comparison of Two Curriculum Models: Conf. Room 203

Noon- 1:20 p.m. Lunch – Panel and Q&A
1:30 – 2:15 p.m. BREAKOUT SESSION 2

Educational Values Ecosystem Services and its Impact on Carbon Footprint. A Study in Peru.: Banquest East

Use of Knowledge Regarding Adverse Childhood Experiences to Implement a System of Identifying and Supporting Elementary Students Who Experience Trauma: Banquet West

Higher Education Attainment of Indigenous Learners of the White Earth Nation: Conf. Room 203

A Phenomenological Study of Black Faculty and their Lived Experiences of Racial Battle Fatigue: Conf. Room 201

Grounded Theory Study To Understand How Healthcare Administrators Determine Whether Or Not To Employ Child Life Specialists To Serve Their Seriously Ill Patients Who Have Minor Children: Conf. Room 202

2:30 – 3:15 p.m. Faculty Presentations

Better Self Management through Greater Self Awareness: Banquet East

A Systems Perspective on Creativity and Innovation: Banquet West

3:15 – 3:30 p.m. Awards and Closing – Ballroom East