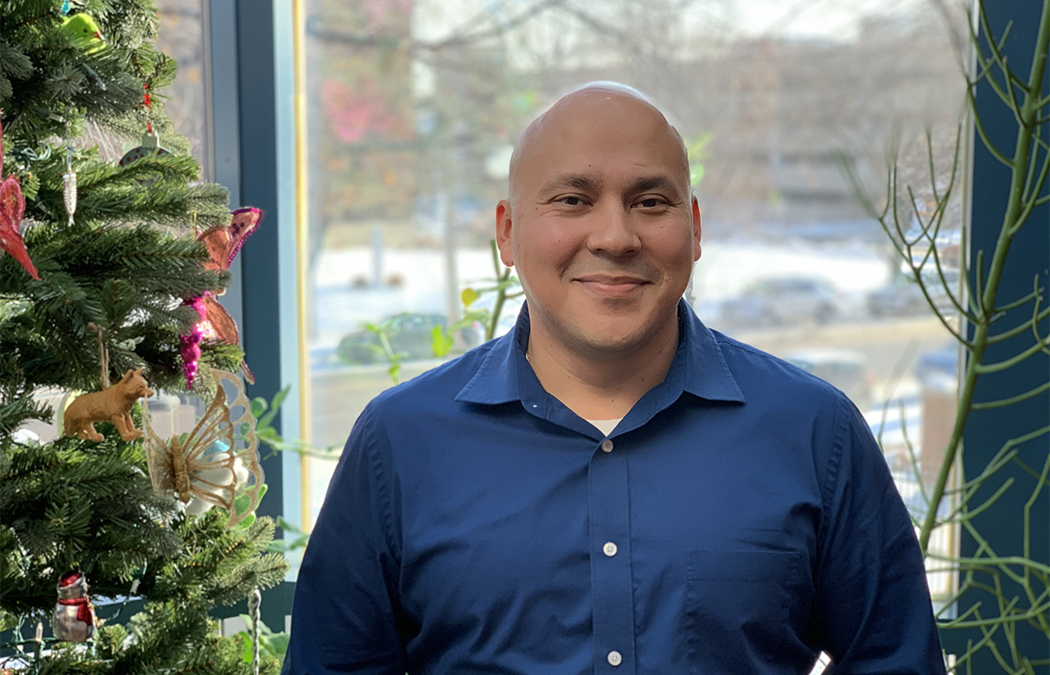 George Diaz M'10 claims that he has plenty of time for hobbies. They include taking a joy ride on his motorcycle and enjoying outdoor culinary arts such as grilling.
Given his daily lists of responsibilities, though, one could assume he might not get as much downtime as he would like. Not only does Diaz teach classes in the M.A. in Organizational Leadership program at Saint Mary's University of Minnesota's Twin Cities Campus, but he is also currently finishing up his Ed.D. in Leadership here.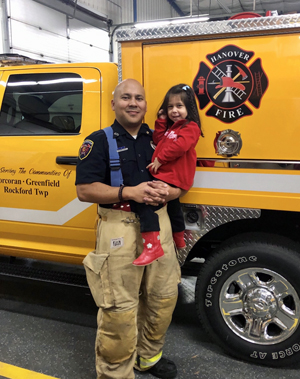 He also serves as a firefighter in his adopted town of Hanover, Minn. He's one of 26 volunteers who are on call at various parts of the week to watch after the people and buildings of Hanover and three neighboring communities in the far west of the Twin Cities metro area. Oh, and after completing advanced technical rescue training, he is also a member of the Wright County Special Response Unit based out of nearby Monticello — and he and his wife, Heather, have two children under the age of five.
Still, the man who had studied to be a police officer 19 years ago would not have it any other way.
When Diaz and his wife moved to Hanover in 2014, he quickly heard about the need to recruit more volunteer firefighters to the local operation. That same year, he began working at Saint Mary's as an assistant professor. He could never imagine how much his academic and pedagogical pursuits would fall in line with his call to public service.
"When I left the law enforcement world, I always had some kind of urgency or want or need to go back to that field. My career path changed significantly, but I missed it," Diaz said. "It was a decision that I didn't know how much was going to change my life and my family's life for the better."
A higher cause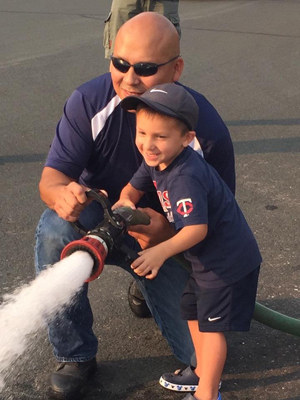 Perhaps there is no more defined correlation between Diaz's two worlds as educator and civic protector than his involvement with the Minnesota Firefighters Foundation (MNFFF), a nonprofit organization that provides educational services for cancer prevention and raises funds for fire departments throughout the state.
As a member, Diaz has been part of a team to raise money for new hoods for rural fire departments with old and ineffective equipment. In 2019, as part of its "Hoods4Heroes" campaign, the foundation was able to purchase 500 hoods, valued at $100 each. As Diaz will tell you, the cancer-causing carcinogens largely enter the body through the neck and ear areas, making updated equipment a necessity.
Most fire departments run as both government agencies and nonprofits, Diaz said.
"The bridge between both the nonprofit and the government aspect is something you'll see a lot in regular nonprofit and government contracts, where one relies upon the other, but that relationship alone has not been studied very well," he said. "And there aren't many degrees that look into it."
To address dynamics such as these, Diaz helped develop the online M.A. in Public Administration program at Saint Mary's, which started in 2018. The program had its first two graduates finish this past fall.
"When we teach people to be leaders, they're going to be answering questions that have no answers. They just have to find the best next solution. That answer may not be the same tomorrow, because that answer is based on what we know right now and who we are with."

—George Diaz
Diaz is proud of the partnership the MNFFF has formed with the University of Minnesota Masonic Cancer Center to conduct cancer research on firefighters in the Twin Cities metro area. As part of the study this spring, a group of firefighters will have their carcinogen levels monitored over extended periods of time to get more insight into the exposure to certain harmful cancer-causing chemicals they may encounter when putting out fires.
Based on the results, the foundation will work with the center to provide new recommendations to mitigate that exposure for firefighters.
When it comes to handling an actual fire, Diaz and his colleagues often resort to a tactic that he stresses to his students: Find your next best right answer.
"When we teach people to be leaders, they're going to be answering questions that have no answers," he said. "They just have to find the best next solution. That answer may not be the same tomorrow, because that answer is based on what we know right now and who we are with."
The path of discovery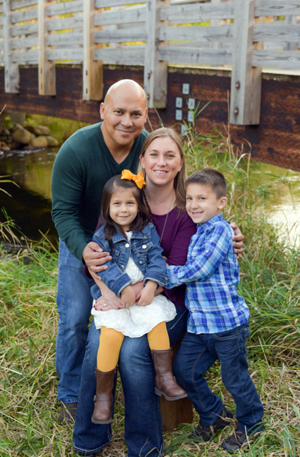 Diaz moved from the South Side of Chicago to Rochester, Minn., during his last year of junior high school.
After graduating from high school in 1999, his first inclination was to become a police officer. He pursed his associate's degree in law enforcement at the local community college. During the last year of the program, though, his interest in a four-year degree began to grow. He enrolled at the University of Minnesota-Duluth on his way to a bachelor's degree in criminology in 2005, before deciding to earn a history degree at The College of St. Scholastica in 2007 with the intention of applying to law school.
Diaz was accepted to the William Mitchell College of Law, but decided not to enroll. Around the same time in 2008, he was offered a position as a paralegal in the Hennepin County Attorney's Office on its felony property unit before helping run a K-12 truancy prevention program.
During 2008, Diaz also began his relationship with the Twin Cities Campus at Saint Mary's by starting to take classes for an M.A. in Counseling and Psychological Services.
"It was the course offerings that drew me into Saint Mary's," Diaz says. "It was really the culture that kept me here."
Before earning his degree in 2010, though, he spent his last year taking human development courses — one of which was an elective course taught by Susan Hines, Ed.D.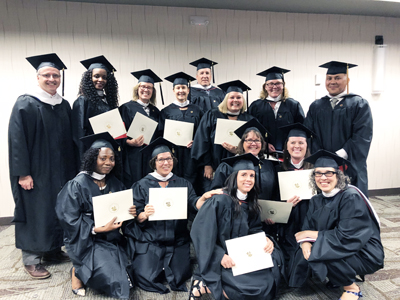 "I can still picture George in my class," Hines said. "He was a good student who was curious and always engaged in the classroom learning. This, along with his easy-going attitude and unflappable nature, really stood out to me and his classmates."
Initially, he took the course simply because it fit his schedule before earning an M.A. in Human Development. Yet, a side conversation about his post-graduation plans with Hines would help compel him to start the Ed.D. program the next semester.
"She said, 'Why don't you work in education if you like it so much?' And that's where it really started," Diaz said. "The aha! moment came about."
Diaz always tells his students to ask as many questions as they can during their educational journey, given the insight those answers can possess to questioning minds — just like his own.
"If you don't know the reasoning behind it, then you're never going to remember it and it's not worth your time learning it," Diaz said. "Yes, some things will resonate with you; others won't. But always understand why something does or does not."