Here are 10 ways digital badges can help you get noticed:
Master a skill quickly and showcase that knowledge — without investing a ton of time or money in a full degree program. Don't just stay on the leading edge of the business and tech world — lead it.
Your résumé is crucial, right? But the reality is that it doesn't always go to a human after you send it — it goes to a computer. In fact, there's a good chance a real person will never see your résumé. Traditional hiring methods have now gone digital, with many employers using applicant tracking systems (ATS). With more and more jobs permanently remote, the need for digital upskilling in the workforce is skyrocketing.1
You are the sole owner of your badges. You get to decide how to use them. There's never a cost to use them, and they can be used indefinitely.
Think beyond LinkedIn. Use them on your résumé, digital portfolio, and email signature. Get creative.
Potentially increase your earning power while earning academic credits and jump starting something even bigger (reason #10).
You need to show (literally) to employers your skill mastery and expertise — and you need to do it quickly.
As a professional, you must continuously develop your skills in response to advancing tech. Show employers you have a growth mindset. Show them technology isn't just for Generation Z. And in just four years, the next generation will be entering the workforce. What's so intimidating about that? They're on track to be the most digitally-savvy generation ever: Generation Alpha.2
Don't fall behind — As new tech emerges, 50% of all employees will need reskilling by 2025.3 Has it been years since you earned your bachelor's degree? With the constant-changing tech world, a graduate certificate offers up-to-date expertise and a digital badge lets you prove this.
Industries most using and recognizing badging in the workforce: technology, healthcare, and finance. This means HR professionals, business leaders, and everyone else in the digital world is expecting to see your badges.
As you're earning a certificate, and being awarded digital badges, you're that much closer to earning your master's degree.
How do I earn badges?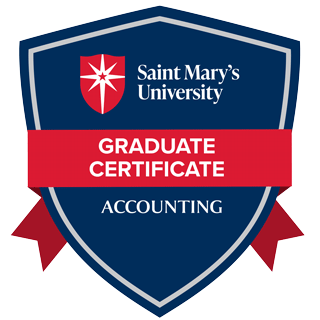 1. Enroll in a graduate certificate program. Don't wait! Get the competitive edge and land that job you've been eyeing. Maybe even that promotion.
2. Finish program courses and start earning badges. Add them to your LinkedIn profile. Who isn't on LinkedIn, right? So, when anyone clicks on your badges, they'll realize you have what it takes. The skill set, expertise, mindset, real experience, drive, and commitment to the field. It's all there. Proven and validated.
Skills you need. Proof you have them.
You must show your skill set and qualifications to keep up. Especially the business world and tech. What is a digital badge? Simply put, it's a credential that allows you to showcase skills and expertise. It's proof you have what employers need — the specialized skills that are in short supply. The ones only a small percentage of the pool has — or can even prove.
So, how do you gain these skills and prove them?
With one of 13 business and technology graduate certificates programs at Saint Mary's. All are 100% online, and many can be completed in as few as eight weeks.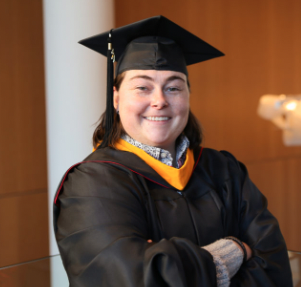 "They're a great way to stand out"
After finishing her master's program in business intelligence and data analytics in September 2021, it didn't take long for Shauna Spencer to find a new job with Children's Minnesota. And she says her education from Saint Mary's, combined with the digital badges, played a role in her career move.
1Ranstad Risemart, reskilling post covid-19: digital badging can address the acceleration toward digital transformation at https://www.randstadrisesmart.com/blog/reskilling-post-covid-19-digital-badging-can-address-acceleration-toward-digital (last visited Nov. 18, 2022). 
2McCrindle, Understanding Generation Alpha, at https://generationalpha.com/wp-content/uploads/2020/02/Understanding-Generation-Alpha-McCrindle.pdf (last visited Nov. 18, 2022). 
3World Economic Forum, These are the Top 10 Job Skills Of Tomorrow – and How Long It Takes to Learn Them at 
https://www.weforum.org/agenda/2020/10/top-10-work-skills-of-tomorrow-how-long-it-takes-to-learn-them/#:~:text=up%204%25).-,Critical%20thinking%20and%20problem%2Dsolving%20top%20the%20list%20of%20skills,in%20the%20next%20five%20years.&text=But%20newly%20emerging%20this%20year,top%2010%20skills%20for%202025. (last visited Nov. 1, 2022).