Welcome, International Students
Saint Mary's University of Minnesota has a long tradition of serving students from many different backgrounds.
International students from Asia, Africa, Europe, and South and North America are part of our student body today. We value the rich diversity in culture and experiences that international students bring to our campus. At Saint Mary's, you'll be supported in your studies and develop meaningful relationships that will help you achieve your goals.
International students can pursue a wide range of programs and opportunities to achieve their educational goals. We offer liberal arts undergraduate degrees, bachelor's completion, and graduate degrees on our Minneapolis. We also offer select programs fully online.
Read More
Minneapolis Campus Programs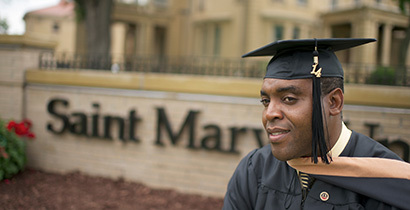 Many of our graduate programs are offered at our urban, nonresidential Minneapolis campus. Programs focus on business and technology, education, and health and human services. The Minneapolis Campus is conveniently located in the heart of the vibrant metropolitan area of Minneapolis/Saint Paul.
Information for Admitted Students
International students who have been admitted to the University should familiarize themselves with the steps and eligibility requirements for becoming and remaining a student at Saint Mary's University of Minnesota. Request and receive your Form I-20, and review other critical information, to ensure that your transition is a smooth one.
International Students enrolling in the Master of Science in Data Intelligence and GeoAnalytics program with a Business Engineering emphasis qualify for a scholarship of $225 per credit. Your enrollment counselor can provide you with additional information as you navigate the enrollment process. At present, this scholarship is only available to students enrolled in this program.
Students must pass an language proficiency exam to be admitted to the university, and the options to meet that requirement are listed in the catalog. It includes but is not limited to the TOEFL.
We understand that it is challenging to begin life in a new and unfamiliar community in a culture other than your own. Your International Student Adviser will be the primary contact for you while you are attending Saint Mary's. They have experience in the issues international students face and are prepared to help you.
Upon acceptance to Saint Mary's, students will be provided with an International New Student Orientation and immigration advising related to F-1 status. Throughout further completion of study, students will receive advising for employment authorization and the application process for Optional Practical Training (OPT).
Learn about the necessary steps to complete the application process and how acceptance process works.
Learn about student visa requirements, the I-20 application, insurance, immunizations, and more.