Having been to his fair share of academic conferences, Andrew Scott was amazed when he walked into the room at the Minneapolis Convention Center in October at the Financial Planning Association's (FPA) annual conference.
While he expected to see only 20 or so professors or economists in attendance, he walked into a room filled to maximum capacity with at least 250 attendees, some of whom lined the side and back walls. Nearly all patrons were practicing financial planners.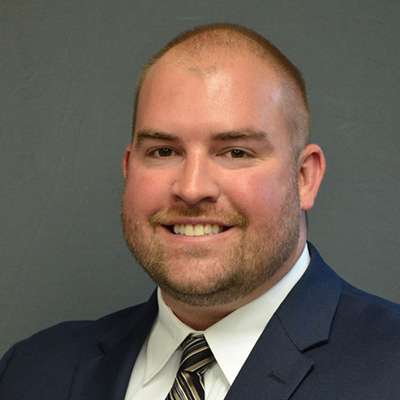 "Sometimes in academia, we do great work and research, but don't do a great job sharing that research with the public in a meaningful way. And I saw this organization and this conference as a wonderful venue to bridge the gap between research and practice," said Scott, who has served as an assistant professor of business at Saint Mary's University since 2016. "It was a really phenomenal opportunity to share current research with folks who are on the front lines who are working with clients making these decisions on a daily basis."
As just one of nine academic teams to be chosen to give a presentation at the national conference, Scott was part of a group of researchers representing Kansas State University, where he is pursuing a doctorate degree of personal financial planning. Their collaborative work earned the Best Research Award, after being selected through a blind review process by the editorial team at the Journal of Financial Planning (JFP).
A delicate dance
Scott's presentation, "Are optimistic investors smarter and alone?," explored the idea of possible predictors of investors' optimism in the U.S. economy — or their own individual portfolios — being tied to guidance from a financial professional or the amount of investment knowledge those investors possessed. Scott and his team hope to have the material in the presentation published as an academic paper in a future edition of the JFP.
After looking at survey results of 2,000 investors gathered by the Financial Industry Regulatory Authority (FINRA) in 2015, Scott's team concluded that investors who use financial planners and other forms of professional help have a more optimistic outlook, whereas those who have more financial knowledge are less optimistic.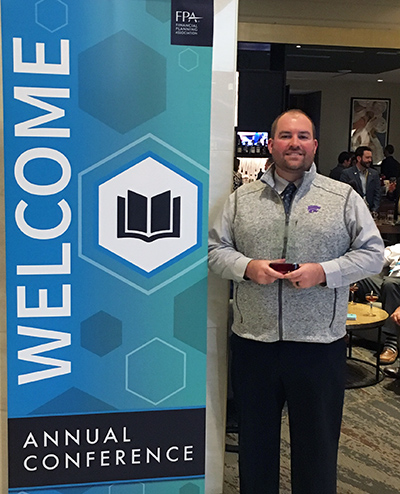 "They have to paint a somewhat rosy picture for the future for their clients, so their clients remain their clients," Scott said of the situation that all financial planners face. "If you present them with gloom-and-doom or with lower expectations than what the clients might prefer, you risk losing your client.
"On the other hand, if you paint too rosy a picture, your clients are going to be misinformed and off in their projections for when they can retire and how high of a standard of living they can have when they retire."
Although many researchers have delved into what optimism can do for a client, Scott said his team was more interested in the characteristics or attributes of those who maintain that optimism.
"The traditional economist would see everyone as being completely rational and would struggle to identify why different people would make different decisions given the same parameters, but in behavioral economics, we look at those characteristics that might lead some groups of people to make different decisions than others," he said.
Those characteristics led his group to the reaffirmation of a "very fine line" that a practitioner must maintain by balancing a positive outlook with realistic performance expectations, so as to not misinform clients.
A change in direction
In 2009, Scott was working in Quincy, Ill., as a commodity manager at Archer Daniels Midland, a massive food processing and commodities trading corporation, when he decided to quit his job to pursue an academic career.
While training junior traders, Scott came to the realization that his love of teaching would be best put to use in a traditional academic setting. So, in the wake of the Great Recession, when others in his industry were being pushed out of their jobs, Scott willingly quit his and enrolled in the MBA program at Southern Illinois University with a focus on finance.
"I quickly learned that personal finance was something I was a little bit more passionate about, and a way where I could really answer some unique research questions that nobody had tackled already," Scott said.
A year after coming to Saint Mary's, Scott began earning his doctoral degree at Kansas State through a combination of summer on-ground courses and online courses. He hopes to finish his studies in 2021.
Many of the co-authors from Kansas State were actually his fellow students from a class taught by Martin Seay, who is also the president elect of FPA. Scott's academic group also utilized the same FINRA data set to create another paper devoted to learning more about the customers who use exchange traded funds (ETFs), which was published in the summer by the JFP. Given that ETFs are newer to the market, it was not a surprise to Scott and his team that they drew more attention from younger investors.
"Basically, our findings were the same, in that here's an opportunity for advisers to better educate their clients so their clients can make better decisions and have better assumptions about the future," Scott said.
Going forward, Scott plans to delve into more behavioral economics, such as the financial behavior and characteristics of college students.
"It's relatively new in the grander finance sphere. We're starting to see more push for research and education in this specific area," Scott said.