Move projects and your career forward with an industry-leading program.
Saint Mary's University of Minnesota offers a master's degree that goes beyond traditional project management education. We provide you with the knowledge and certification preparation that sets you apart as a competitive project manager and propels your career to new heights. As a testament to our excellence, our program is accredited by the Global Accreditation Center for Project Management Institute (PMI-GAC), distinguishing us from the rest. 
At Saint Mary's, we understand the significance of PMP® certification, which is widely recognized as the industry standard by employers. By enrolling in our program, you'll receive comprehensive training that prepares you to pursue the PMP® exam and other sought-after PMI certifications. This opens doors to opportunities in nearly every industry, both locally and globally, ensuring your skills remain in high demand. 
Job security for qualified project management professionals has never been stronger, with over 25 million new job openings projected globally within the next seven years. Now is the perfect time to enroll in our master's degree program, offering you the potential to shape your career trajectory in any direction you desire. 
At Saint Mary's, we stay attuned to the evolving needs of employers. That's why our curriculum is designed to focus on predictive, agile, and hybrid approaches, providing you with a comprehensive skill set. You'll master crucial areas such as leadership, communications, team management, scope, schedule, budget, quality, procurement, risk, and performance. Our market-focused program equips you with the knowledge and practical experience needed to excel in the real-world, including hands-on training with project management tools like Microsoft Project and Visio. 
As a leader in adult education, Saint Mary's University of Minnesota fosters the development of ethical leaders who possess the ability to adapt, innovate, and lead into the future. Join our program to become a sought-after leader in project management, equipped with the skills and confidence to make a meaningful impact. It's time to move projects and your career forward with Saint Mary's University of Minnesota.
Read More
Program Highlights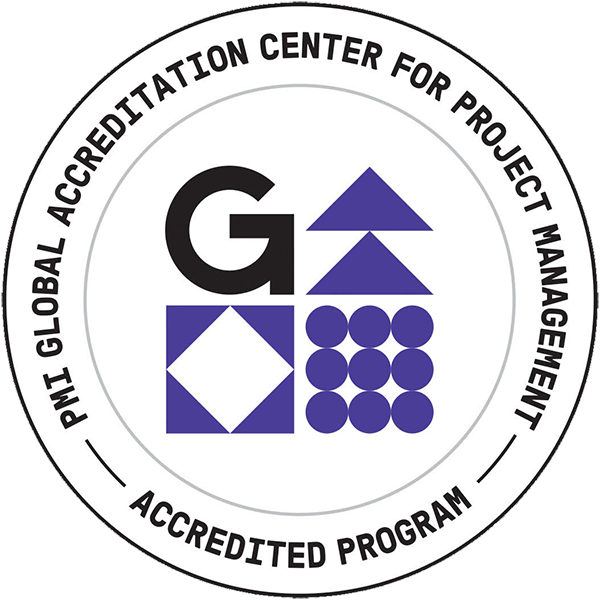 PMBOK®-aligned

program

Prepare for the

Project Management Professional® (PMP) exam

and other PMI certifications

Taught by practicing professionals who are experts in their fields, many currently working for Fortune 500 companies

Complete our M.S. in Project Management program for a

12-month reduction

to the project management work experience required to seek Project Management PMP® certification

Ranked #12 on

College Rank's

list of the top 20 project management degree programs in the U.S.
Evaluate the business and project environment for the most effective project management approach that maximizes value

Analyze and implement appropriate project management principles and performance domains

Tailor project management approaches, governance, and processes to align with project environments

Apply communication, critical thinking, and leadership skills in various project management contexts

Incorporate an ethical perspective in all professional activities

Develop and apply skills and disposition to work with diverse populations
Virtual Information Session
Admissions
Ready to apply? Learn about taking the next steps.
Applicants may apply for admission to master's degree programs at any time during the year. Students can start the blended program at the beginning of fall semester. Students can start the online program at the beginning of fall, spring, or summer semester.

Applicants must have completed an undergraduate degree from a regionally accredited institution and maintained an overall grade point average of 2.75 on a 4.00 scale. Applicants with an undergraduate GPA of less than 2.75 will be considered for conditional admission.
Students with transcripts from universities outside the United States, the United Kingdom, Ireland, New Zealand, Australia, and Canada (except for the Quebec Province) must take and pass English proficiency testing.

Saint Mary's accepts:

Test of

English

as a Foreign Language (TOEFL) with a minimum score of 72

International

English Language Testing System (IELTS) with a minimum score of 6.0

Michigan Language Assessment Battery (MELAB) with a minimum score of 74%

International Test of English Proficiency (ITEP) with a minimum score of 4.0 or Pearson Test of English with a score of 51

Duolingo with a minimum score of 100.
Your application must include the following items:

A completed application form

A

n official transcript(s) issued to Saint Mary's University of Minnesota from the institution posting the applicant's completed bachelor degree and other relevant transcripts documenting program prerequisites and potential transfer credits. (An official transcript is one that is sent to the university by the credit-granting institution. 

A personal statement that includes the following:

brief description of the applicant's background, training, and experience; and

statement indicating the career goals of the applicant and their reasons for seeking admission to the program; and

description of the areas the applicant considers to be their strengths and areas in which the applicant wishes to develop greater strengths and abilities; and

personal information the applicant wishes to share.

Names of two people (including title, organization, email, phone number) who could serve as professional references, if needed, during the application review process.

A current résumé listing educational background and work experience.

Official Transcripts should be sent to Office of Admission

Saint Mary's University of Minnesota
2500 Park Avenue
Minneapolis, MN 55404

Or electronically: tcadmission@smumn.edu

Please reach out with any questions about the application process.

Phone: (612) 728-5100

Toll-free: (866) 437-2788

E-mail: tcadmission@smumn.edu
You can expect to be notified about your acceptance approximately two weeks following your application completion date.
We help you find ways to finance your education. Talk to your Enrollment Counselor about scholarships, loans, and other ways to make education affordable.
You'll take courses such as:
Agile Projects 

Project Leadership Team and Stakeholder Management 

Project Quality and Quantitative Methods

Project Risk and Uncertainty Management 
The course catalog provides complete information about course requirements.
Career Outlook
Over 128,000 new project management positions will be created each year for the next five years. Stand out in your career as a project coordinator, junior to senior project manager, business analyst, PMO (project management office) manager, or program manager.
Project Management Specialists
$98,500 per year*
Construction Manager
$98,890 per year*
Business Analyst
$93,000 per year*
Related Programs
Advance your career with flexible programs designed for busy professionals.
Frequently Asked Questions
 At Saint Mary's, we want you to succeed, and we help you do so, inside and outside of the classroom: 

Student Central: Your one-stop for student services.

Library: Resources and services are available 24/7 to all students.

Writing Center: Offers virtual and face-to-face services to support students. 

Career Services: Can help you develop your career-readiness skills at any point in your education. 
If you are in a degree-granting program and enrolled at least half time, you may be eligible for financial aid.
Life gets busy. Whether you're raising a family, pursuing your career, or playing an active role in your community, we know you want to keep up with what you love while you take the next step in your career. That's why Saint Mary's online programs are flexible and designed to fit your demanding life.