See the business world from a new perspective. Our MBA brings it into focus.
An MBA is more than an investment in yourself and your career — it's the key to an entirely new way of thinking about leadership and seeing business from every angle. At Saint Mary's, our MBA program opens up a world of opportunities for you to boldly lead change in any organization (eyeing the C-suite?) and significantly impact your future.
Pursuing an MBA is a big decision, but with help from our faculty and staff, you'll discover that an MBA at Saint Mary's has an unrivaled return on investment. You'll broaden your skill set, build your professional network, and advance your career with a highly-respected credential of an MBA from Saint Mary's1.
Our program offers four specializations to help you leverage your MBA:
– Finance
– Healthcare Administration
– Human Resource Management
– Project Management
Why Saint Mary's MBA? Because you're a mover and shaker, driven to defy expectations.
Read More
In business, you need to see the big picture. Saint Mary's MBA offers the flexibility you need, along with the specializations and credibility to stand out and leverage your MBA to its fullest. Our affordable program helps you stay career-focused while keeping the bigger picture in sight.
39
credits
MBA with Specialization: 45
$640
per credit
$735 per credit online
Start Dates
Minneapolis – August, January, May
What Makes it Special:
Complete this program in as little as 2.5 years

Flexible program designed for working adults

No GMAT/GRE requirement

Practitioner-led faculty

Extensive networking opportunities

Four specialization options: Finance, Healthcare Administration, Human Resource Management and Project Management
Want an accelerated MBA program? Explore our accelerated online MBA.
What You'll Learn
Effective and professional communication in various forms

Ethical leadership with a focus on character and integrity

Evidence-based decision making and critical thinking

Leadership for the common good to build better organizations

Broad knowledge of business to contribute to organizational success

Quantitative analysis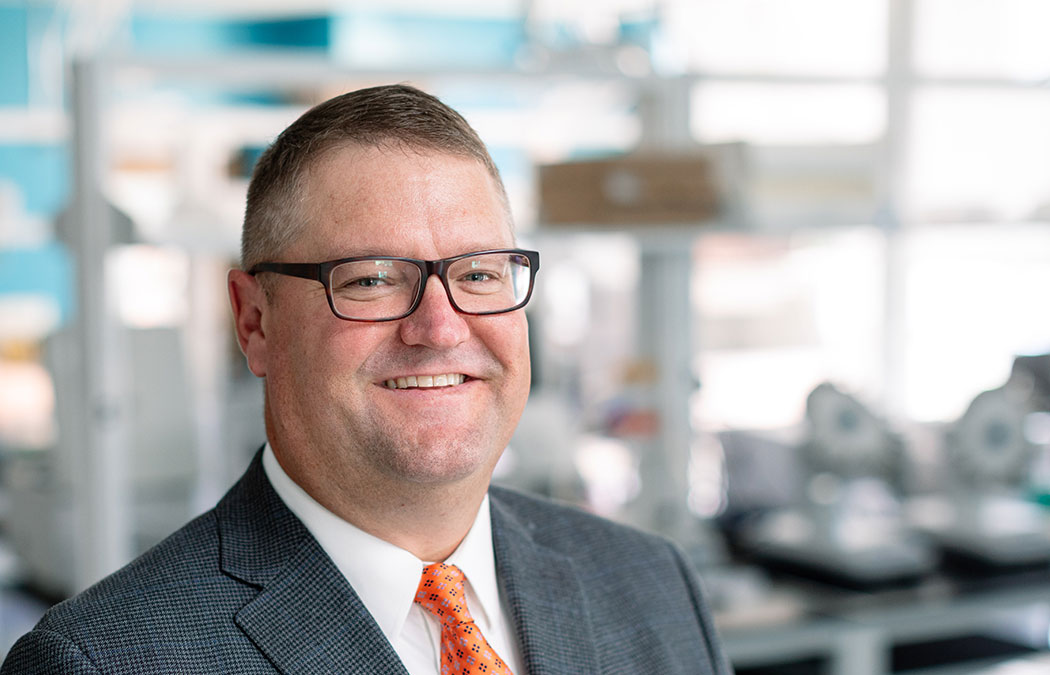 Revolutionary research, when needed most
Cole Irish said he has always been fascinated by science. With a background in biology, he started out at Mayo Clinic in the department of lab medicine, where he began working with viruses.
"On the other side, I was involved in performing these tests," he said. As he looked for other opportunities within Mayo Clinic, Irish found that obtaining his MBA degree from Saint Mary's in 2018 gave him added confidence and skills to advance his position. He found the university's flexible schedule and blended online and onground delivery a perfect way to balance his work at Mayo Clinic and his studies simultaneously.
Innovation through inclusion.
That's Saint Mary's.
During her time working in the corporate world, Michelle Wieser, Ph.D., dean of the School of Business and Technology at Saint Mary's University, said she regularly saw men advancing in their careers further and faster than women in similar roles.
This eventually led her to research inequalities in business education and the greater business world. Wieser, along with the Forte Foundation, released research findings that reveal inequities in the academic experience and career outcomes of female and minority MBA students and graduates of top-tier business schools.
"One of the things that I say often is, we know that there is a need for more inclusive leadership in general in business, and I believe it is the responsibility of MBA programs and other business programs to model that and to create inclusive leaders so that when they go out into the world, they're making real and lasting change," she said
Career Outlook
Our forward-thinking program has far-reaching results. With an MBA, pursue the next step as a C-level officer, vice president of operations, marketing manager, account manager, director of finance, or sales director. Leverage your MBA in any industry — consulting, finance, healthcare, manufacturing, insurance, and higher education.
Management Analyst
$93,000 per year *
Sales Manager
$127,490 per year*
Chief Marketing Officer
$133,380 per year*
14%
Management Analyst job growth 2020-2030
Related Programs
Still exploring graduate program options?
Still thinking about an MBA? Start with one of our graduate certificate programs and apply those credits toward our MBA.
This module doesn't exist.
Frequently Asked Questions
Do I need to take the GMAT or GRE?
The GMAT or GRE are not required for admission into the MBA program. The curriculum maximizes access for anyone interested in pursuing an MBA degree. The first four program courses (MBA 616-619) cover essential fundamentals to prepare you to succeed in the MBA program.
How long will it take to finish the program?
The general MBA program at 39 credits will take approximately two years and eight weeks (two months) to complete at full-time status (six credits per semester, one course per eight weeks). The specialization MBA degree at 45 credits will take approximately two years and 24 weeks (six months).
What local and national professional organizations can help my career?
These reputable sites have up-to-date information for current and aspiring business professionals in Minnesota and across the country. Find relevant information, job postings, and build networking opportunities and connections. General Business Organizations American Business Women's Association (ABWA) Academy of Management (AOM) Alliance for Nonprofit Management Prospanica: National Society of Hispanic MBAs National Association of Women MBAs National Black MBA Association American Management Association (AMA) American Marketing Association - Minnesota Chapter Advertising Federation of Minnesota (AdFed) Finance Organizations American Association of Finance and Accounting (AAFA) Institute of Management Accountants (IMA) American Accounting Association American Finance Association American Institute of Certified Public Accountants (AICPA) Healthcare Management Organizations Professional Association of Health Care Office Management Medical Group Management Association Human Resource Management Organizations Society for Human Resource Management (SHRM) Twin Cities Society for Human Resource Management National Association of African Americans in Human Resources International Association for Human Resource Information Management Central Minnesota Society for Human Resource Management Academy of Human Resource Development Association for Talent Development Council for Global ImmigrationSociety for Human Resource Management (SHRM) National Association of African Americans in Human Resources Project Management Organizations Project Management Institute (PMI) of Minnesota
Do I need a business background to be considered for admission?
All education and career backgrounds are welcome! You don't need a business background or a business-related bachelor's degree to be accepted into the MBA program. The first four program courses (MBA 616-619) provide you with a strong foundation that sets you up for success in our program — no matter your background.
How much will the program cost?
The general MBA program at 39 credits costs approximately $19,695. The specialization MBA at 45 credits costs approximately $22,725. (Cost estimates do not include $25 application fee or book fees). Visit our tuition and fees and financial aid pages for details.