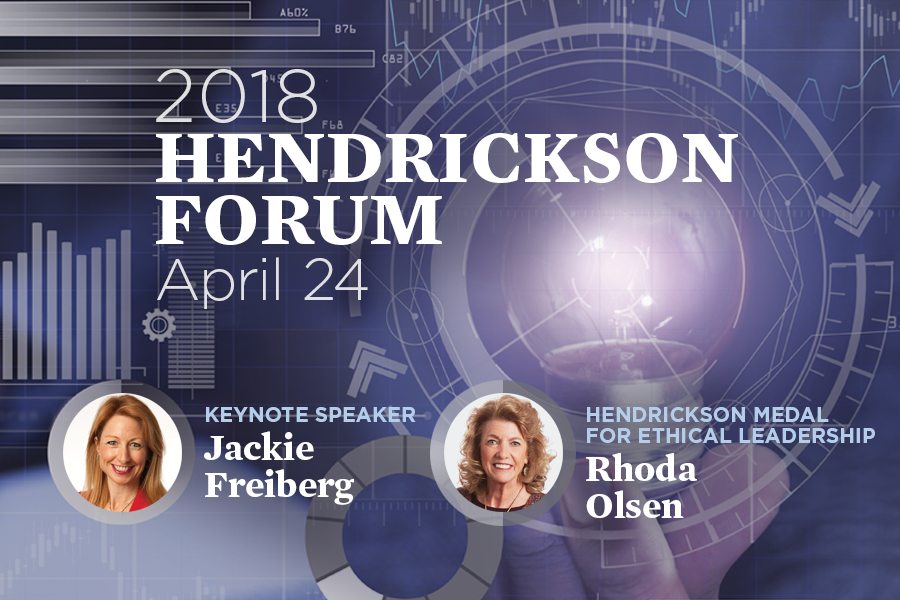 Event being live-streamed from Winona
The 2018 Hendrickson Forum will feature keynote speaker Jackie Freiberg, international best-selling author and global consultant, and the presentation of the Hendrickson Medal for Ethical Leadership. The Tuesday, April 24 event, "Innovation Culture," is presented by Saint Mary's Hendrickson Institute for Ethical Leadership and will take place at the Saint Mary's University of Minnesota Twin Cities Campus in Minneapolis.
Recognized as one of the Top 30 Minds on Leadership by Leadership Excellence Magazine, Freiberg helps companies foster work environments where their employees can do their best work. The event, "Innovation Culture," is presented by Saint Mary's Hendrickson Institute for Ethical Leadership.
"Innovation is a word that has been prevalent in business for quite some time now," said Audrey Kintzi, Saint Mary's vice president for development and alumni relations who leads the Hendrickson Forum. "Dr. Freiberg's approach to guiding companies to build a culture that results in innovation is the kind of action-oriented strategy that organizations need to succeed and lead."
Freiberg is the co-author of seven award-winning books, including NUTS!, the international bestseller describing Southwest Airlines' leadership, culture, and profitability; GUTS!; BOOM!; NANOVATION!; Do Something Now!; Be a Person of Impact!; and most recently, CAUSE! A Business Strategy for Standing Out in a Sea of Sameness. Her articles and interviews on leadership, innovation, engagement, and the SheEconomy have been published in the The Wall Street Journal, Businessweek, Investor's Business Daily, Dubai's CapitalME, India's Management Next, India's Business Standard, India's Economic Times, and India's Financial Times.
Freiberg earned a doctorate in leadership from the University of San Diego, a master's degree in communication from San Diego State University, and a bachelor's degree in communication from the University of New Hampshire.
At the Hendrickson Forum, Freiberg will discuss how organizations can harness innovation in a new way. Focusing on three critical roles for organizational success (notice, lead, and disrupt), Freiberg's keynote will empower attendees to take on these roles and begin taking advantage of opportunities to transform new ideas into real solutions.
Freiberg will join a distinguished roster of former speakers: Zanny Minton Beddoes, Gov. Jon Huntsman Jr., Admiral James Stavridis, Sheila Bair, Ian Bremmer, Sue Gardner, Jacqueline Novogratz, Dr. Marcelo Suárez-Orozco, Prime Minister John Howard, and John Micklethwait. While the topics have varied by year, themes have centered on ethical business leadership in our increasingly global economy.
Saint Mary's University will proudly present this year's medal to Rhoda Olsen, vice chair of the Great Clips, Inc. Board of Directors. Olsen has demonstrated great commitment to and has been an outstanding leader in the Minneapolis community.
A 100-percent-franchised company with more than 4,100 salons across North America, Great Clips — under Olsen's leadership — maintained a clear goal: customer-centered service, offering a great haircut at a great price. With extended hours and an innovative mobile app, Olsen made getting quality haircuts even more convenient for her customers.
Olsen joined Great Clips in 1984. She became CEO in 2011 and grew the chain from 1,000 locations to more than 4,000. She also pushed the business to embrace technology such as online check-in for customers. The Business Journal named Olsen its Executive of the Year in 2015. She is also a former trustee of the university.
The Hendrickson Forum is a luncheon event, held this year on Tuesday, April 24, from 11:30 a.m. to 1:15 p.m. Check-in and networking begin at 11 a.m. at the Saint Mary's University Center on the Twin Cities Campus on Park Avenue in Minneapolis. The event is open to the public and general admission tickets are $50 per person, which includes lunch. Advance registration is required. More information and online registration is available at: www.smumn.edu/HendricksonForum.
In Winona, the event will be live-streamed in the Science and Learning Center auditorium. Doors will open at 11 a.m., and the program begins at 11:30 a.m. The live-streaming is open to all staff, faculty, student, and Winona community members.