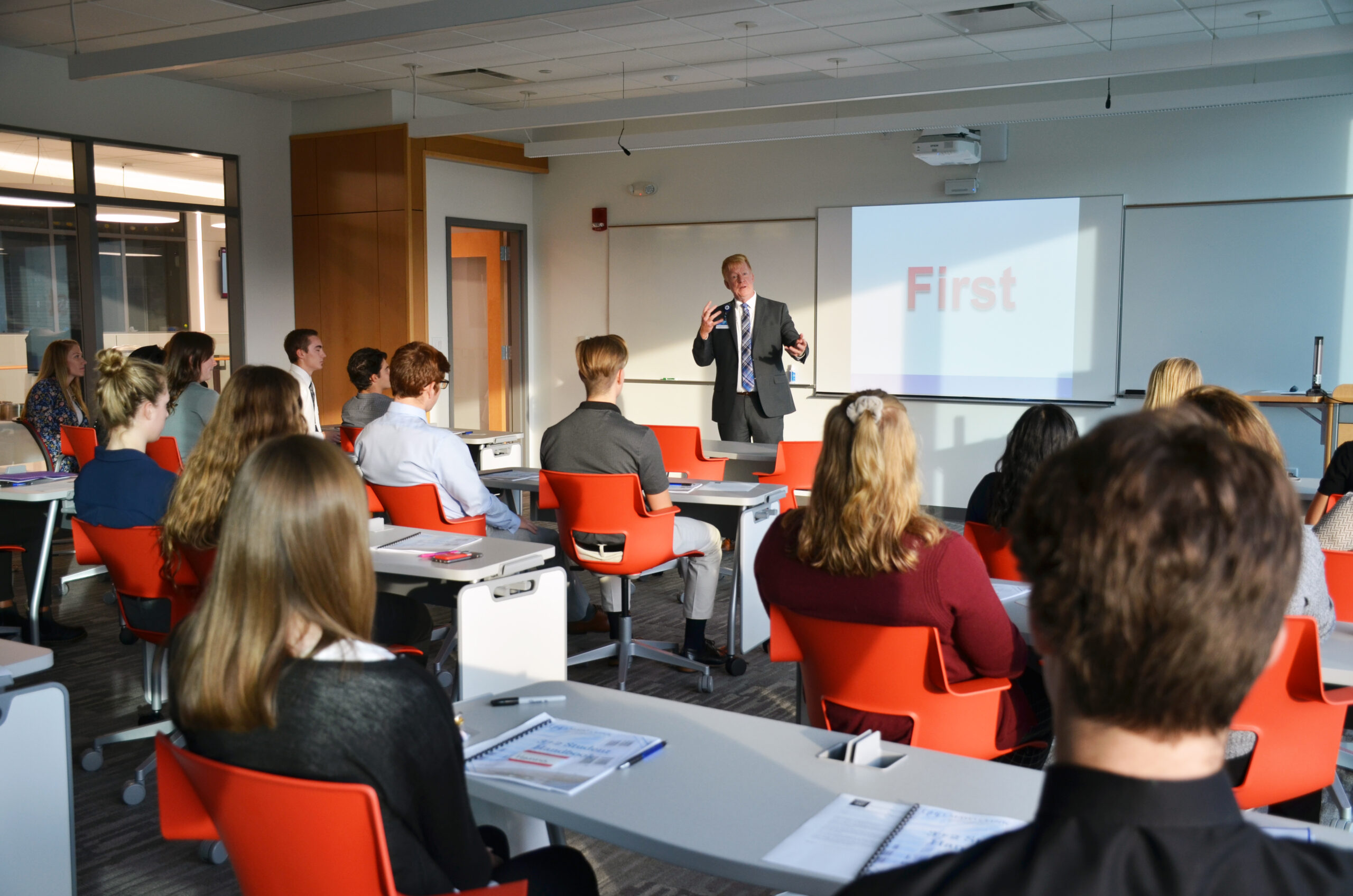 The inaugural class of the 3+2 Physician Assistant Program has begun its studies this fall.
Working in collaboration with Mayo School of Health Sciences, the five-year accelerated program will allow undergraduates to have an immersive educational experience at several state-of-the-art facilities.
"I think it's a fantastic opportunity, not only for Saint Mary's to continue to meet our mission, but it also provides us an opportunity to really interface directly with healthcare providers and healthcare provider educators," said Todd Reinhart, Sc.D., dean of the School of Sciences and Health Professions at Saint Mary's University.
"This is unique for us in that right away from a student's first year, we're working with Mayo Clinic to not only talk about the foundational sciences, but also the practice of being a PA. It really gives us the opportunities to integrate the perspective of healthcare providers earlier in our curriculum.
Three facilities, one journey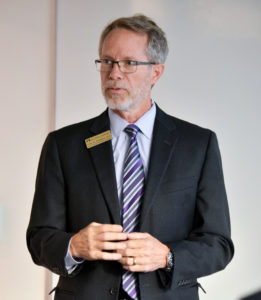 Students who began the program in August will spend three years taking classes at the new Science and Learning Center on the Winona Campus, where they will study the foundational sciences led by Jeanne Minnerath, Ph.D., director of the allied health program and associate professor of biology.
Program participants will then make their way west to finish their studies and clinical work at both Mayo Clinic School of Health Sciences and Saint Mary's Rochester Campus. Dr. Reinhart pointed out that, in addition to traditional classrooms, students will be able to use the clinical skills labs and mock patient rooms — with either mannequins or actors as patients — to fully integrate their clinical experiences at Mayo Clinic as they learn about, and later take part in, the full array of care associated with being a PA, including family medicine, urgent care, pediatrics, surgery, and emergency medicine.
"It's truly going to be a model environment for students to transition from the foundational sciences into a clinical care setting," he said.
After completing four years in the program, students will earn a Bachelor of Arts in Biology-Health Science degree from Saint Mary's University. Participants will then receive a Master of Health Sciences in Physician Assistant Studies degree from Mayo Clinic School of Health Sciences upon completing the fifth year, when they will be working with actual patients under the supervision of their Mayo instructors and other physicians, some of whom are regarded as the top experts and researchers within their specialized fields.
"With that relationship in place, we're able to identify the best students in this area to receive some of the best training from world-class physicians, PAs, and other healthcare providers," said Michael Huckabee, Ph.D., the PA program director at Mayo Clinic School of Health Sciences.
The program is capped at 24 students for each incoming class, with 18 from Saint Mary's and six from the University of Minnesota-Rochester. The initial pool of potential students included about 60 applicants. Dr. Reinhart expects that number to increase in the upcoming years.
On Sept. 18, all 24 students gathered at the Science and Learning Center to take part in what is known as Mayo Connections. The event, which will be held twice a semester for the first three years of the program, was led by Dr. Huckabee.
"It was a way to start talking to these first-year students about the discipline, what it means to be a PA, how it's different than being a physician or nurse practitioner, and start to talk about professionalism as it relates to being a PA as well as working in the Mayo system," Dr. Reinhart said.
'A natural fit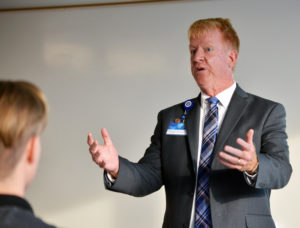 Although the idea had been in place for about three years before the program began this fall, it took a team, led by Drs. Reinhart and Huckabee, to go through every facet of the curriculum to seamlessly integrate the educational material from Saint Mary's and Mayo Clinic School of Health Sciences.
"I could see the opportunity from a workforce-need perspective, but the only way that I feel Saint Mary's could do this would be with a true academic health center collaborator, given the really intense clinical demands of that final year of the program," Dr. Reinhart said.
On the other hand, Mayo Clinic School of Health Sciences was looking to form an alliance with a liberal arts university that could provide a foundation of critical thinking skills, one that was also located in the region, Dr. Reinhart said.
"That's really important to Mayo: to recruit the students who come out of this PA program to work in Mayo Clinic Health System," he added. "It's a natural fit."
Program graduates will be poised to apply for jobs within Mayo Clinic Health System, should they choose to go in that direction. Dr. Huckabee said that the PA profession is expected to grow nationally by 40 percent in the next 10 years, giving graduates plenty of options once they hit the job market.
The program is in the middle of receiving provisional accreditation from the Accreditation Review Commission on Education for the Physician Assistant (ARC-PA), Dr. Reinhart said, adding that the commission is currently reviewing approximately 30 newly created PA programs this year.
"There is growing demand for healthcare providers at this level, where you can provide frontline and specialized patient care under the supervision of a physician," Dr. Reinhart said. "Higher education in general and healthcare systems as well are recognizing the value of these frontline healthcare providers."