Ah, the life of a 4-year-old: Always playing, learning, and experimenting as they prepare for kindergarten.
But in the childcare setting, do social skills rate differently between 4-year-olds enrolled in play-based preschools when compared to those in academic-based preschools where direct instruction is the top priority?
Lindsay Barnhart, a student in the Doctorate of Education in Leadership program at Saint Mary's, is looking to gain insight into this question by surveying a set of preschool teachers in eastern Wisconsin as part of her doctoral dissertation.
"That timeframe in a children's life is key in all areas of development. It is the true foundation, so wanting to support children in that key foundational timeframe just became a passion of mine," said Barnhart, who works as the program director and senior lecturer of the B.S. in Early Childhood Education at the University of Wisconsin-Stout.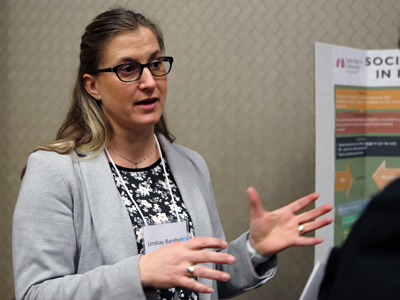 Through her research, Barnhart hopes to compare and contrast her findings with those reached by a number of researchers who found that any head start provided by an academic-focused curriculum can wane by the third grade, and even cause other issues to arise.
Barnhart presented her planned research during the poster session at the 16th annual Doctoral Research Symposium on March 7 at the Saint Mary's University Center on the Twin Cities Campus.
"It is natural for parents of preschoolers to want to give their children a leg up on learning. Enrolling their preschooler in an early childhood education program that is academic-based opposed to play-based is intuitively desired by many parents. But is it the right leg up?" asked Sue Hines, Ed.D., associate professor of the Ed.D. in Leadership program, who is serving as Barnhart's adviser. "Lindsay's study is designed to objectively measure the difference in social skill development in both preschool settings."
Barnhart was planning to begin surveying teachers this spring but had to postpone due to the COVID-19 pandemic.
When she is able to start the survey, she is hoping to interview teachers who instruct 4-year-olds (known as "4K" and "pre-K" in some circles) from at least three schools that are play-based and three that are academic-based, about eight weeks into the school year, so that the teacher has had an adequate amount of time learning the behaviors of each child. She plans on involving both private preschools and those that are run by the public school system.
The teachers will fill out Likert scale questionnaires that will inquire about students' behavior based on eight aspects: five related to social skills (self-awareness, self-management, social awareness, relationship skills, and responsible decision making) and three connected to academics (motivation to learn, reading skills, and mathematics skills).
A flexible path
Barnhart knew she wanted to be a teacher since the third grade, largely inspired by her third grade teacher. She initially thought her calling was in kindergarten before realizing how high the saturation of job applicants was to teach that age range. After finishing her undergraduate degree in 2005 at University of Wisconsin-Stout, she taught at the university's child care center for a year before becoming a lead teacher at Kinderberry Hill, a chain of private child development centers in the Twin Cities metro area, in Woodbury, Minn.
In 2008, fate called her back to the University of Wisconsin-Stout campus where she became the lead teacher at the university's early childhood center and has remained in various capacities.
Barnhart, who lives in Menominee, Wis., started the Ed.D. program in 2012. She hopes to finish her degree by the end of this year. She is grateful, though, at how flexible the program has been to accommodate her life.
"I started when my 7-year-old son was just 7 weeks old," Barnhart said. "I appreciated the format of being able to be in class if I wanted to or take a class in an online format."
She does not recommend other potential doctoral students in a similar situation in life to take eight years to finish the program, but …
"Just know that it's doable, even though you might have things in life that come up and slow you down."
Related stories:
Ed.D. graduate, former police officer examines use-of-force training throughout Minnesota
Homegrown ideas: DBA student duo hopes to answer key ag-related questions through doctoral research
Keeping the peace: Doctoral counseling psychology student to build training modules for trauma management on international scale