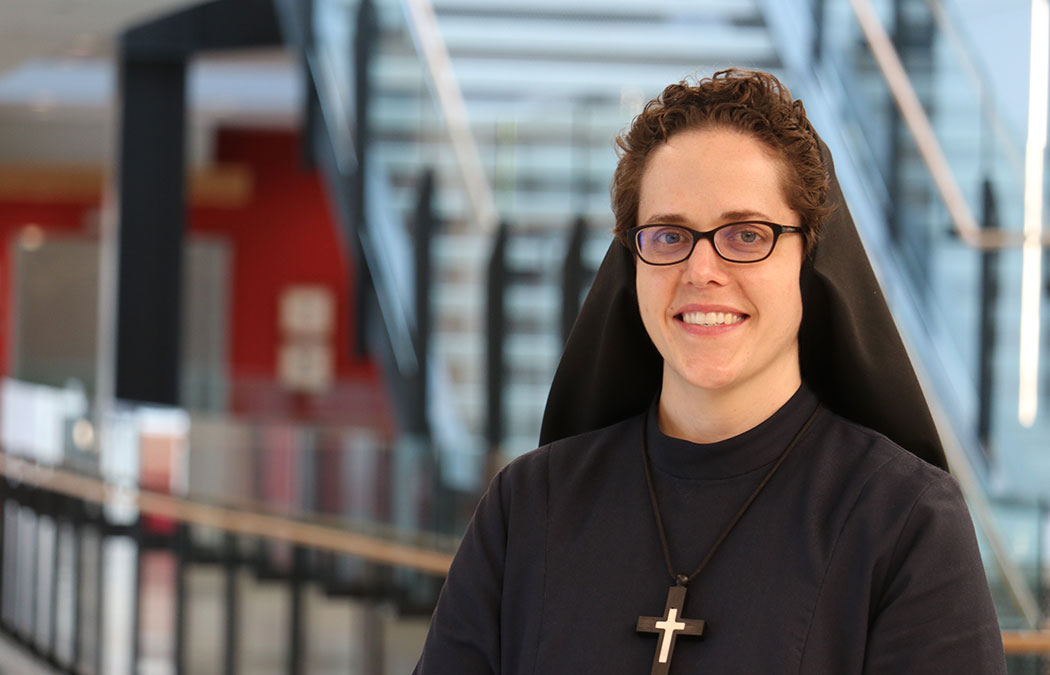 Sister Agnes Mary Graves, RSM, DNP, isn't only leading Saint Mary's University's new B.S. in Nursing pre-licensure program, she's also hoping to shift the direction of healthcare — one cohort of nurses at a time.
She believes that armed with the courage and knowledge to question the status quo, those who graduate from Saint Mary's nursing program will have something else: an understanding of the whole patient, intellectually, psychologically, physically, mentally, and spiritually.
"I want our first class of graduates to leave Saint Mary's and go out into the world and make us known throughout the region but also change our healthcare system as leaders," she said.
Sister Agnes Mary has been a nurse for more than 10 years, and speaking from experience, she knows it's a meaningful profession, one that involves both the mind and the heart. "I knew this was a way for me to serve another person and to help them in their moment of greatest vulnerability," she said. "And that it involved science to know what was going on. And it also involved my heart to care for them."
This approach is what she's bringing to her new position as the Jack and Mary Ann Remick Chair of Nursing, which involves overseeing the university's first undergraduate nursing program from the Winona Campus (as well as its RN to BSN online program).
She believes the new Bachelor of Science in Nursing — offered from Saint Mary's Winona Campus and recently approved by the Minnesota Board of Nursing — sets itself apart in several ways.
Four-year liberal arts education with students enrolled in nursing program as freshmen
Saint Mary's undergraduate nursing students are enrolled in this program as freshman and continue in a close knit cohort through all four years, obtaining not just quality nursing skills, but a well rounded liberal arts education.
"Across those four years, our students will be formed into caring nurses; it's not just two years at the end of their college experience," Sister Agnes Mary said. "Although your last two years will include the majority of your nursing courses, you'll get to know us from your very first week on campus, you'll tour the facilities, and be invited to discussions."
Nursing students, she said, will immediately be welcomed into a supportive community and a cohort of students who will learn and grow together all four years. "Saint Mary's at large is known for its community connectedness," she said. "It's inclusive, it's like coming into a family that's going to help nurture you into being a great nurse. We are connected, and we're here for you. And we want to get to know you as an individual in your nursing education."
A holistic health view
"At Saint Mary's, we're not just going to teach you how to care for the health of the body of the patients, we're going to teach you comprehensive health care, which means looking at the whole person, body, soul, mind, heart, intellect, the psychological pieces, along with all of those health pieces of the body, and illnesses that go along with that," Sister Agnes Mary said.
"You learn how to see your patients in that full broad context," she added. "That's something that Saint Mary's can provide, because we have this Lasallian Catholic heritage, we're a liberal arts institution with that strong foundation. And that's what sets us apart from other nursing programs."
Personal attention and individualized focus
Sister Agnes Mary touts Saint Mary's small faculty-to-staff ratio of 13:1. "We're going to really keep tabs on you and see what's going on with you," she said. "Are you excelling? Are you struggling? How can we help you? Furthermore, when you're in your clinical setting, what do you really like? Do you really like working with OB patients? Then I want to try to get your senior practicum, your last piece of nursing education, in an OB setting with more hours. Why? So that you can experience it more, learn more about it, but also so that potentially that could be an opening for a job when you graduate."
Committed healthcare partners and job placement
A competitive aspect of any nursing degree is job and practicum placements. "We've already started developing those relationships with over 10 different health care systems in our area in Wisconsin, and Minnesota, across the region," Sister Agnes Mary said. " We have great communication and relationships with all of our clinical partners, which is frequently where our students will go upon graduation as places of employment. And so in communication with those chief nursing officers and the educational staff in those institutions, we're finding out what they are looking for in graduates. The great opportunity then is that we continue to be flexible and modify and update with the times and with the needs of the current healthcare systems."
New, state-of-the-art facilities
Saint Mary's newly renovated Adducci Science Center's Hoffman and Brother Charles halls, opening this fall, will include an advanced nursing suite, including a clinical simulation lab, which will provide students with a safe, yet hands-on learning experience with cutting-edge simulated technology that will give them a true taste of a variety of trauma, operating room, and in-patient settings.
Catholic nursing
Saint Mary's University is inclusive and welcoming of all different diverse faith backgrounds and cultural backgrounds.
"We want all students to be able to feel welcomed and feel like they can really learn in our university setting," Sister Agnes Mary said. "We are at Lasallian Catholic University. That's who we are as our heritage. And so that's the perspective we bring. We welcome diversity, we welcome different opinions, we want to talk and dialogue and learn from one another. It's so important in nursing to have a diverse cohort and a diverse faculty, because that's who we serve. We're going to serve all, and all people are created with inherent human dignity.
"Catholic health care is so important in society today, because it's looking at the broader picture of health. And sometimes I think in the modern trends of healthcare, we're looking at physical health only, or we're looking at mental health, separated from spirituality. The understanding of the human person from the Catholic perspective is that it's body and soul. And that they're fused together in such a way that they're inseparable. And so whatever is affecting the body is also affecting the soul."