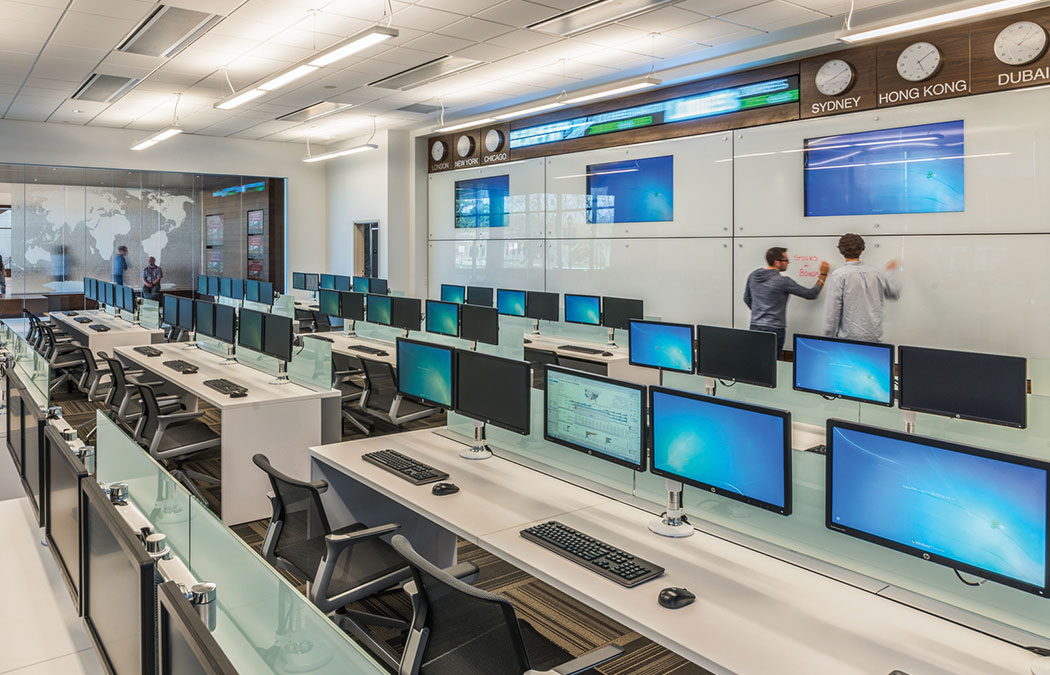 The Adducci Science Center's Brother Charles and Hoffman halls are transforming into a space for innovation and collaboration. Through a $17 million initiative, Saint Mary's is creating a space for state-of-the-art classrooms, learning spaces, and labs for business and the sciences (including math, psychology, nursing, and computer science).
Saint Mary's knows that interdisciplinary efforts are critical now more than ever.
In fields ranging from business to healthcare, it takes a team of experts to examine issues, challenges, and opportunities from a variety of perspectives.
"No one person, or one discipline, has all of the knowledge necessary to solve our most challenging problems," said Todd Reinhart, Sc.D., dean of Sciences and Health Professions.
Where STEM researchers can provide scientific solutions, psychology researchers can generate insight into behavior, and business experts can weigh in with economic and legal factors, each of which combine to influence whether products, services, or solutions will ultimately be successful.
As Dr. Reinhart pointed out, "You can have the best product in the world, like an effective vaccine, and people might not use it. It's not about just developing a product that meets a societal need, it's about also getting people to use it or buy it, and that's where our behavioral psychologists come in. Also, our business professionals can provide critical data analytics and market research.
"There's a whole new discipline that's emerged in science which is the discipline of 'team science.' It's now its own scholarly discipline to study how disciplines work together to solve complex problems," he added. "National leaders are calling it 'convergence.' We know that in solving these longstanding societal issues, we need experts from various perspectives and disciplines to weigh in and ultimately come up with solutions that should have a much higher chance of being successful."
Plans
In addition to an updated exterior, which will be visible to traffic and visitors from U.S. Highway 14, the building will house the following highlights:
A nursing suite, as well as a state-of-the art nursing skills lab and high-tech classrooms
Simulation and control rooms, where students can practice clinical skills until they have developed a sense of proficiency
A debrief room, one of the most important components of simulations
A makerspace, which combines the functions of a lab, machine shop, wood shop, digital studio, and social learning environment, empowering students to literally build their own solutions through hands-on learning
A trading lab, which will place the global market at the epicenter of student learning
A data analytics lab, which will be furnished with technology widely used in the industry of data analysis, business forecasting, modeling operations management, market analysis, and project management
Computational lab and innovative classroom, which provides a space for students to share digital content with small groups and the entire class through its video conferencing capabilities
Environmental biology lab, which will increase our capacity to teach hands-on laboratory techniques and foster research projects
Human behavioral laboratory, which will allow students to record audio and video from a control room while an intercom enables communication with test participants in an observation room. Equipment inside will measure brain activity and visual perception
Sales training suite, which provides students with real-world business environments, a call center, and a video recording component
Teaching and research greenhouse, which is designed for research in botany, genetics, plant physiology, molecular biology, and ecology
Flex classroom, which is enclosed in glass and can be used for multiple purposes and events
Multi-disciplinary labs, which will have 24/7 access by biology and chemistry students
Collaborative terrace, which is a covered outdoor classroom extension and event space
Student learning commons, which foster collaborative gatherings
Double your gift through $5 million anonymous match
Construction to this point has been made possible through the generosity of benefactors. In 2019, an anonymous donor pledged a $5 million matching grant to Saint Mary's University to be used to renovate and expand the Adducci Science Center's Hoffman and Brother Charles halls.
The gift is matching, dollar for dollar, all new contributions received since May 10, 2019.
"Our anonymous benefactor is a successful businessperson who supports business at Saint Mary's and all the great work that's
being done," said Audrey Kintzi, vice president for Advancement and Communication. "This benefactor understands the importance of providing today's business students with a quality education that also addresses business ethics, focuses on working collaboratively, and provides real-world experiences. And, this person believes we are doing great work in the dynamic area of big data analysis. Through this generous gift, our anonymous benefactor is both acknowledging our accomplishments, but also challenging us to expand and grow."
Kintzi added she wanted to recognize the many other individuals and business partners who have also stepped up to support this initiative, including Jerry Colletti '69, the late Jim Coogan '69, Betty Kabara, Merchants Bank, WNB Financial, and the estate of the late Jan Chlebowski '65.
Photo caption: The proposed trading lab.