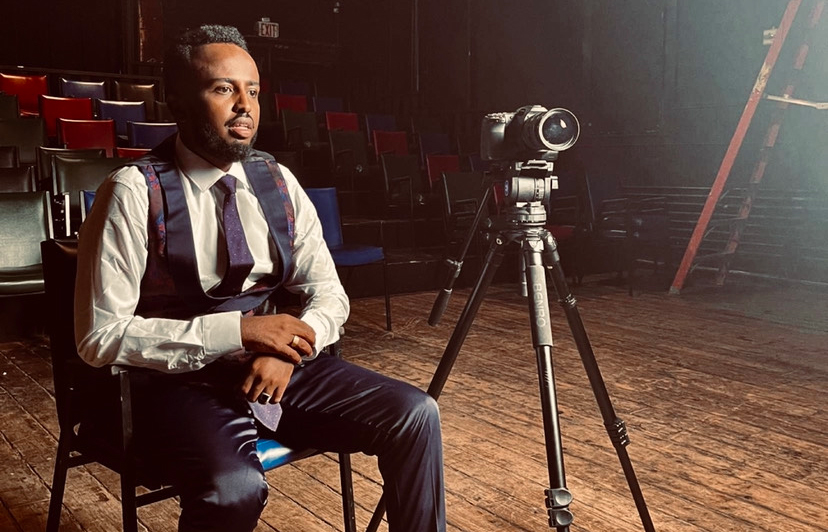 Abdurrahman Mahmud (who also goes by Abdu Rahman) B'19 doesn't often talk about his young life as a refugee in Dadaab, Kenya. He's worked hard to build a life beyond the trauma and feels it doesn't do any good to look back. Yet, in many ways, hidden in this past, is the reason Mahmud has dedicated his life to helping others.
Born right before Somalia's civil war, Mahmud was only 1 year old when the country collapsed. In need of help, his mother carried him 700 kilometers before arriving at a refugee camp where he spent the next six years of his life. He remembers being ill as a child, suffering from asthma, malnutrition, and other chronic illnesses.
Perhaps this is why he first sought a career in clinical nursing. During his final year of college, Mahmud worked for the Ethiopian government and was sent to clinic outposts in rural areas. "I realized the problem deep down in my life — the trauma — wasn't an issue that a doctor deals with," he said. "It involved things you can work on at a community level. Public health was a new trend at that time. I realized I can do more in the public health world than in the clinical world."
For the next few years in Africa, he worked in the public health sector for INGOs (international non-governmental organizations) funded by the UN — including training TBA (traditional birth attendants) with Bemoc (basic emergency obstetric care), educating populations about preventing AIDS, HIV, and female genetal mutilation. He immigrated to the U.S. when he was 25.
In Minnesota, he struggled for nearly two years to find comparable work.
"Before I came here, I had been a field manager. But here, I didn't know how the system worked, and employers didn't know how to understand my background," he said. "They didn't know my educational background and were unfamiliar with the names of my previous employers, and I couldn't get a job. I had managed grants, funds, teams. I just wanted to do the work."
After 18 months of working various labor positions, he was hired for a part-time position educating the African community in Minnesota about HIV, largely because the man who hired him was himself African. "He knew the names and knew they were big employers," Mahmud said.
From that connection, came more connections and more jobs. Mahmud realized the key was both networking and having employers see the results of his work.
And he realized he could help the larger Minneapolis metro immigrant population also struggling to find employment comparable to their skill levels. "They feel such despair and end up in labor jobs," he said. "They're accountants and lawyers. They needed a place that puts people together."
In 2018, he started Twinist (twinist.com), an online resource to connect immigrant citizens with professional jobs and employers who want to diversify their teams. Although it was designed as a resource for immigrants, Mahmud stresses the site is free and available to everyone.
Users can create profiles, upload résumés, and apply to positions. [Twinist also publishes a bilingual magazine that educates African-born Minnesotans about the services and products of Minnesota-based employers, organizations, and companies.]
Currently, several job seekers have profiles on the site, and an average of 70 jobs are posted monthly. The site receives 10,000 visitors each month.
Mahmud further became an immigrant advocate in Minneapolis. He founded the City of Nations Storytelling Studio, sponsored by Mixed Blood Theatre in Minneapolis, to empower local residents to be advocates for their own health care and to create a dialogue about important timely issues.
His studio produces films and healing circles, and he focuses on taboo topics, specifically mental health, substance abuse, and reproductive education especially sex education, which are often interconnected, in order to address persistent health disparities. His work also expanded to a focus on Lake Street after the murder of George Floyd spurred rioting and mass destruction in that area.
"I'm creating a documentary film about the stories of Black immigrants who lost businesses because of the riots," he said. "Ninety percent of businesses that were destroyed were immigrant- owned businesses. That's a narrative that is not public."
Several individuals chose not to be filmed or photographed, fearing retribution. "There's a lot of mistrust in the community," he said. "The purpose was to tell us what happened. Tell it to the world."
The film, which will be shown at Mixed Blood Theatre this spring, will also travel as needed. Mahmud said if individuals have the space and the audience, he will bring the film to them in order to share these important stories.
"My studio focuses on these taboos and current issues in this community," he said. "People need to feel seen and heard and feel cared for. I want to show the world stories that are not seen, heard, or cared enough about."
Mahmud believes Saint Mary's does a good job in assisting diverse and immigrant populations.
When he found his previous bachelor's degree fell just short of what he needed to continue his graduate studies, he found Saint Mary's Healthcare and Human Services Management bachelor's completion program and graduated in 2019. "Saint Mary's was convenient, and people I knew had recommended it," he said. "I had a good experience and learned things that were helpful to my career, particularly in working with communities."