Although it's early fall, professional dancer Bryan Charles Moore '13 is already dreaming of a white Christmas.
In November, the national tour of Irving Berlin's White Christmas will begin and women in red velvet dresses and men in top hats will be twirling across the stage to the tune of that iconic Christmas song. Children will wear their best outfits, couples will forget their quarrels, and all will be merry and bright for a night at the theatre—and Moore will be in the center of it all.
"White Christmas is my favorite show and a great family to be a part of," Moore said. "It's heartwarming, the choreography is challenging, and I look forward to doing it every night."
This is Moore's second national tour of White Christmas and he will dance eight shows per week for eight weeks in six cities. Before 2016 rehearsals began, Moore returned to his alma mater's Winona Campus to teach master tap, musical theatre, and contemporary dance classes at Saint Mary's Minnesota Conservatory for the Arts (MCA) on Oct. 2 and Oct. 9.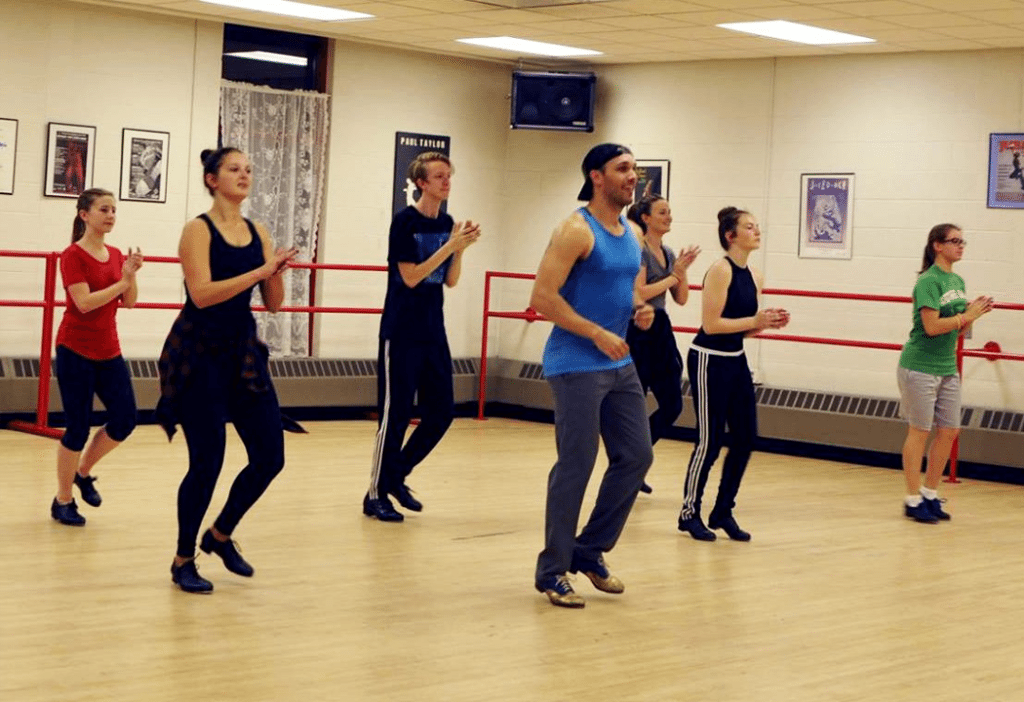 "I really enjoy teaching," said Moore, who has been dancing since he was 10 years old and teaching classes since he was 16. "I like being able to pay it forward because I've had a lot of really amazing people who have taught and inspired me to push myself this far."
One of Moore's inspirations is Tammy Schmidt, who teaches dance at Saint Mary's undergraduate campus as well as at MCA. Schmidt's accomplished dancing career includes time as a solo ballerina for the Houston Ballet. While a student at Saint Mary's, Moore credits Schmidt for helping him become a more mindful dancer by focusing on the physicality of his dancing.
After graduating from Saint Mary's, Moore moved to New York City; only one week later he was hired to play "Indio" in West Side Story at Ogunquit Playhouse in Maine. For the first two years of Moore's career, his next show was booked before his current show ended. Recalling the rigorous schedule of doing four shows per year at Saint Mary's, Moore's grateful to the Theatre and Dance Department for creating a real-life experience.
"You can't teach someone how to switch gears and wipe their mind of choreography they learned two weeks ago to learn new choreography," Moore said. "The department built the performance schedule the way they did to show students how demanding a career in the real world can be. Without that preparation, I would've gotten to New York and failed."
Instead, Moore has flourished. In only three years, Moore's career has included national tours with Irving Berlin's White Christmas and The Radio City Christmas Spectacular, as well as regional tours such as Rock of Ages (Gateway Playhouse), West Side Story (John W. Engeman Theatre, Ogunquit Playhouse), Mary Poppins (Theatre Under the Stars, Ogunquit Playhouse), and Disney's High School Musical (Children's Theatre Company, Minneapolis).
Moore credits the mentors and connections he has made along the way for helping him achieve success in such a short amount of time. "I don't take it for granted and I'm thankful for the opportunities I've been given and the people who've helped me get here," Moore said.