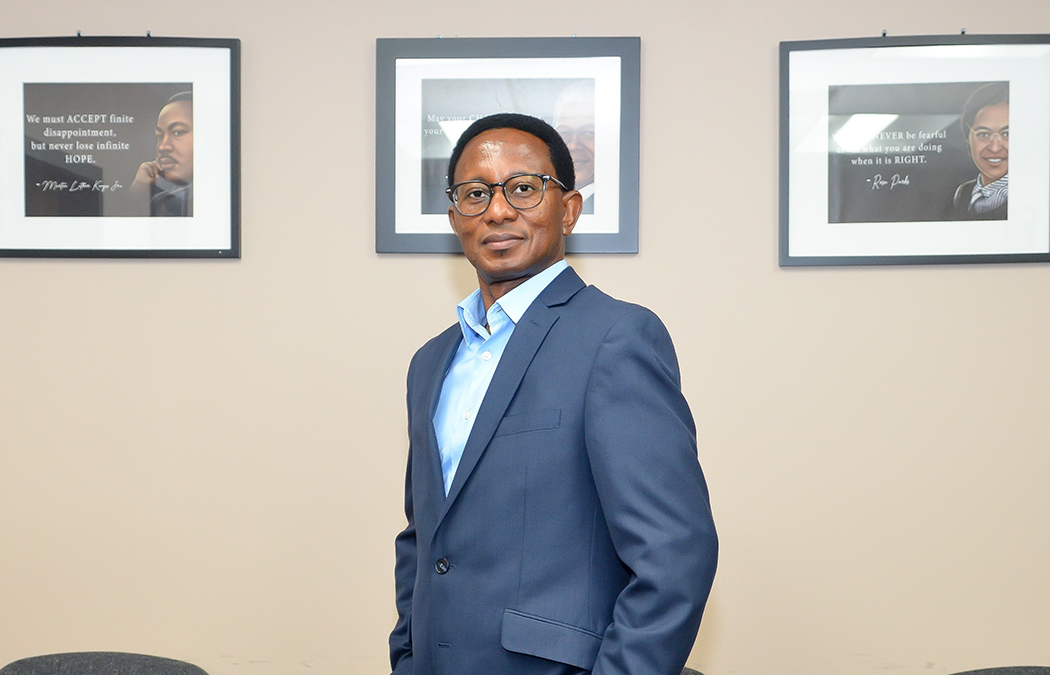 By Colin Sokolowski
Growing up in Liberia, Edwin Swaray watched his mother struggle with alcohol dependency. In West African culture, addiction was considered a moral issue, not a disease. As a result, his family and community had difficulties understanding his mother's problems and behaviors, even after the disease took her life. Years later, after migrating to the United States, he was able to look past the stigmas often associated with chemical dependency to eventually see addiction in a new light.
"When I was volunteering at a government center, I saw good men and women who had lost nearly everything because of addiction," he said. "My task was to help them get a job. But as I listened to their stories about the gaps in their work history and their struggles with addiction, I could not help but notice the parallel between their stories and my mother's."
That's when Swaray decided to go back to school to pursue a career in addiction studies. He completed Saint Mary's Graduate Certificate in Addiction Studies program to become a Licensed Alcohol and Drug Counselor (LADC). Juggling a family and a full-time work schedule, he completed the program in three years, attending classes part time with about a dozen other students in a supportive cohort group.
Today, Swaray is the co-owner, program services manager, and consultant at VEEMAH Integrated Wellness and Consulting Services in Crystal, Minn. Co-owned with his wife Vivian, VEEMAH is one of very few Black-owned counseling services. And although it welcomes all clients, it specializes in providing mental health care services and addiction treatment for immigrants and people of color.
"I reasoned that since I was unable to help my mother, I will spend the rest of my life helping those who struggle with substance use disorder — especially the people in my immediate community," he said. "My career strengthens and reinforces my core values which include helping the needy and underserved in our community."
Those core values, he discovered, were in perfect alignment with Saint Mary's values as well.
"Saint Mary's empowers learners to pursue ethical lives of service and leadership. That approach mirrors my mission in life. The program was rigorous but the professors were flexible and committed, and would spend enormous time, energy, and effort to ensure that each student had an equal chance to succeed. They were also willing to share their classrooms with an array of guests including academics, researchers, and chemical dependency and mental health professionals who had vast experience in their respective fields," Swaray said.
In addition to hiring and managing a team of independent licensed clinical staff, three days a week he leads small-group counseling sessions for clients with alcohol or drug dependency issues. These sessions often reveal the transformations within people who have begun to pick up the pieces and rebuild their lives again. These might include the first phone call that a client makes to a family member after a lengthy absence, or landing the first job after a significant gap in work history, or the ability to drive legally with a valid driver's license, or simply having fun without the use of substances. Swaray cherishes all of these simple but significant milestones because they demonstrate that his clients are on the path to recovery.
"As an immigrant, I believe that the ability of the human spirit to achieve a life of peace and serenity must begin in an environment that nurtures and develops confidence and hope," he says. "Earning my Saint Mary's certification in addiction studies has helped me to narrow my focus and develop a sense of purpose. I strongly believe that my mother was looking out for me when I decided to go back to school for this career. She continues to be my guardian angel."