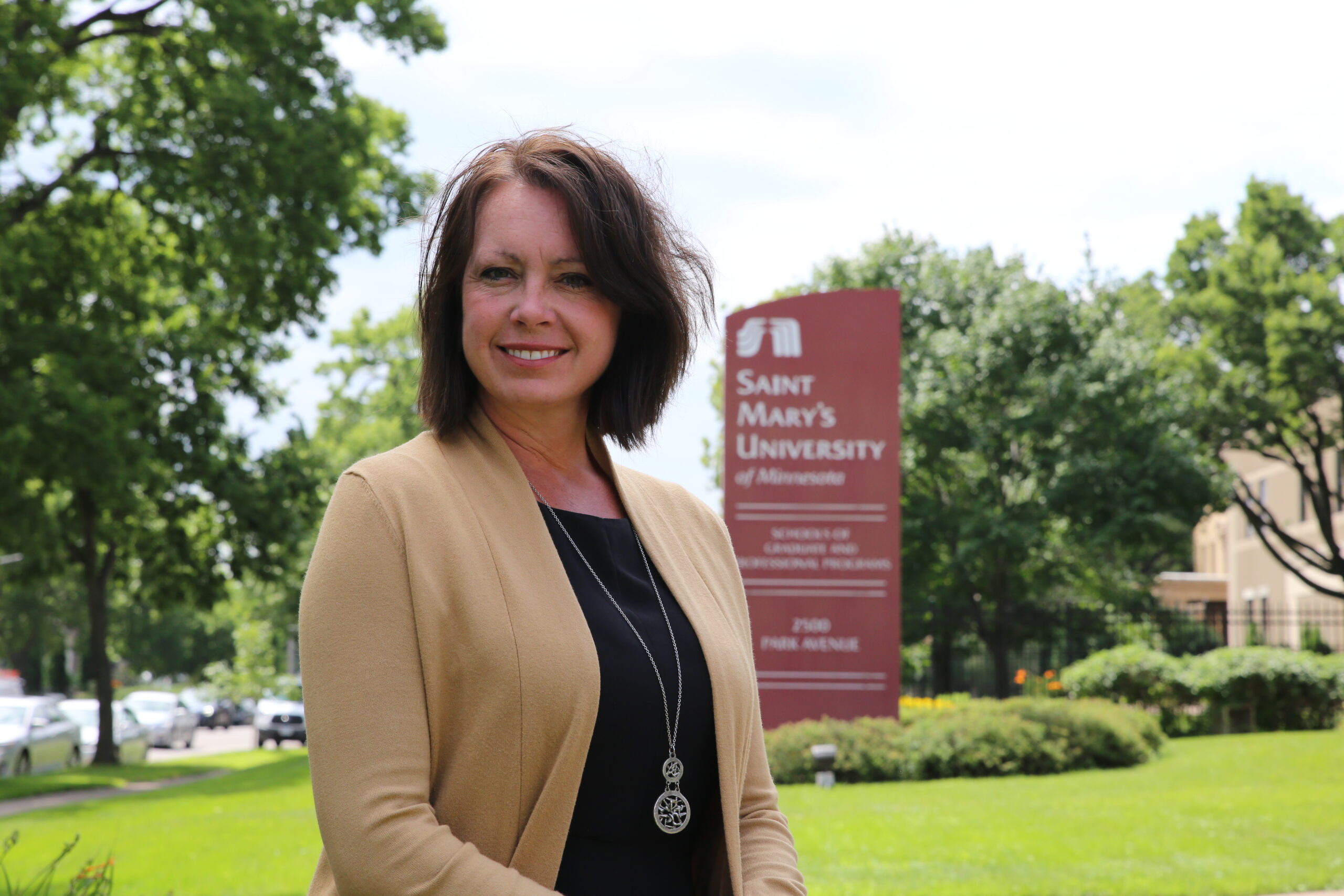 She did not know it at the time, but Jennifer Backer-Johnson M'01, C'03, C'11 was always meant to be a juggler.
It started with trying to juggle pairs of socks with her roommates while a student at Winona State University. Being on the school's basketball team, basketballs replaced socks when her confidence in the craft grew.
These days, as the superintendent for the Lewiston-Altura School District 857, Backer-Johnson does most of her juggling with her daily planner.
On a given day, she might be approving contracts for the 100-plus administrators, teachers, and staff who oversee the development of close to 800 students. Or she might be looking over the buildings and grounds, working on budgeting matters, or tending to issues involving food services, transportation, technology, student activities, or community events.
Oh, and she also has the schedules of her three sons — a high school senior, ninth-grader, and eighth-grader — to help manage, as well as finding time to spend with them and her husband, Todd.
Still, she would not have any other way.
"It's crazy around here. It isn't for everybody, but I love what I do," Backer-Johnson said. "I don't know what I would do without my husband and my boys. They definitely keep me grounded, too.
"I guess I never really imagined that I would be a superintendent. I suppose when you're a kid, you don't really think about that … it never really hits you until there are certain moments in your career where it's like, 'Wow, I can't believe I'm doing this.' And I feel very grateful … I really believe it's a privilege to serve children and serve other people."
Footsteps down a similar road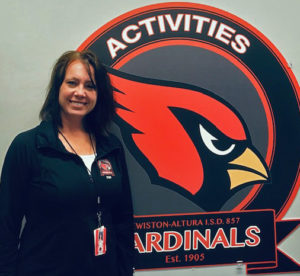 In spite of those time demands, Backer-Johnson also serves as a regional cohort adviser and instructor for Saint Mary's University of Minnesota, a position she has held since 2010 after initially earning her Master's of Education in Teaching and Learning from Saint Mary's in 2001. She later earned an Education Administration licensure from the university, allowing her to become a principal in 2003 and a superintendent in 2011.
In addition to currently instructing a class on leadership theory for the principal licensure program at Saint Mary's Rochester Campus, Backer-Johnson ensures that the group of education professionals in the program are on track with their courses, prepared for exit interviews, paired with the best mentors, and placed in high-quality and rigorous field experiences.
"We thrive off of each other and learn from each other," Backer-Johnson said. "We have these courses and standards within the courses that we need to comply with, but when you're around the same-minded, driven people, there can be some really great dynamics that happen."
The cohort model that Backer-Johnson oversees reminds her of the communal environment that first drew her into the Saint Mary's community in the late '90s, when she was working at Forest Lake High School as a behavior intervention specialist and chemical health counselor. While she was pursuing her master's degree, she would meet with fellow students from the region once a month for an entire weekend for up to 10 hours a day in one of the rooms at the high school.
"That was my first experience of being in a cohort and learning in that environment," she said. "I absolutely loved it."
A change in direction
After graduating from Lanesboro High School among a class of 42 as the oldest of five children, Backer-Johnson majored in criminal justice at Winona State. She decided to pursue working in a classroom setting after taking part in an internship at the Federal Medical Center in Rochester, a federal prison for inmates who need specialized or long-term mental or medical health care. She worked directly with some of the inmates.
"I think after working in a prison, I wanted to be more proactive in the lives surrounding me rather than reactive, and education is that proactive way," said Backer-Johnson, who added that her stepfather's career as an industrial arts teacher in the Winona School District also factored into her decision to enter the field.
Following the completion of her principal licensure program at Saint Mary's in 2003, Backer-Johnson became assistant principal at Worthington Middle School in 2005, then at Faribault Middle School in 2008.
After completing the superintendent program at Saint Mary's, she headed north with her family in 2011 to accept her first superintendent role at the Cromwell Independent School, located west of Duluth. In 2017, attracted in part by the chance to be a little more than 20 miles from her hometown, she accepted her current role as superintendent in the Lewiston-Altura School District.

People over percentages
One of the biggest daily challenges Backer-Johnson and her colleagues face is the idea of using student data to determine the appropriate way forward in any issues relating to students, such as academics, demographics, and disciplinary reports.
"We're always digging into the data," she said. "There is a balance of looking at the data [versus] trusting our gut and accepting we are masters in our craft. Data should inform, but not be the final decision-maker."
The overall notion that higher education will always be a people-driven profession is a point of emphasis that was always promoted during her studies at Saint Mary's — and that she continues to champion in all of her roles.
"Saint Mary's provided an amazing platform that emphasized three areas: rigor, relevancy, and relationships," Backer-Johnson said.
Her grandfather, Ordell Garness, taught her in her youth the value of another "R" word: release. Sometimes, it's OK to let one of the balls hit the floor — or to pick up a new one, if it happens to fall unintentionally.
"He said, 'Jennifer, you need to act more like a duck. The water rolls off its back. You need to allow other things to roll off your back, too. Let things go. Don't let things stress you out as much. Don't take life too seriously all the time,'" she said. "So that was my grandpa. He is one of the heroes in my life."